#Phillywx #Philadelphia #weather
This Weekend's Storm
Updated Wed 09/20 @ 8:37 AM — The models are in good agreement (with the exception of the ECMWF) that a major Nor'easter with some tropical characteristics will affect our area beginning Friday night.
The latest GFS shows this storm at 2PM Saturday—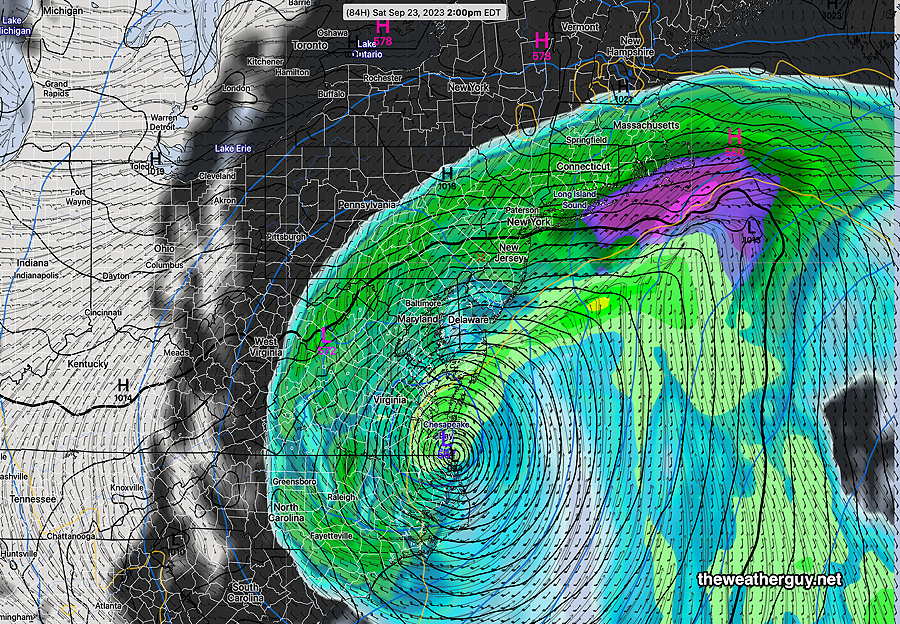 Anywhere from 1.5-4 inches of rain are possible with this system along with high winds and coastal effects.
The latest German ICON model shows very high rainfall possible—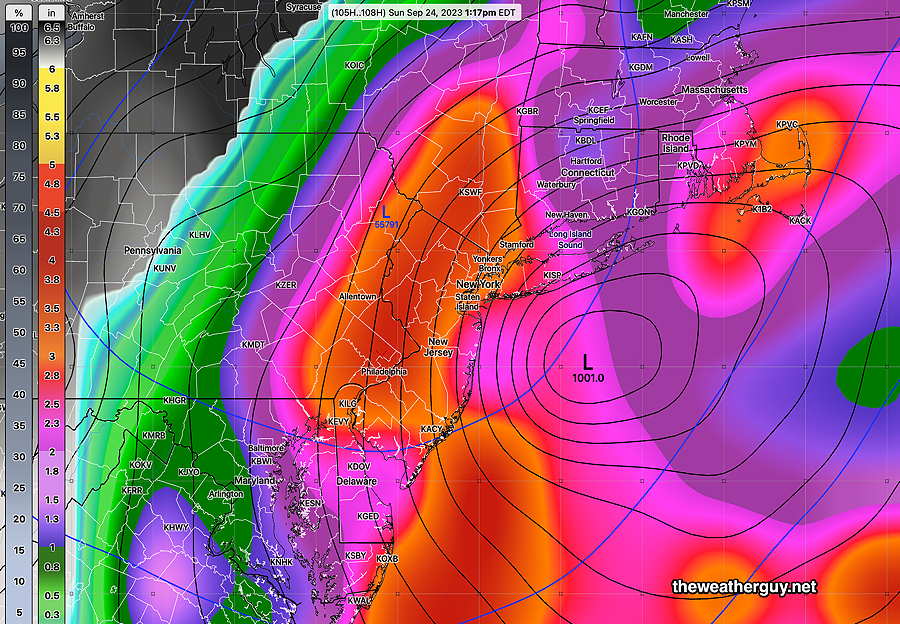 ---
Wednesday Through Sunday Outlook
Update Tue 9/19 9:28 PM — Continued fair weather through early Friday. Increasing cloudiness expected during the day on Friday.

The models have come together forecasting a slow moving coastal storm, held back by a westward closed upper low. This is expected to move in Friday night.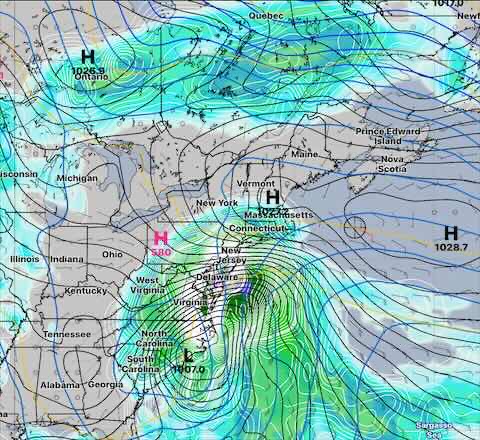 The ECMWF, which had been holding back on the development of this system, has joined the other models forecasting this storm. It is a bit slower than the GFS and NAEFS, with the rain moving in during the day Saturday. Currently, it looks like it will be raining most of Saturday with somewhat light showers on Sunday.

Sometimes these storms move out faster than the model forecasts, so there's some hope for Sunday.
---
Tuesday – Friday Outlook Update
Updated Mon 09/18 @ 6:23 PM —The low pressure system off of the coast will move northeast and high pressure builds in for Tuesday through Thursday.
Fair skies and seasonably mild temperatures expected.

Clouds move in sometime on Friday.
There's uncertainty with the low pressure development off the Florida coast. The NAEFS (combined GEFS and Canadian Global Ensemble) continues to forecast an "inverted coastal trough" moving in Friday into Saturday with clouds and an increasing chance of showers. The ECMWF is NOT currently on-board with this system moving northward. I'm leaning towards the NAEFS—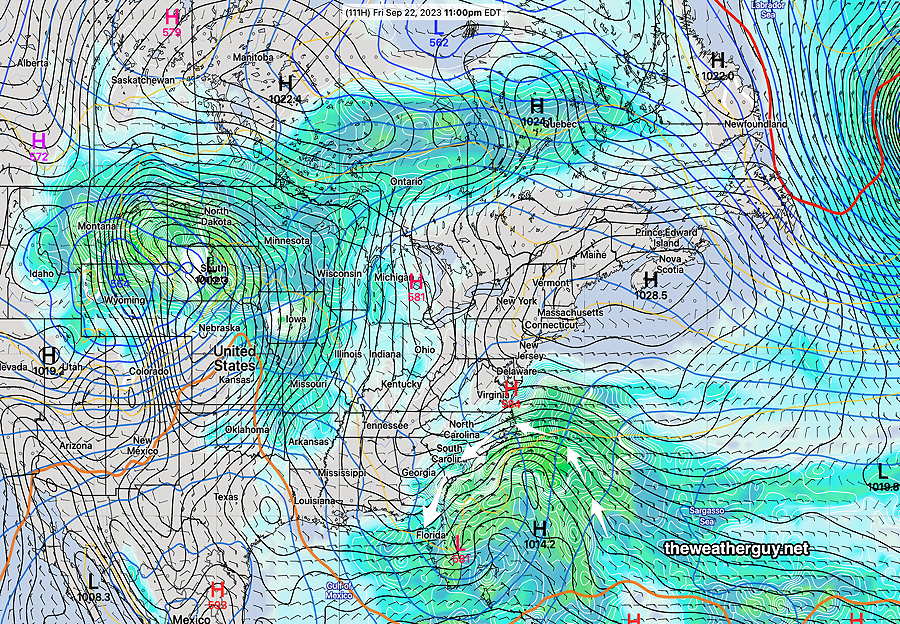 ---
Update Sun 9/17 11:09 PM — Tonight's models are forecasting a slower exit of the showers Monday. We may still see some showers in Philadelphia and eastward as late as 1-2 PM.
---
Previously Posted Sun 8:03 PM —
A weak coastal low will move northeast Monday. Showers may linger until 10 -11 AM and clouds will linger into the early to mid afternoon.
High pressure builds in for Tuesday through much of Friday—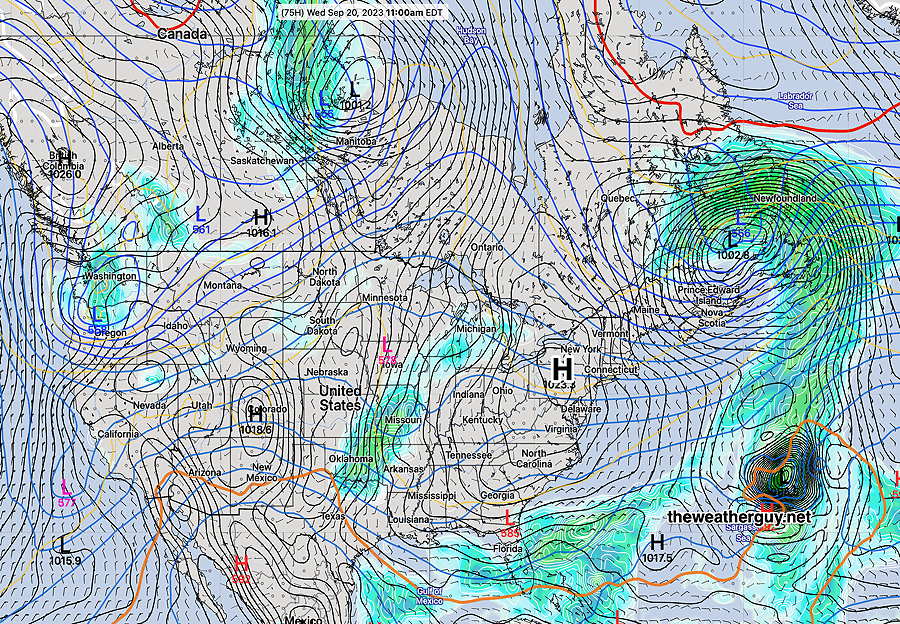 Average seasonal high temperatures this week are 75º-76º. Temperatures this week will be close to slightly above seasonal averages.
So an uneventful weather week is in store for us.
Of interest is a potential tropical or semi-tropical system expected to develop off the Atlantic coast of Florida sometime on Friday. This is forecast to move north and bring clouds and rain late Friday into Saturday. Things will likely change by the time Friday rolls around.
---