#Phillywx #Philadelphia #weather

Tropical Storm Ophelia
Updated Fri 09/22 @ 4:39 PM — When I updated this site this morning, the storm that is forecast to affect our weekend was still referred to as Atlantic tropical depression 16. It's been named Ophelia My regular "Weekend Weather Forecast" will cover this storm and its impact on our area.
Look for a new post shortly.
---
Update Fri 9/22 8:38 AM — A quick update. No significant changes from last night's forecast. Rain moves in from the southeast between 2AM and 4AM. Very windy with wind gusts 38-46 mph. Heavy rain on Saturday, especially Saturday late morning. Rain continues through much of Sunday. Total rainfall by Sunday evening 2-3.5"
Updates later today.
---
Update Thu 9/21 9:30 PM — The latest NAEFS ( a combination of our GEFS and the Canadian ensemble models) captures the current consensus guidance for this storm—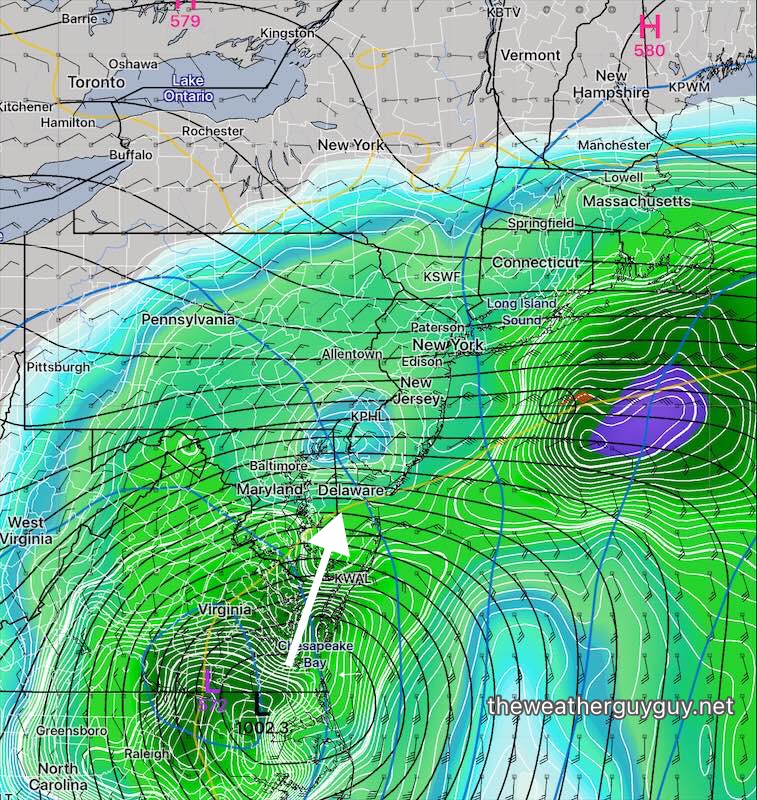 By Sunday, 24 hours later, the surface low has filled and weakened and the upper level low lingers. It's still raining here—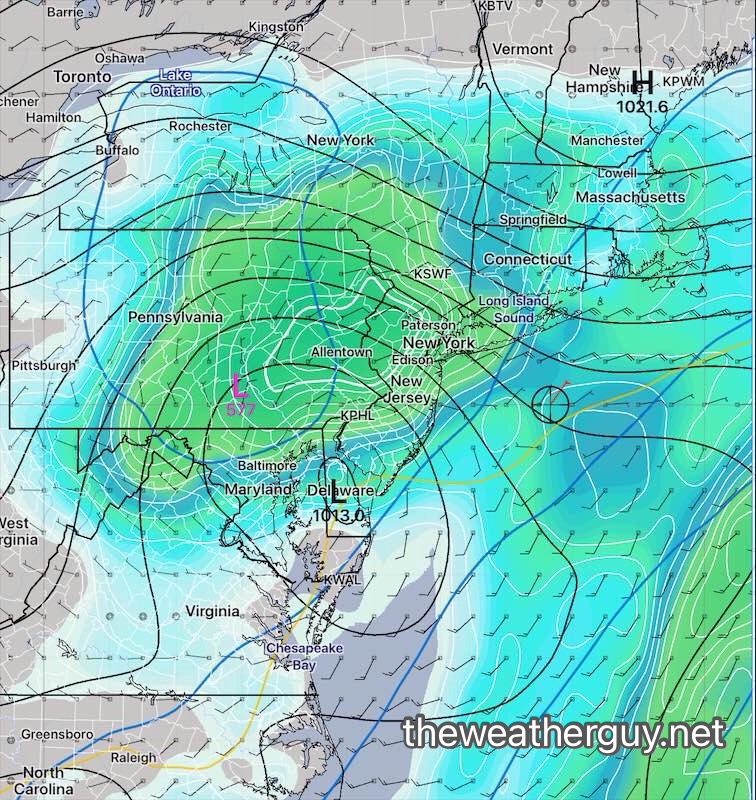 The latest NBM model just available show rainfall of 2-3" by Sunday evening and wind gusts of 35-45 mph.
---
Update Thu 9/21 5:03 PM — This will a difficult forecast to get right. The model guidance is all over the map…literally. Most models now have the strong tropical low pressure moving inland. Most, but not all, have this surface low pressure system rapidly "filling" as it encounters blocking high pressure, leaving a closed upper low. Most models have about 1.5-3" of rain through Sunday, with the majority of the rain Saturday. Heaviest activity closer to the shore is a safe, but not necessarily accurate emphasis.

It's going to be difficult to pin down specifics regarding locations of the heaviest rains and higher winds. Stay tuned
---
Update Thu 9/21 8:29 AM — Last night's ECMWF has finally joined our GFS model with a more coastal track and with the low pressure system becoming quasi-stationary as it moves over southern Delaware. The system will encounter high pressure to our north and will stall and somewhat "fill" (weaken).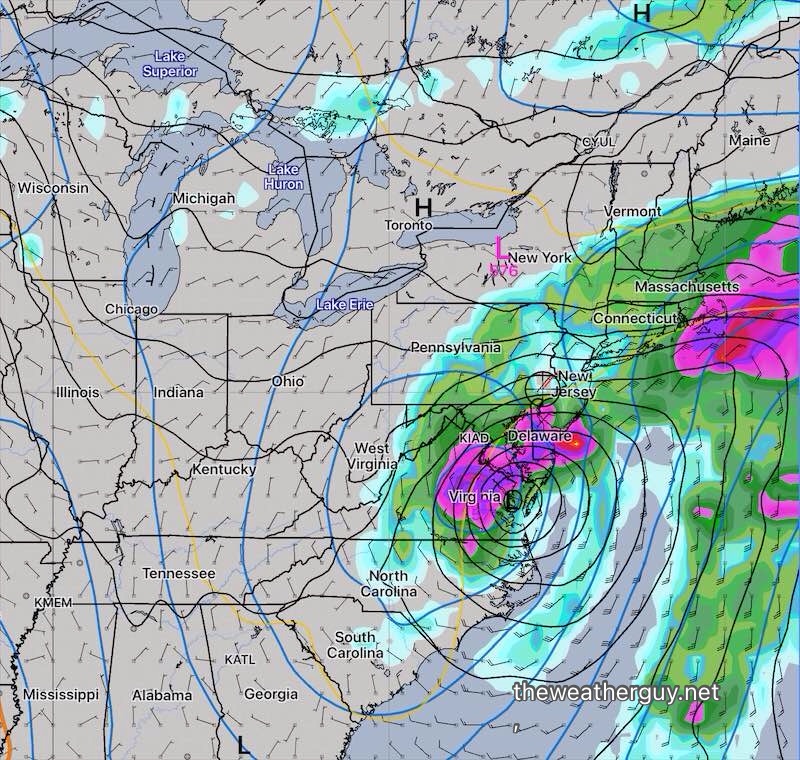 High winds and heavy rains still likely with this system.
---

Update Wed 9/20 9:52 PM — This afternoon's ECMWF and NAEFS models, just available, have become a bit more similar, with the storm either moving a bit eastward, or slower just to our south. This trend would reduce the impact of the storm in our immediate area. Will have to see the trends with tonight's models to get a better handle on this system.
---
Previously Posted Wed 9:02 PM —

As mentioned over past days, a disturbance off of the Atlantic coast of Florida will develop into an intense coastal low with some tropical characteristics. It's expected to begin to affect our area during the predawn hours of Saturday morning.
The majority of models have this system moving up the coastline, with the exception of the ECMWF, which continues to have the system bend away from the mid Atlantic coast. (Tonight's GEFS does have the storm blocked from northward movement as it approaches the Delaware coast with a slight turn eastward. This somewhat supports the ECMWF track, but it's too soon to hang our hats on this forecast.)
Heavy rain, high winds are likely on Saturday if it follows the track of the GFS, Canadian and German ICON models. Rainfall totals of 1.5 to 3 inches are likely, with wind gusts 35-50 mph. Impacts will be significantly less if it follows the ECMWF track.
Here's the latest Canadian RGEM —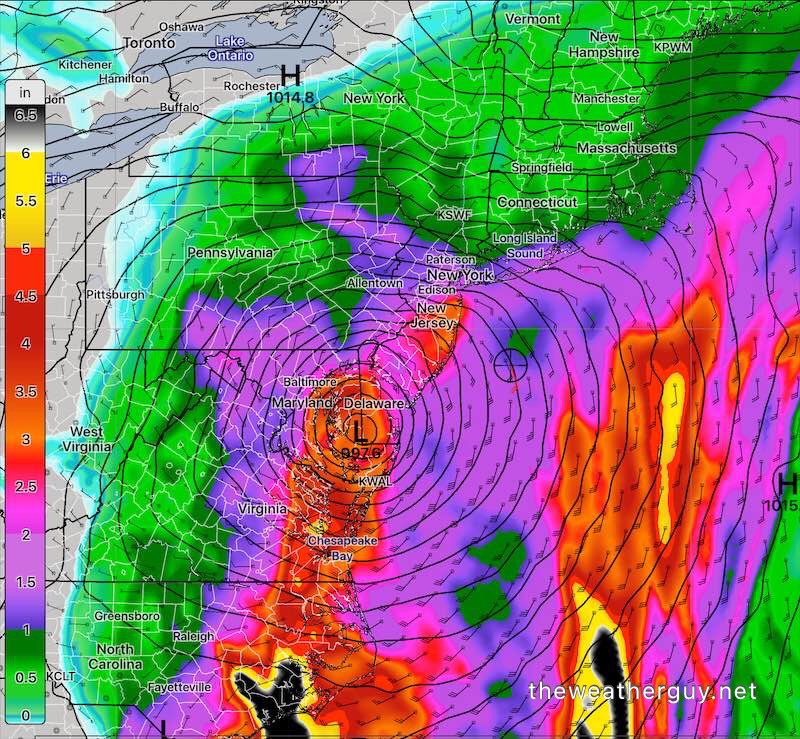 So, this could be a major storm for our area or it might move eastward enough to significantly reduce its impact. Stay tuned.
---