#weather #paweather #wx #pawx #philadelphia
Sunday Forecast Update
Sun 5:21 PM Forecast Review — We had a few clouds mid day. Most people would have not noticed.
Update Sat 3/04 10:07 PM — After a sunny morning, it looks like another upper air disturbance will move through Sunday about noontime into early afternoon. Not as much cloudiness as Saturday, but not as sunny as previously predicted.
---
Update Sat 3/04 8:29 AM — The big question for today: how much cloudiness will really develop here? As mentioned with my forecast yesterday, the models have backed off from their very cloudy forecasts.
With the knowledge that the model cloud parameters often get this wrong, I'm still feeling that we'll see significant periods of cloudiness today, perhaps with some occasional breaks of sun. Windy conditions this morning will gradually subside during the later afternoon.
---
Previously Posted Fri 4:12 PM —
Low pressure to our west will bring rain Friday night. The rain is expected to be heavy at times with areas getting as much as 1.3″ of rain.
Very windy conditions around midnight tonight (Friday) with gusts 40-50 mph.
Upper air disturbances with the jet flow over our area will bring periods of cloudiness for Saturday.
Saturday
Saturday will have periods of cloudiness, especially from the city northward. Areas in Delaware and southern Chester counties may have less cloudiness. It should be noted that this afternoon's models have backed off from the very cloudy conditions forecast previously
The cloudiness will be the result of upper air disturbances moving through with main jet flow overhead and moisture rotating around the slowly departing low pressure system near Cape Cod. Here's the GFS showing areas of strong vertical velocity at jet stream levels—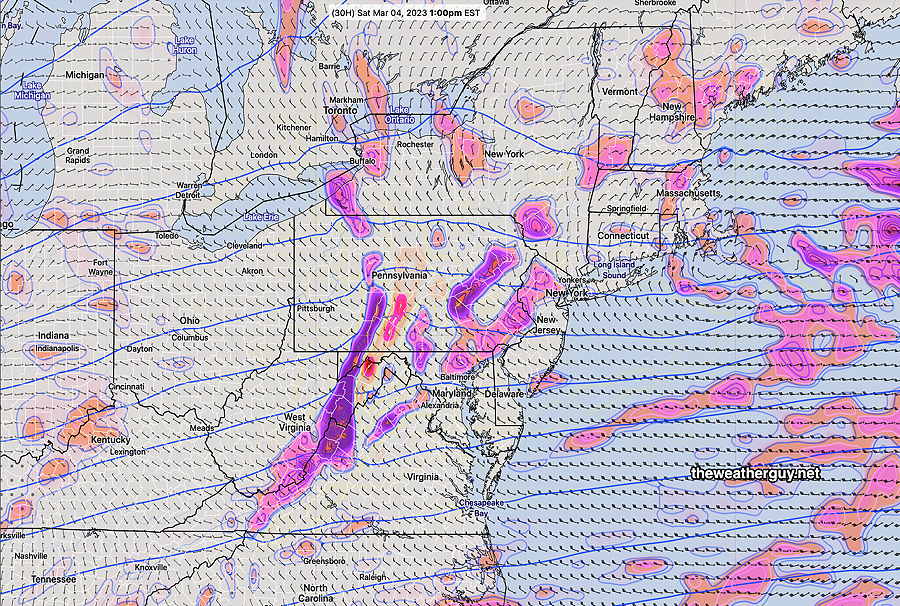 High temperature 51.1º sd 1.8º ( NBM model location – Blue Bell, PA)
It will be quite windy and gusty—

Sunday
Sunny and less windy.
High temperature 52.6º sd 1.5º ( NBM model location Blue Bell, PA)
---
---
---