#weather #paweather #wx #pawx #philadelphia
Snow Accumulation Tonight? Fuhgeddaboudit!
Update Mon 3/06 5:56 PM —This afternoon's models have taken the trace snowfall predicted by last night's models and have moved accumulations even closer to zero. The trend today has been for accumulating snowfall to be even further northward.
Here's the very latest GFS snowfall accumulation for tonight—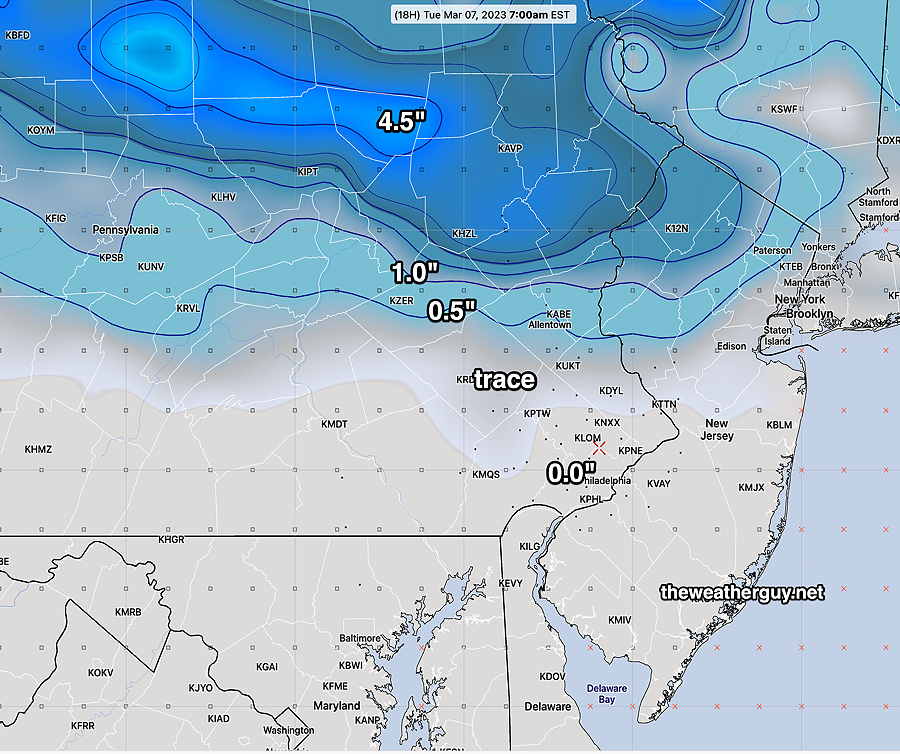 While some snow is expected to fall in our area, minimal accumulating snow expected due to temperatures being above freezing and "surface skin" temperatures also above freezing during the time of the precipitation.
While temperatures may fall close to 32º just outside the city by 7AM, it will occur after the precipitation has exited the area.
NBM showing exiting precip as 32º line drops south at 5AM Tuesday—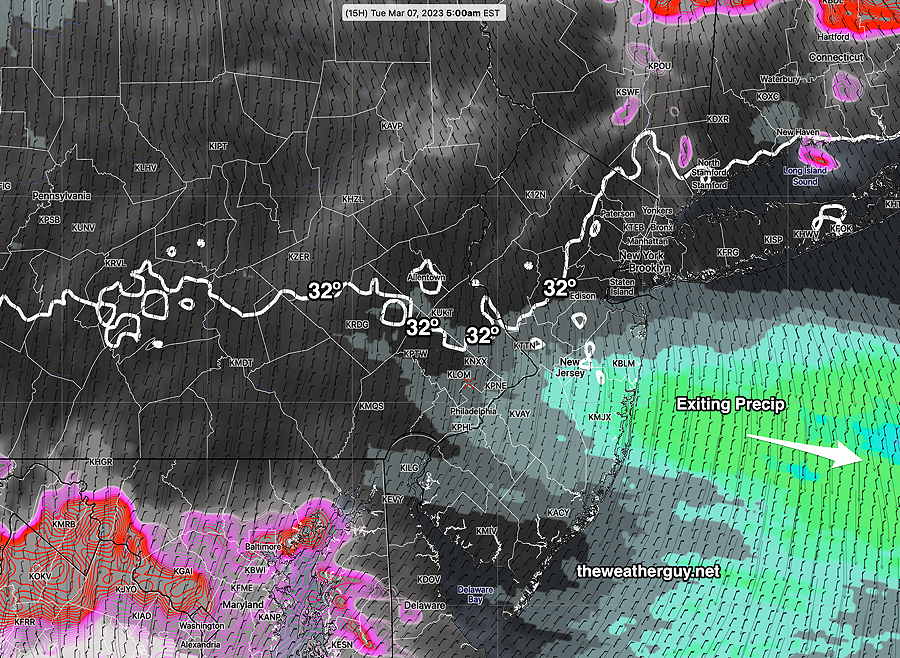 ---
Monday Forecast Update
Update Mon 3/06 9:05 AM —It appears that the fast moving weak storm for tonight will bring down enough cold air to allow the precipitation to fall as snow. The timing of the storm, occurring at night, helps with this colder thermal profile.
While the light precipitation in the immediate PHL area will fall as snow, surface temperatures will be above freezing in areas south of Doylestown. No accumulation on roadways and little accumulation on grassy surfaces expected in these areas.
Snow starts 11PM to midnight and ends before daybreak Tuesday.
North of Doylestown, accumulating snow is forecast by the models. There's quite a range of accumulations forecast—
NBM: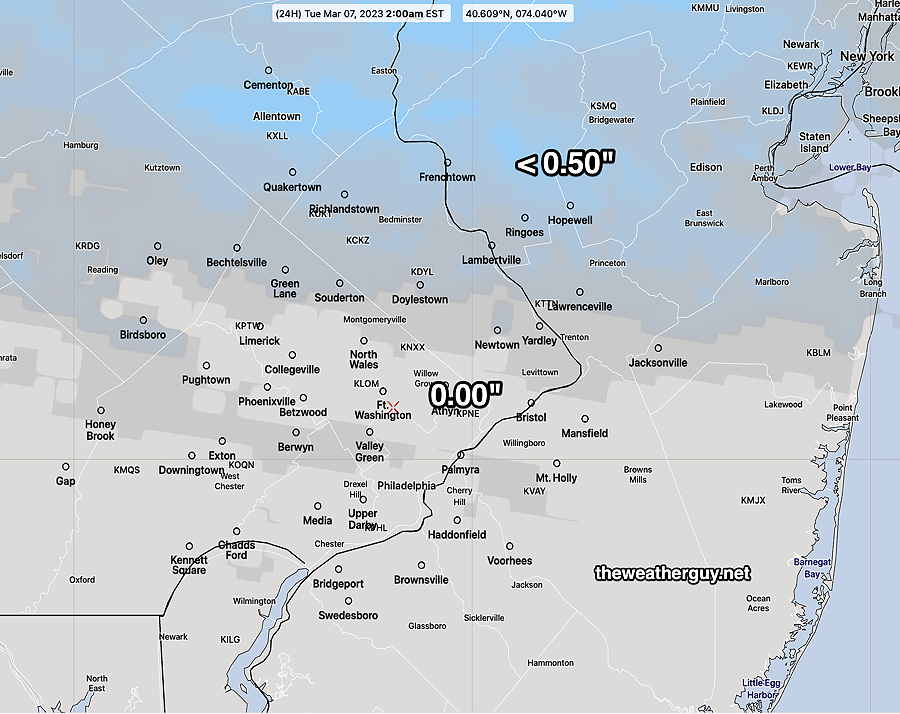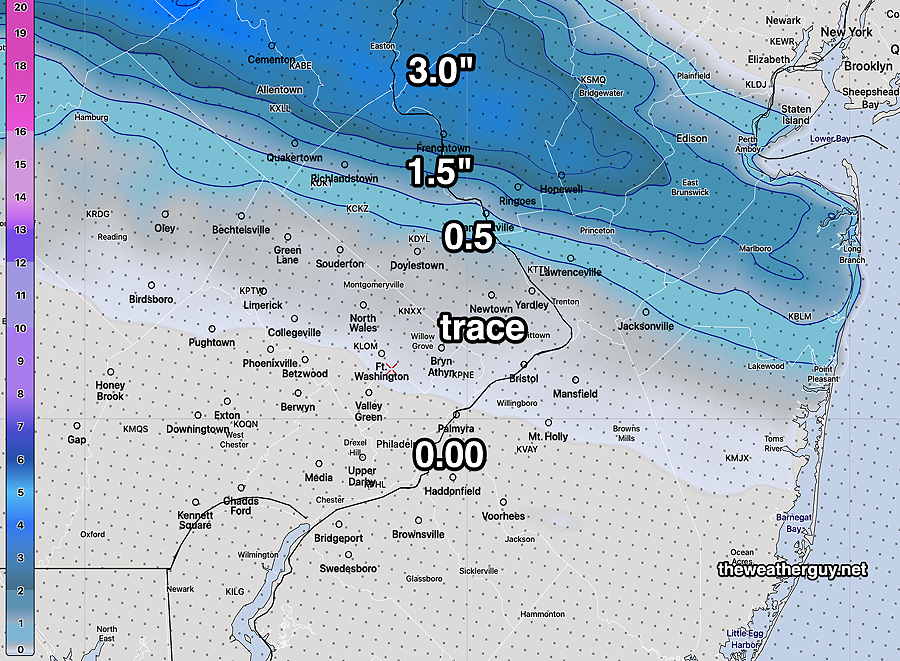 Previously Posted Sun 5:55 PM —
I don't see much significant weather this coming week until next weekend, although a pattern change to colder weather is hinted at for us for the following week, according to the GEFS.
With the exception of a warmer Monday (53-54º), for the rest of the week, highs will be in the upper 40's (Blue Bell), close to the seasonal average high of 49º (Blue Bell) and 50º (Philadelphia).
This Week's Weather Highlights
Monday night—
A weak storm moves through Monday night with some rain. It continues to be windy, especially Tuesday through Wednesday. (Well, it IS early March).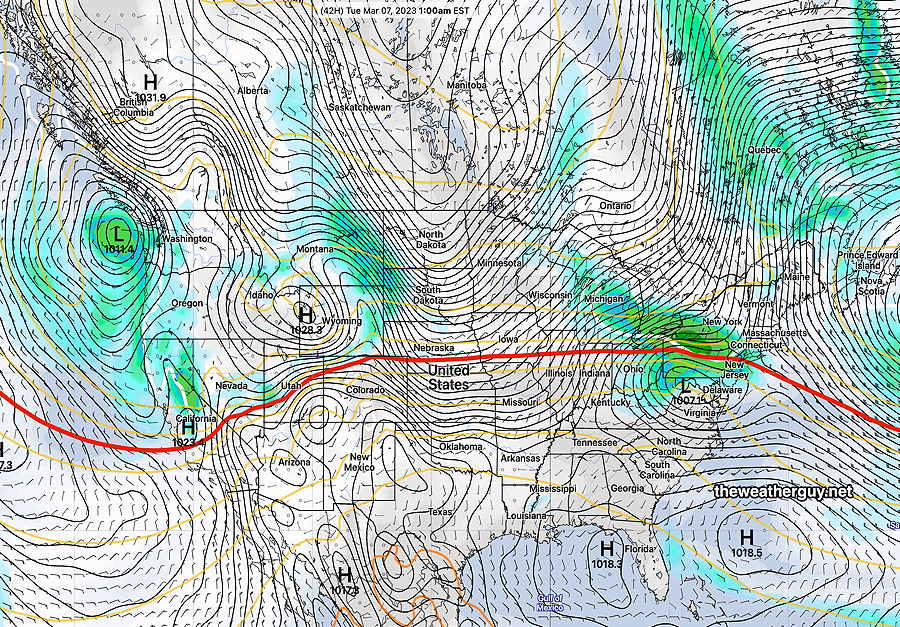 Friday Night into the Weekend—
Another storm approaches for next Saturday and a strong secondary low, a coastal storm, develops.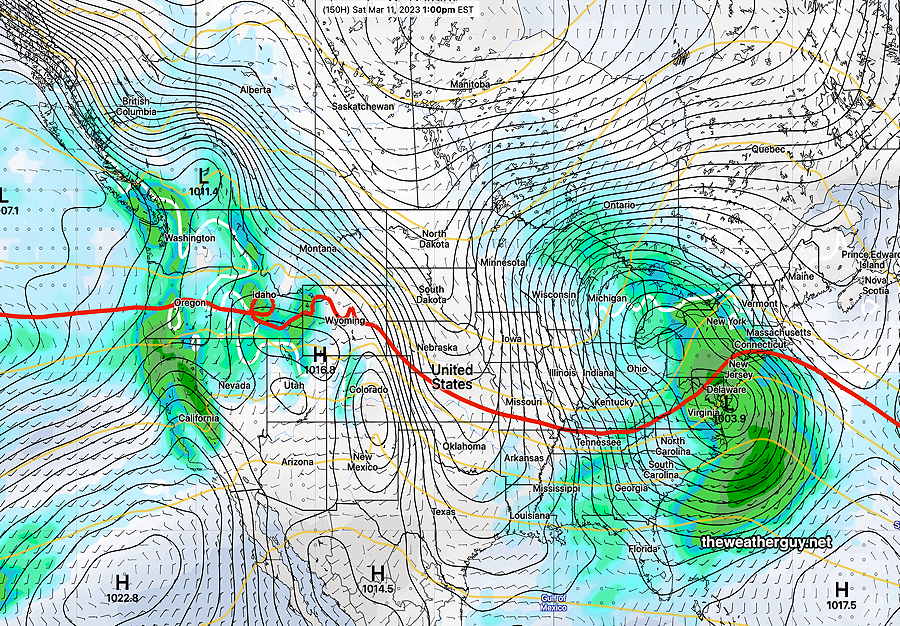 ---
---
---