Update Sun @ 10:09 AM — On my way out at 10 AM but it's raining!

What about this peak at 10 AM?? Hmmm….. I guess I didn't annotate my own meteogram closely enough.

---
Update Sun @ 8:30 AM — As suspected, some of the high resolution models weren't too great in forecasting the freezing rain. The GFS, NAM and NAM-NEST as well as the HIRESW-FV3 correctly forecast the precipitation at it's current location—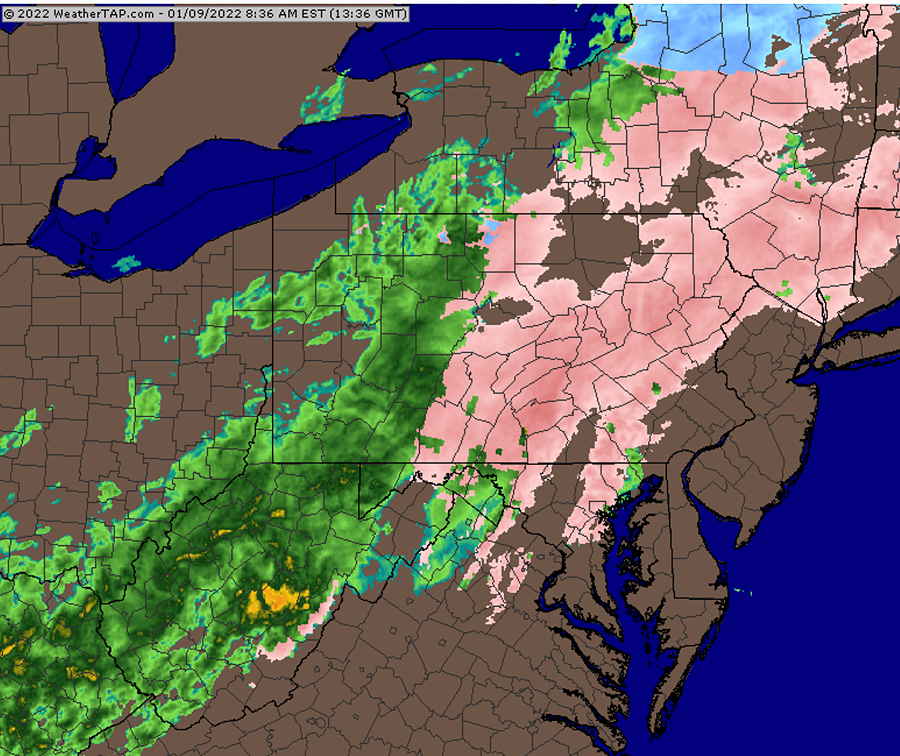 So when will it rain?

The models also show winds getting quite gusty by the time the rain starts.
---
Update Sat @ 11:03 PM —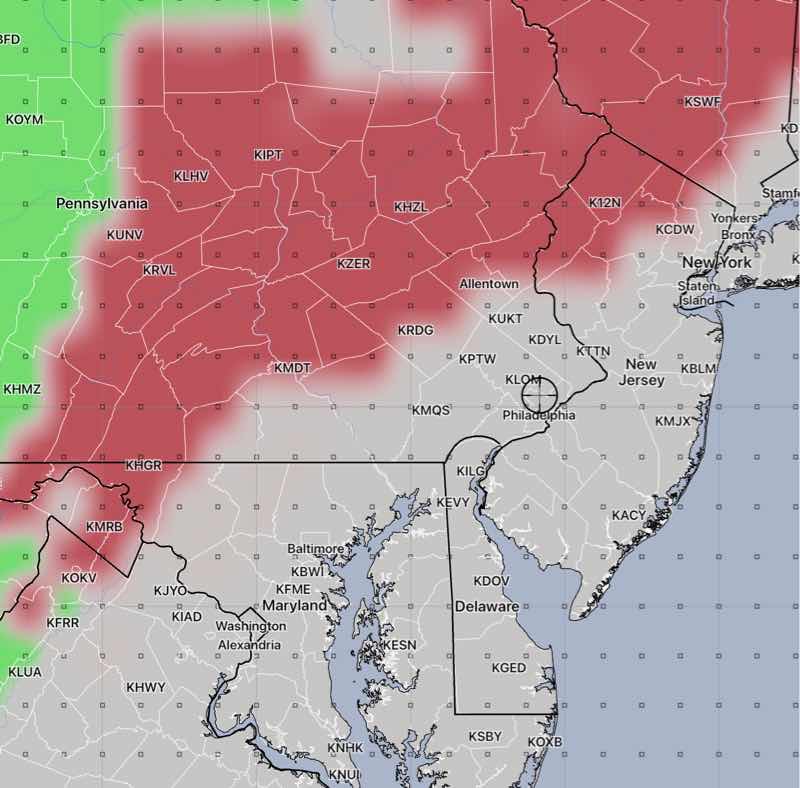 ---
Update Sat @ 9:45 PM — Eagles halftime and time for a weather update.
The trend with tonight's models is for the early slug of potential freezing rain to stay just north and west of Philadelphia. The NAM group has any freezing rain not even close by. The newer models HRRR, RAP and and HIRESW models keep the freezing rain just north and west.

Only one version of the HIRESW-ARW has some light freezing rain in Philadelphia early.
Of interest is that the morning may be relatively rain free after a quick slug of precipitation, with the main area of rain moving in about 1-3 PM.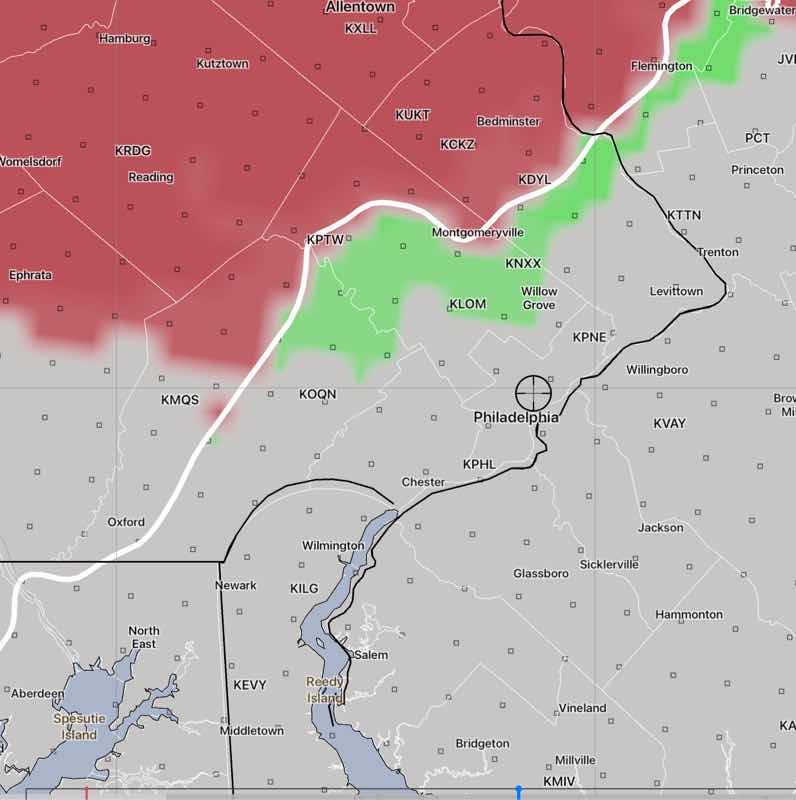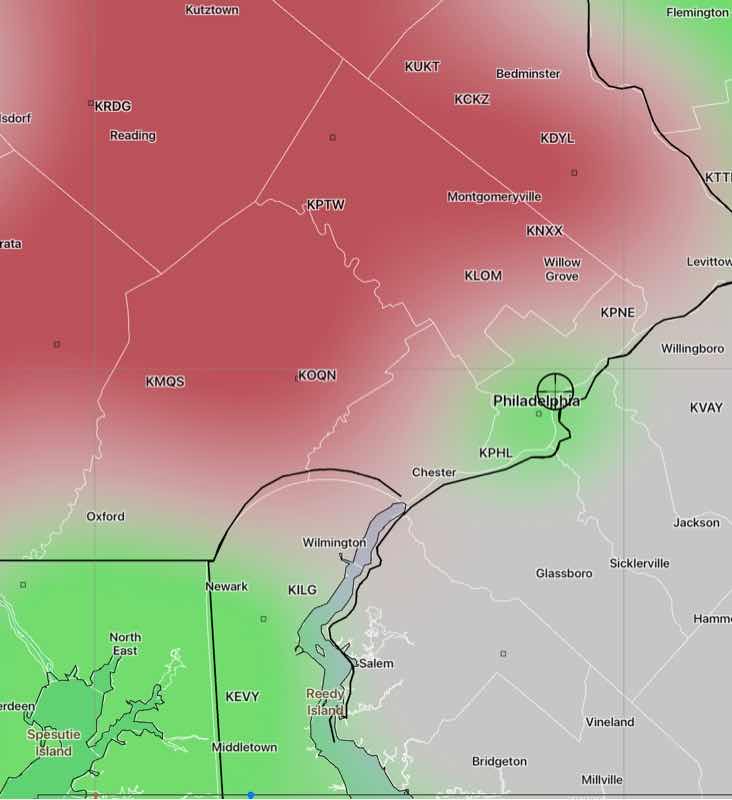 ---
Update Sat @ 4:35 PM — Today's models continue to increase the likelihood of a period of freezing rain on Sunday morning. While most of this will occur just north and west of Philadelphia, several models are showing very light freezing rain occurring around 7 AM within the city. It will changeover to rain from south to north, and by noon, and it should be all rain as far north as Quakertown.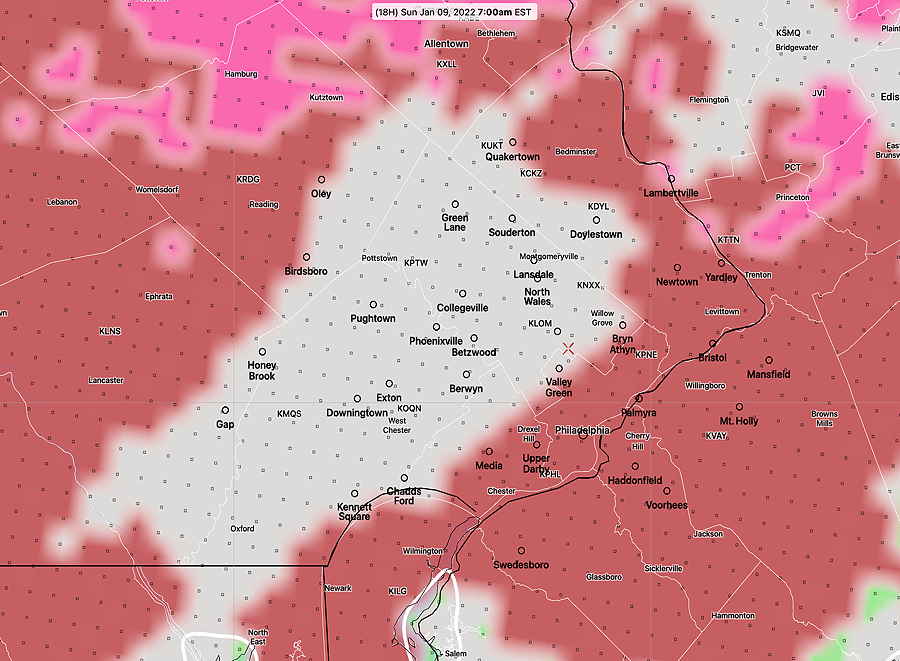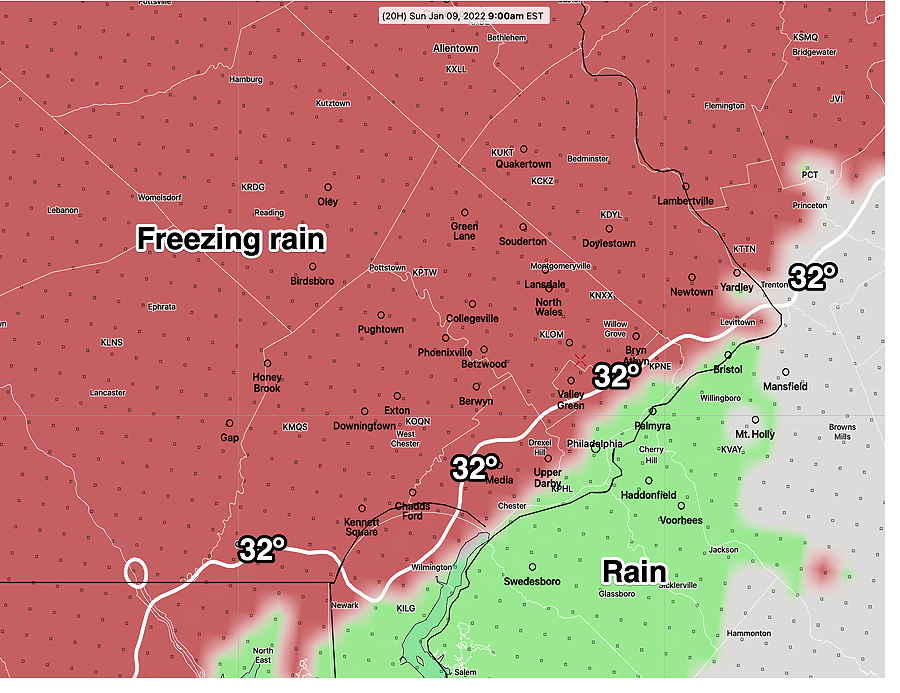 As shown in the graphic below, the lower resolution GFS is not as aggressive with the freezing rain in Philadelphia as the HREF model because it has the precipitation coming in somewhat later, after the temps have warmed up. (The latest Canadian RGEM model is similar to the GFS, with precipitation coming in later.)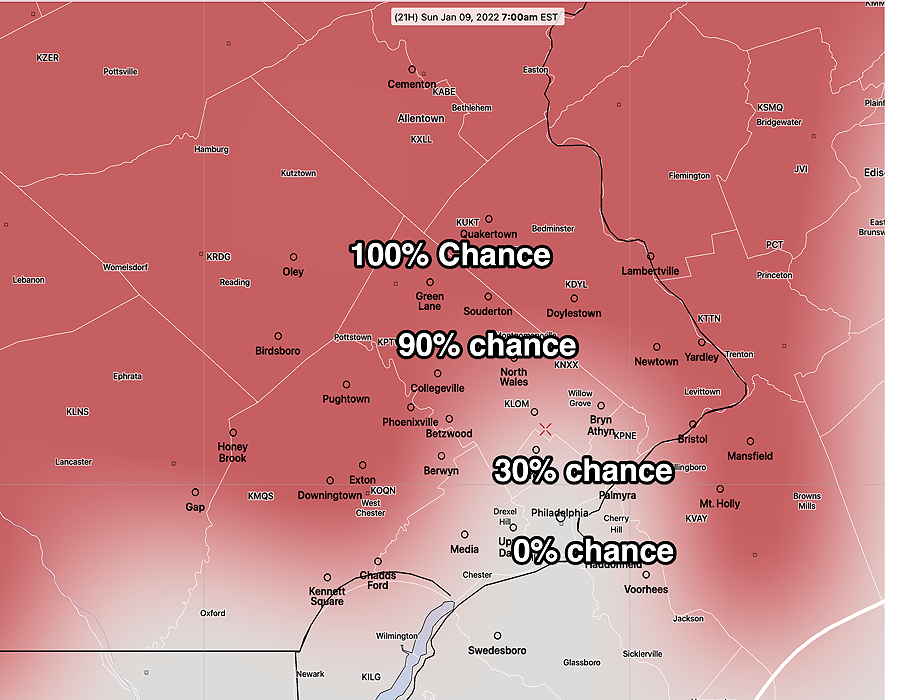 ---
Update Sat 7:50 AM— Saturday high temp 29.3± 1.3º. (Somewhat colder). Sunday a period of freezing rain in the morning looking more likely at this time. Sunday details.
---
The weather moves to an active pattern as amplifications in the jet stream, both ridges and troughs, move through the northeastern US.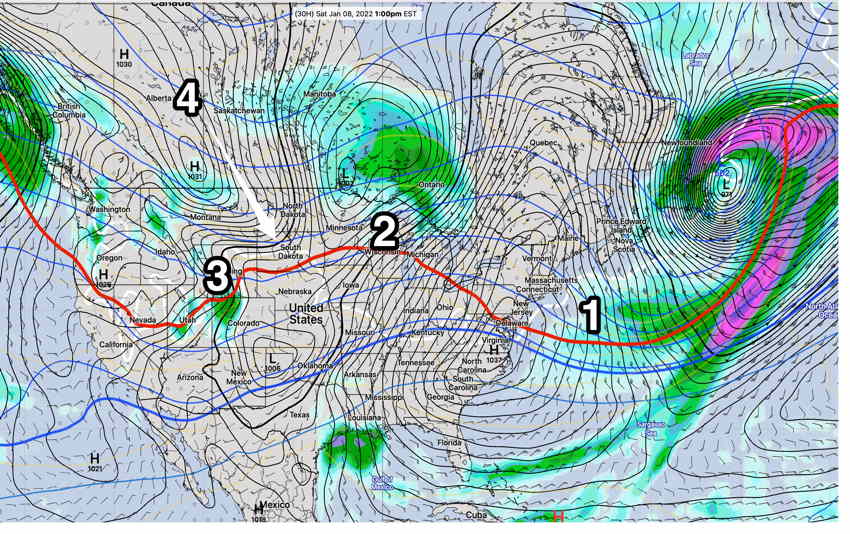 The expected pattern is described in the caption above.
Saturday
Saturday will be sunny and cold but winds should subside as a surface high will be right over us. High temp 32º ± 2º NBM Blue Bell
Sunday
The upper ridge moves over us and surface winds become southerly, bringing some moisture. The moisture will rise over cold air and a period of freezing rain is possible northern and western areas during the mid to late morning. This should all change to plain rain in the immediate suburbs, but very far northern/western areas (north of Allentown) might see a prolonged period of freezing rain . High temp 42º ± 3º (NBM Blue Bell)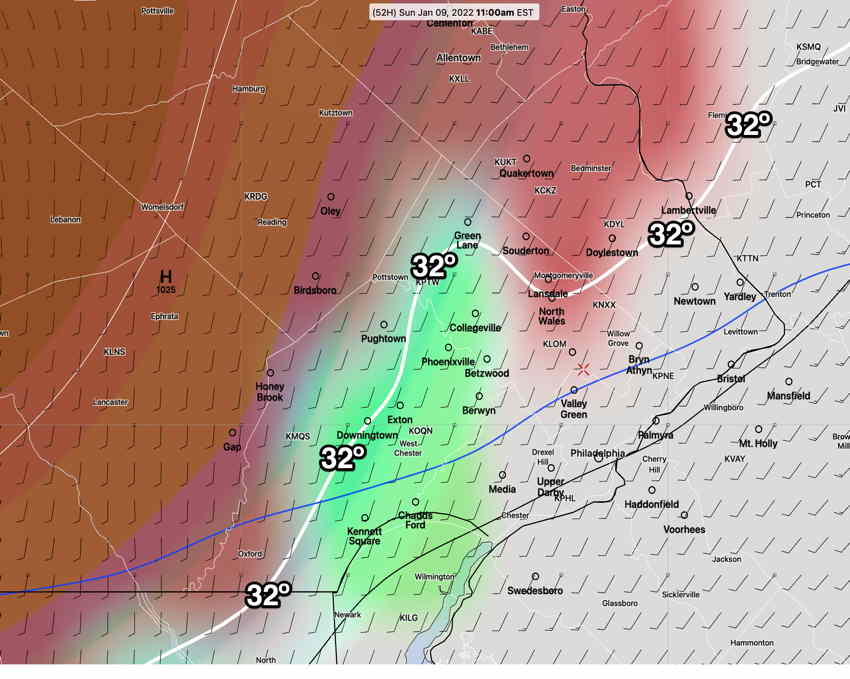 Light rain through the afternoon. Winds pickup and become gusty later afternoon into evening.
A cold front moves through before midnight Sunday with gusty winds. Temperatures drop into the 20s with lower wind chills.
Very cold weather Monday through Tuesday.