Update Thu @ 7:34 AM — Last night's models continue with a generalized 3″ snowfall starting about 10-11 PM tonight and ending about 7-9 AM Friday.
Blue column is the latest model forecast. The NBM has a large range of possibilities from 2.5 (25 percentile)- 6.0″ (75 percentile)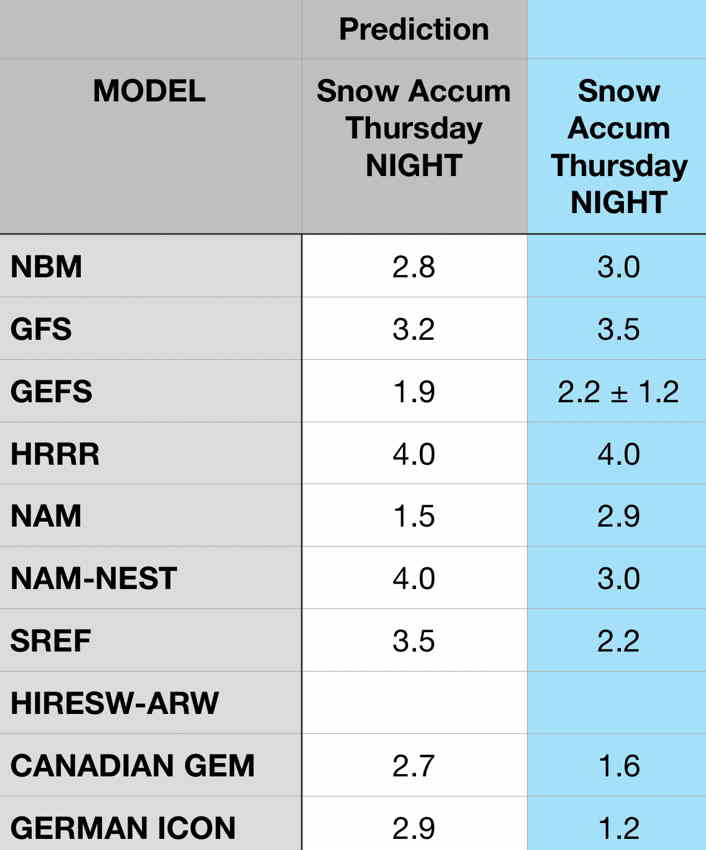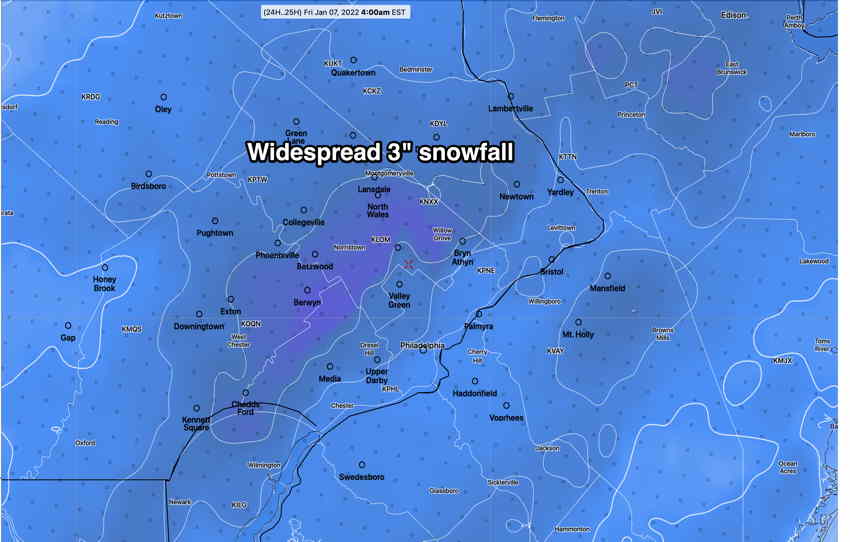 Updates later today. Stay tuned
---
Updated Wed @ 8:38 PM — Tonight's models continue with a generalized 2-3 inch snowfall from a low pressure system expected to form and move off the coast Thursday night into Friday morning.
Here are some current raw model snow forecasts for Blue Bell, PA as of Wednesday afternoon —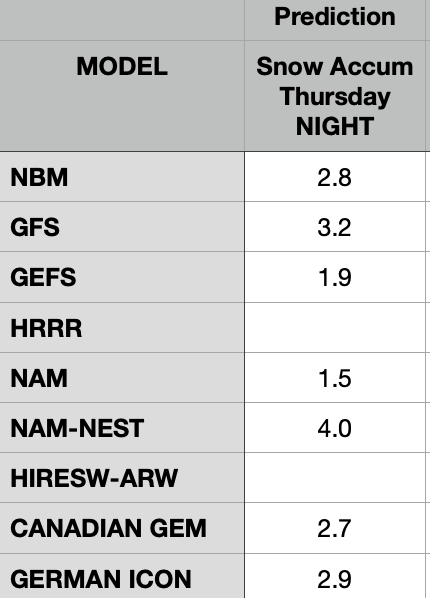 After the storm departs on Friday, gusty winds are expected.
---
Updated Wed @ 7:23 PM— Another quick update for Thursday night's expected snowfall. Models are predicting snow in the range of 2.5-3.5" of snow over the area. Snow starts between 8 and 11 PM and tapers off around noon Friday. Another update later this evening.
---
Updated Wed @ 7:09 AM— Just a quick update for Thursday night's snowfall. Latest GFS has 1.5 inches for snow, the NAM has 3" of snow by Friday morning for the immediate Philadelphia area. I'll update this evening in more detail.
---
Updated Tues @ 10:25 PM— Regarding Thursday night's snowfall, tonight's models (NOAA server is back up) are trending towards lesser snow amounts, in the 1 inch range. Stay tuned.
---
Update Tue @ 8:53 PM — Light freezing rain possible early Wednesday morning according to the NBM. Just a slight chance.
Temperatures below freezing at 7 AM and ground temperatures will lag surface temperatures. Doesn't take much to have slippery conditions.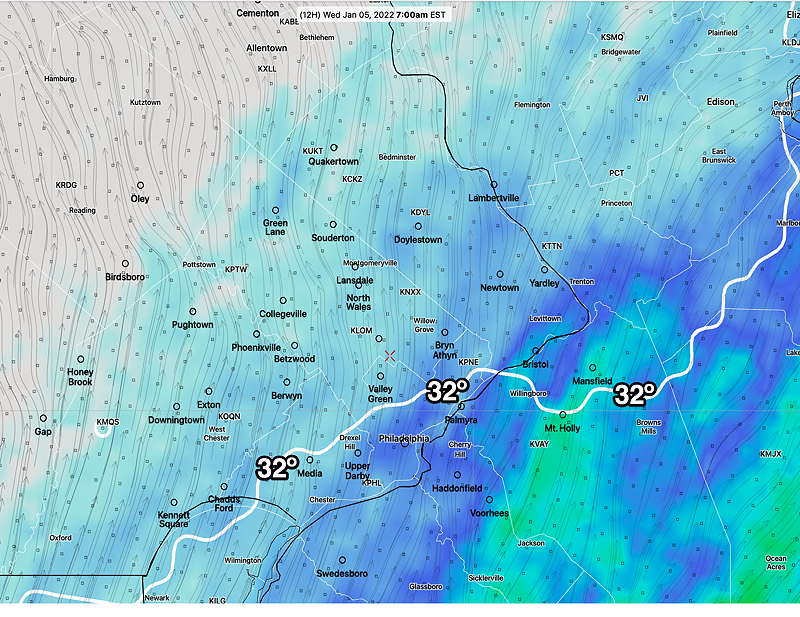 ---
Updated Tues @ 6:59 PM— One of the two main NOAA's servers that I use to auto download weather model data has been down today. So I haven't been able to look at most models. I'm working on switching over to another server. (Easier said than done.)
I did manage to get the NBM model and it shows good chance of freezing rain early morning Wednesday for areas north of the city.
This afternoon's Canadian GEM show very light freezing rain moving from south to north from 5 AM through 9 AM Wednesday.
I hope to have more to say later this evening.
---
Updated Tues @ 01:40 PM— The possible snow late Thursday is, as usual, is too far in the future to pin down yet. As always, there's considerable model spread. The GFS has the most snow for us and the NAM the least right now.
Just to give a sense of things, this most likely will be a 2-3 3-4″ range snowfall based on the current GFS and NBM, starting Thursday evening and ending Friday morning. It currently isn't expected to intensify like the storm this past Monday.
I'm sure the details will change. Stay tuned.
---
---
Originally Posted Mon 8:05 PM —
A dip in the jet stream has brought colder temperatures. Another dip will spawn another low pressure system later this week, just as it did Sunday night into today, Monday.
The models are uniformly forecasting another low pressure system to affect our area from Thursday night into Friday morning. This storm may again affect eastern areas into NJ more than areas in Pennsylvania. Precipitation will be all snow.
It's too soon to assess specifics.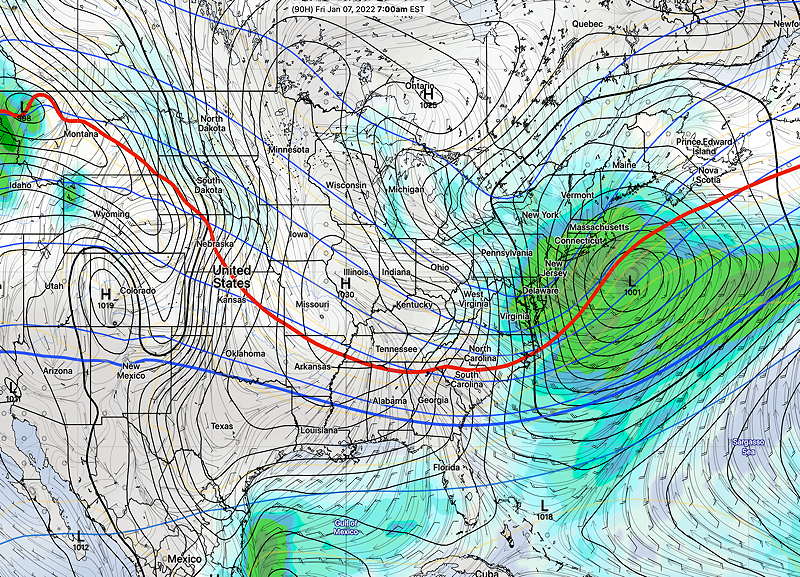 Cold weather following the Friday storm will last into Saturday. Next Sunday may be briefly milder.