[su_note note_color="#bceaed"]Anthony Wood, writer for the Philadelphia Inquirer, wrote a good article on the weather models and snow forecasts in today's Philadelphia Inquirer. In the article, he discusses the new GFS model.  I do agree that the new GFS model (known as the FV3-GFS in development) seems a little off, especially with temperatures lately.  That said, the graphics I posted in previous days from the European and Canadian models show they didn't do much better with today's forecast. [/su_note]
[su_note note_color="#defcdc"]Monday Update 10 PM:  Tonight's high resolution WRF models have reduced the QPF even further to 0.10 water.   The WRF has light snow showers possible until 11-12 noon.  Still no accumulation expected.  [/su_note]
[su_note note_color="#defcdc"]Monday Update 7 PM:  This current "storm" doesn't merit the time and attention I've given it, but I see it as a dry run for future winter storms.
The latest models have reduced the QPF to a small 0.12 inches of water, falling essentially as a short period of rain. Rain starts before daybreak and now may end as early as 9 AM.
A changeover to snow flurries appears possible, but an accumulation is unlikely in Philadelphia and the immediate suburbs.  Cold air moves in quickly behind the front with windy conditions. [/su_note]
[su_note note_color="#defcdc"] Monday Update 10 AM: The latest models continue to show a changeover to snow late morning (~ 10 -11 AM) with temperatures dropping during the day.  The snow turnover will occur, but whether any snow accumulates is uncertain.
The total QPF for this "storm" is just about 0.30 inches water; only the last 0.08 inches of this water will fall as wet snow.
Some of the thermal parameters that I look at are NOT really supportive of accumulating snow — temperatures at the surface start very warm and the low QPF values reducing dynamic cooling. The "thickness level" is also a bit high, indicating a warm atmosphere.
Additionally, the models have the temperatures falling to freezing at critical levels just as the precip is ending.
Last night's ECMWF (European) has been insistent on some light accumulation, a coating to 0.4 inches.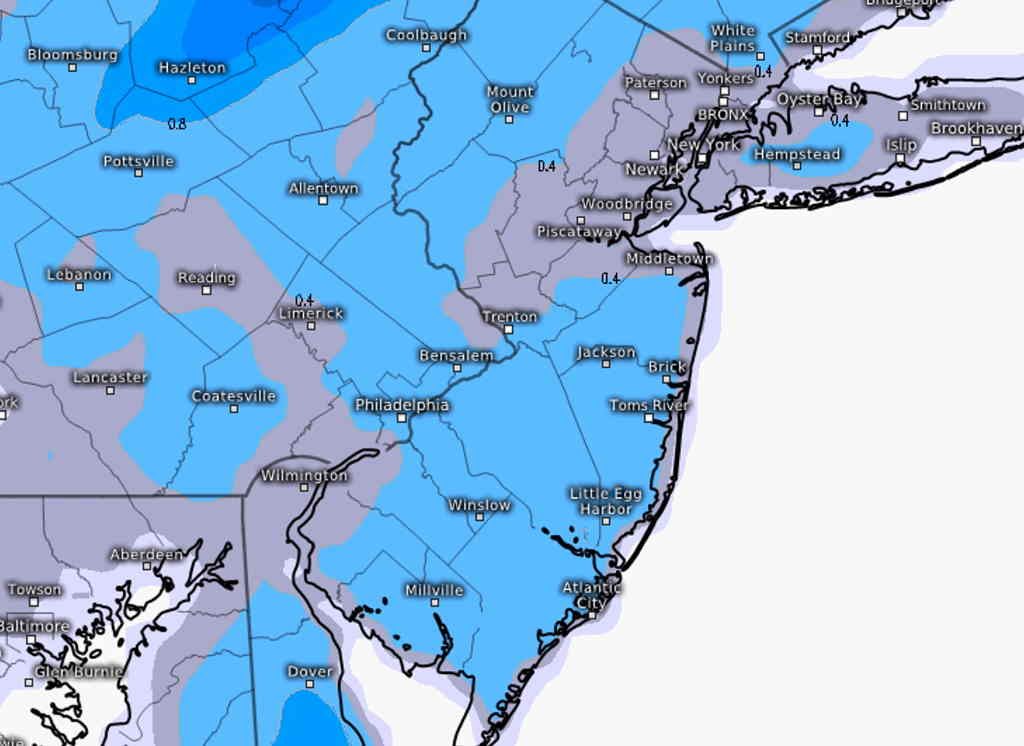 This morning's NAM and NAMNEST  also show a coating of snow. Stay tuned.[/su_note]
[su_note note_color="#defcdc"]Sunday Update 11 AM:  Latest models have moved the precipitation earlier starting well before daybreak Tuesday.
Total QPF has reduced to about 0.4-0.5 inches water. The change-over to snow still expected during the last hour of precipitation, but accumulating amounts look to be zero or a coating at best.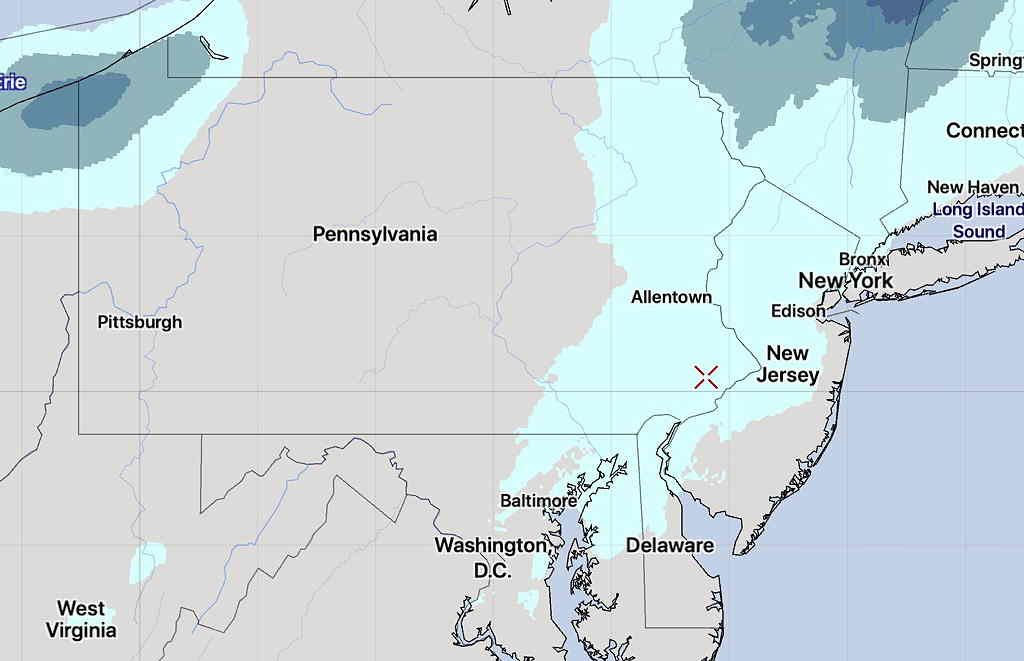 [/su_note]
A cold front is expected to move through on Tuesday, with coastal low pressure developing northeast of us.
Some things have changed over the past few days— the front will move through much earlier on Tuesday morning than previously forecast.
Some aspects of the forecast have moved back to a brief change to snow.
The NBM (National Blend of Models) continues to predict a coating to 1/2 inch of snow.  The statistical SREF  (Short Range Ensemble Forecast) has a similar forecast.
The latest GFS model suggests that rain will turn briefly to snow before ending mid morning.  It's unclear whether anything will accumulate.  Warm surface temperatures will limit any accumulation perhaps to a coating, up to 1/2 inch.
Stay tuned.