Updated Fri 7AM:  The GFS seems to be the most consistent model with the others trending towards its solution— A front moves through Tuesday, with some light rain, as the low pressure system develops to our north and east. The cold air arrives too late for much snow in our area.
Specifically, the cold air doesn't come in until the precipitation is ending late afternoon or early evening on Tuesday. At best, a coating to under an inch of snow is possible Tuesday by 8 PM  with an emphasis on the lower range.
Capturing the trend is the National Blend of Models (NBM) which has been slowly reducing its snow forecast for our area.  Here's the current NBM snow forecast for Tuesday 8 PM: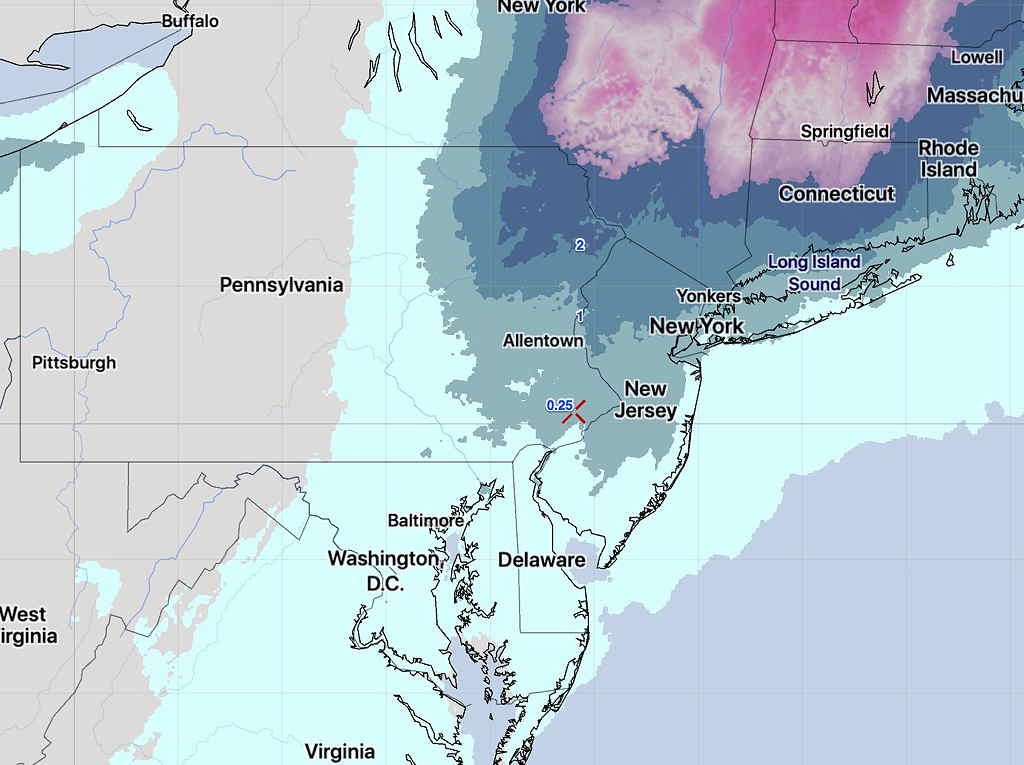 It's likely the NBM forecast is over-done, even with its low snow totals of a coating of snow.
…from yesterday (Thurs)—
Updated Thurs 8 AM:  There's still much uncertainty with a potential snowfall early Tuesday morning.  The Canadian CMC GDPS (Global Deterministic Prediction System) has sleet changing to snow here, while the GFS jumps the energy off the coast, mostly missing us.  Here's the current Canadian model,
showing the rain/snow line in red
, moving over our area, changing sleet/rain to snow. Precip starts before daybreak and continues through Tuesday.  The current GFS forecast is very different with light showers, flurries.
Here's the current GFS forecast for 8AM Tuesday, showing the precipitation has departed by the time the cold air moves in (lines depicted by arrows.)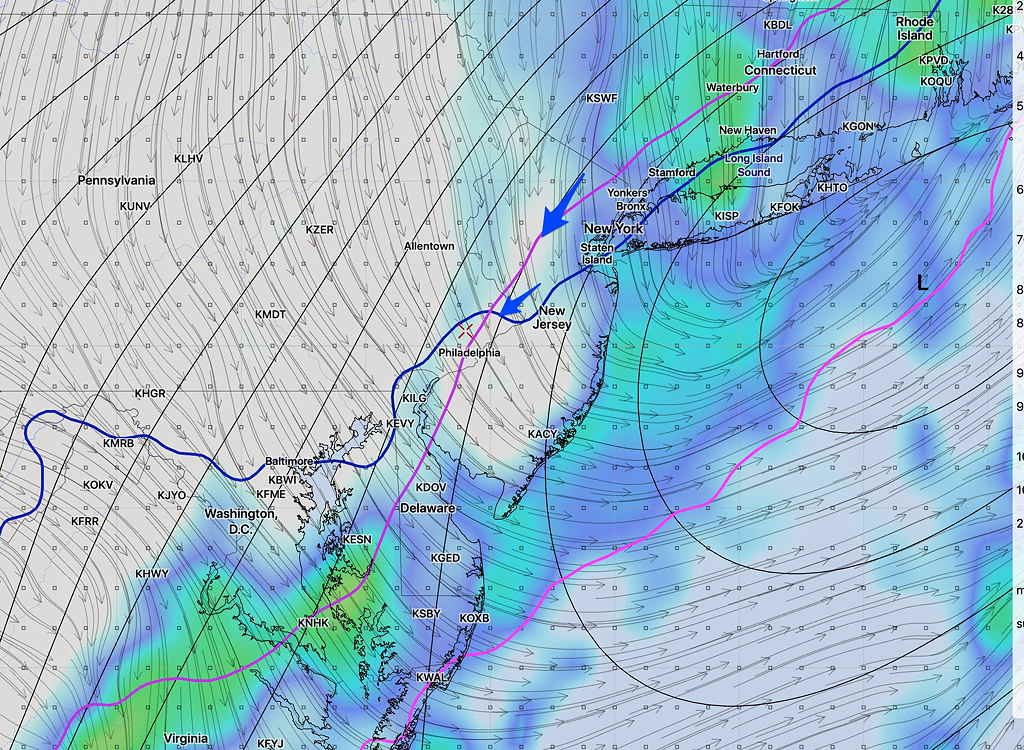 …from earlier this week:
As I mentioned over the weekend,  the period around Tuesday, November 12th looks to be interesting weather-wise.
Following the cold outbreak this coming Friday through Saturday, another cold outbreak is expected next Tuesday.  While this weekend's dip in the jet stream will be broad and positively tilted, next week's outbreak is likely to feature a highly amplified jet stream allowing development of a coastal storm.
The current Canadian model has a deep coastal storm with snow and sleet for us next Tuesday. The GFS had predicted something similar, but has recently backed away from this forecast scenario.
So there's much uncertainty, but next Monday through Wednesday looks to be interesting.  Stay tuned.