An easy forecast to make for this weekend.   High pressure will bring a southwesterly flow of very hot, humid air into our region.  Both Saturday and Sunday will be sunny with highs on Saturday 95 and 99-101 on  Sunday. ( It's July and having a heat wave is what happens in the summer!)
On a positive note, the latest model runs have a bit less humidity than previously forecast.  Dew points in the mid to upper 60s during the daytime hours.  This is a slight improvement over what had previously been predicted by the models; they had been showing dew points in the low 70s during the day.    It's still going to be hot!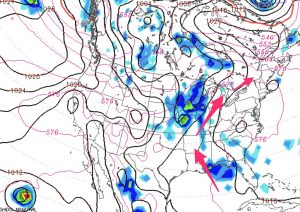 The latest models have highs in the 90s for the next 7+ days!