Last Updated
The models did poorly with yesterday's forecast; I guess the biggest clue that things weren't going to go as forecast were the large differences in QPF forecast by the NAM and GFS.  The temperatures remained about 69 instead of the forecast 81; essentially,  the warm front never moved north as had been forecast.
I am somewhat more confident about today's forecast, at least based on the short range models (GFS LAMPS;  NAM-based HRRR).  Both show a mix of clouds and some sun due to an occluded front that has stalled to our west.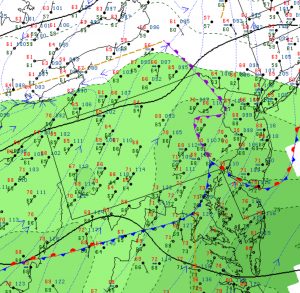 Both models currently show a moderate chance of thunderstorms moving in between 5PM and 8 PM, with highest probability about 7 PM.    Still, the overall chance is only about 50%, so it's  possible that not all areas will get the showers and storms today.
High temperatures 87 with dew points in the somewhat uncomfortable upper 60s.