Last Updated
Noon Update: My optimism about clearing after the warm front passage was apparently misplaced.  This was a "low-confidence forecast" for a reason.  The warm front hasn't really made it past Philadelphia and it won't until later in the afternoon.  A light drizzle has also developed. The GFS model was apparently correct.  Showers are beginning to develop to our south and may move in earlier than expected.  
Yet Another Update 5pm: The FV3-GFS shows lower chance of thunderstorms this evening. The warm front never made it north of Philadelphia!  Poor model performance today!
The showers have pretty much ended after 8 AM here, so yesterday's NAM forecast has verified.
The question is – how much clearing  and brightening skies will we get?   The NBM (National Blend of Models) has things brightening considerably about 1 PM.
Current upper air analysis shows dry air punching in from the south (see 300 mb humidity graphic below)
But lower levels of the atmosphere are pretty saturated.  So I'm not sure if the drab, cloudy conditions will improve, but I think they may.
Current analysis shows much of the dynamics for thunderstorms remain to our south: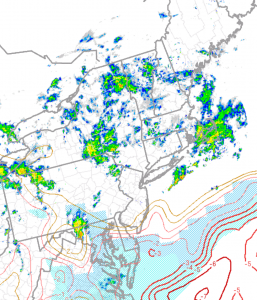 Those dynamics supporting thunderstorms are expected to move northward by late afternoon giving us scattered thunderstorms.
So brightening skies (maybe) for much of Saturday with scattered showers and thunderstorms re-developing around 4-5 PM.