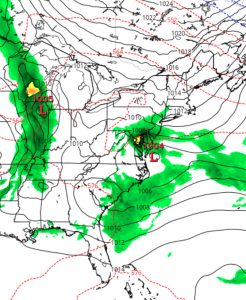 The outlook for this weekend's weather is looking remarkably similar to last weekend's weather.  (Not a good thing!)
Like last weekend, high pressure nosing in from the northeast will result in an easterly wind flow that will keep things damp and cool. Moisture from the remnants of Alberto transported into the Midwest will also be pulled in.  Weak low pressure is also expected to develop near the Delmarva and remain blocked from moving away, also resulting in low clouds and showers/thunderstorms.
Like last weekend, there are differences between the GFS and NAM with the GFS having heavy rain on Sunday, but the NAM not so much.  I think the NAM did best last weekend.
So there's uncertainty about how much rain and when.   Right now Saturday looks like the wettest day, based on the NAM.  Sunday may turn out drier.