#weather #paweather #wx #pawx #philadelphia
Sun 4:44PM
Forecast Review
— Well, we had little cloudiness, despite the
GFS
,
HRRR
and
RAP
model forecasts of cloud cover of 100%.
The NBM graphic I used with mean cloud cover captured it well.
In the fall of 2021, these models were upgraded with new cloud parameterization physics packages that have often over-forecast cloud cover. Until this issue is addressed, it's something to keep in mind.
Sunday Forecast Update
Update Sat 03/18 @ 9:50 PM —We had more sunshine and less high, thin cloudiness from the city and westward Saturday than forecast.
Sunday starts sunny. There's still uncertainty with the cloud cover early afternoon. Today's GFS, HRRR and RAP still maintain a period of considerable low cloudiness Sunday from about noon until about 4 PM. More cloudiness northwest of the city. The HREF has minimal clouds.
There's little disagreement about the very cold and the windy conditions for Sunday.
The NBM shows the wide "spread" (uncertainty) in the cloudiness forecast—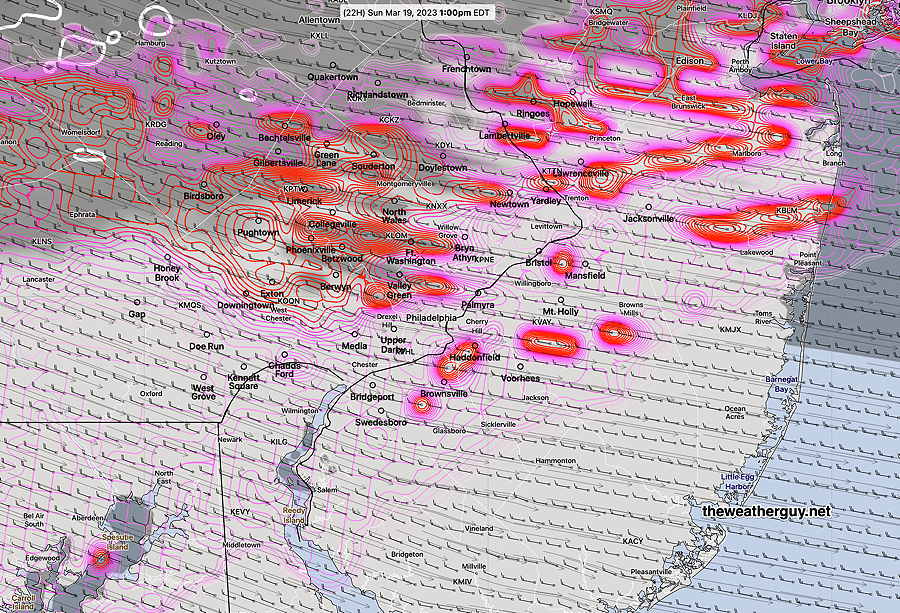 ---
Previously Posted Fri 5:22 PM —
A cold front will move through this evening (Friday). Some showers expected tonight about 10PM- midnight, with most of the activity just south of the city.
A second cold front will move through Saturday night and lingering upper air disturbance may affect us Sunday morning with clouds.
There's uncertainty regarding the amount of cloud cover this weekend.
Average high temperature is 53-54º for the coming week.
Saturday
Some cloudiness in the morning behind the departing cold front may last until noon. High pressure builds in for sunshine through high, thin cloudiness in the afternoon.
High temperature 50.1º sd 1.1º ( NBM model location- Blue Bell, PA)
Sunday
Today's GFS shows some upper air disturbance with moisture lingering Sunday morning. So some cloudiness is expected Sunday mid day. The NBM is more optimistic about sunshine for the day except areas far northwest of the city. It will be cold and windy.
High temperature 39.6º sd 2.4º ( NBM model location- Blue Bell, PA)
Winds

---