#weather #paweather #wx #pawx #philadelphia
Friday Forecast Update
Update Fri 03/17 @ 9:45 AM — This morning's NBM keeps measurable precipitation (< 0.01″) in the Philadelphia area to a minimum during the daytime today. This is in keeping with previous forecasts. High temp 62º-65º
The latest HRRR does have some showers moving in, but during the evening hours, 9-11 PM.
Here's the NBM—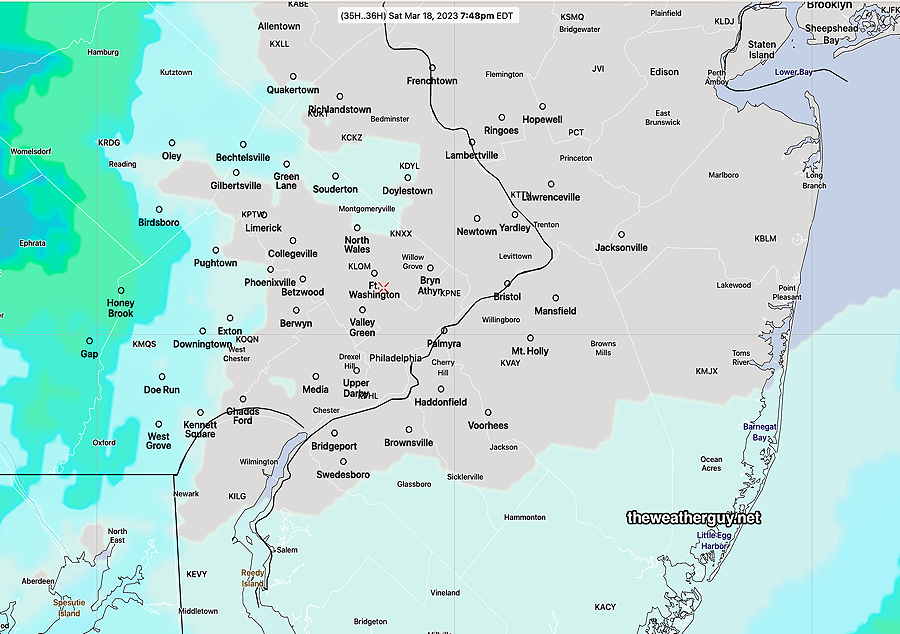 In contrast, the latest HRRR has showers moving through 9-11 PM tonight—
---
Friday Forecast Update
Update Thu 03/16 @ 5:09 PM — Yesterday's forecast for Friday had the line of showers dissipating before reaching the immediate Philadelphia area.
Today's model forecasts suggest the showers make it into Philadelphia with reduced intensity— light scattered showers mid afternoon and early evening.
Friday: Some clouds and sun before noon, then increasingly cloudy with occasional bright skies into mid afternoon. Light showers move in from the west. Since there's a range of model forecasts, I'll turn it over to the NBM to do the heavy lifting—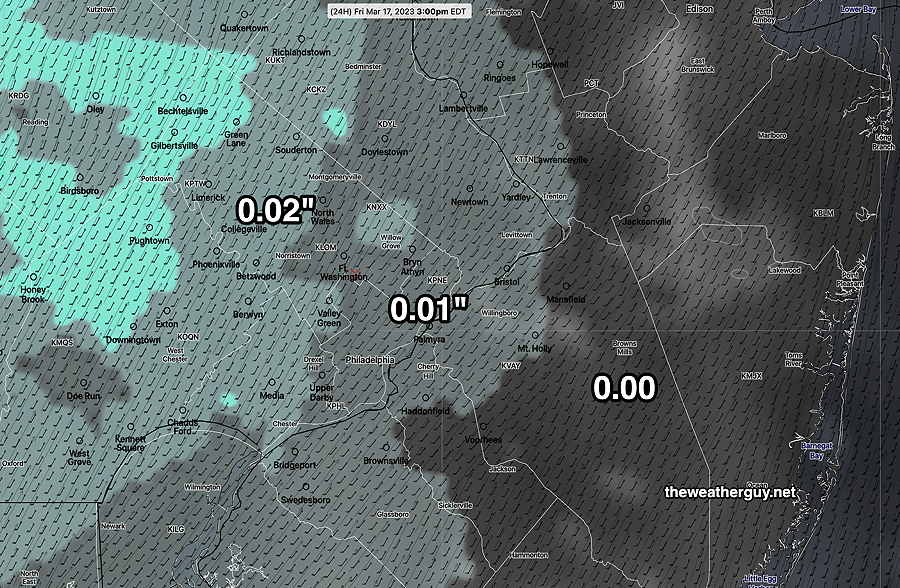 ---
Thursday and Friday Forecast
Update Wed 03/15 @ 5:18 PM — We'll have a bit of high cloudiness Thursday morning which will dissipate for sunshine the remainder of Thursday.
A warm front followed by a cold front expected to bring clouds Friday and mild temperatures. The latest models have little in the way of rain Friday and Friday night, as a cold front will have its energy move to our north while a secondary low develops and moves off to our south. Much of the rain misses us.
---
Previously Posted Tue 4:48 PM —
Wednesday Forecast
The snow showers and the winds did not disappoint today. I thought the models did pretty good with this storm.
The cyclonic flow around the deep low off the New England coast will still be with us, as will the tight pressure gradient as high pressure builds in.
As a result, the winds on Wednesday will still be formidable and gusty, but should begin to subside Wednesday night.
Here's the wind meteogram for Wings Field, Blue Bell for the next three days—

Wednesday— The models are predicting sunny skies after some very early morning cloudiness. Highs 47º-48º
Thursday– sunny and milder. High near 57º Some clouds move in late in the afternoon.
Friday— Cloudy mild. Increasing winds. High near 60º Rain moves in during the early to mid afternoon ahead of a cold front.
---