#weather #paweather #wx #pawx #philadelphia
Update Tue 3/14 8:44 AM — Snow flurries/snow showers have developed, as predicted. Last night's HRRR and RAP models have the likelihood of even greater snow shower coverage during the afternoon.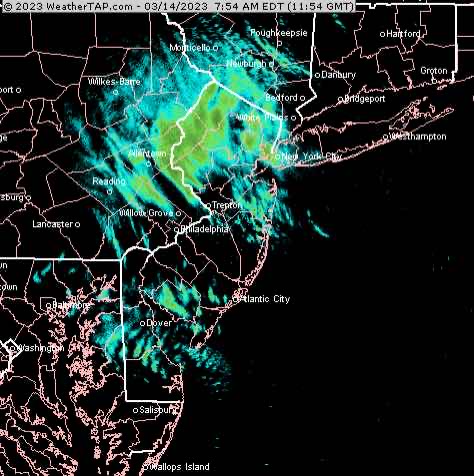 ---
Update Mon 3/13 7:20 PM — This afternoon's models are predicting surface temperatures to drop to freezing just outside of the city Tuesday morning. There's the chance of some icy conditions early that should dissipate by the mid morning in most areas.
Most of the precipitation still expected to be east of us, but wrap around moisture will cause snow showers during the day with high winds. Much of the snow shower activity may be later in the afternoon.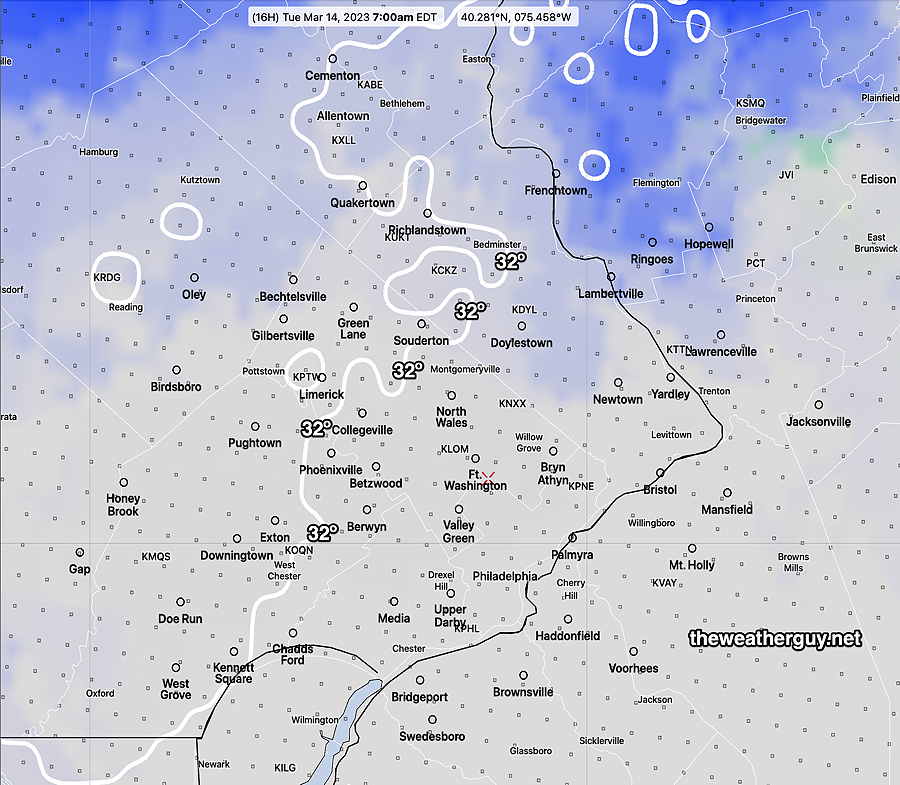 ---
Mon 03/13 @ 11:27 AM — Added wind meteogram below—

There has been an eastward trend to the storm track with the latest models. (Background on this storm can be found here.) This translates into lower total precipitation in our area to just 0.20 to 0.30 inches of precip (meaning rain or "snow water equivalent".)
Here's the latest NAM-NEST total precip forecast for this storm —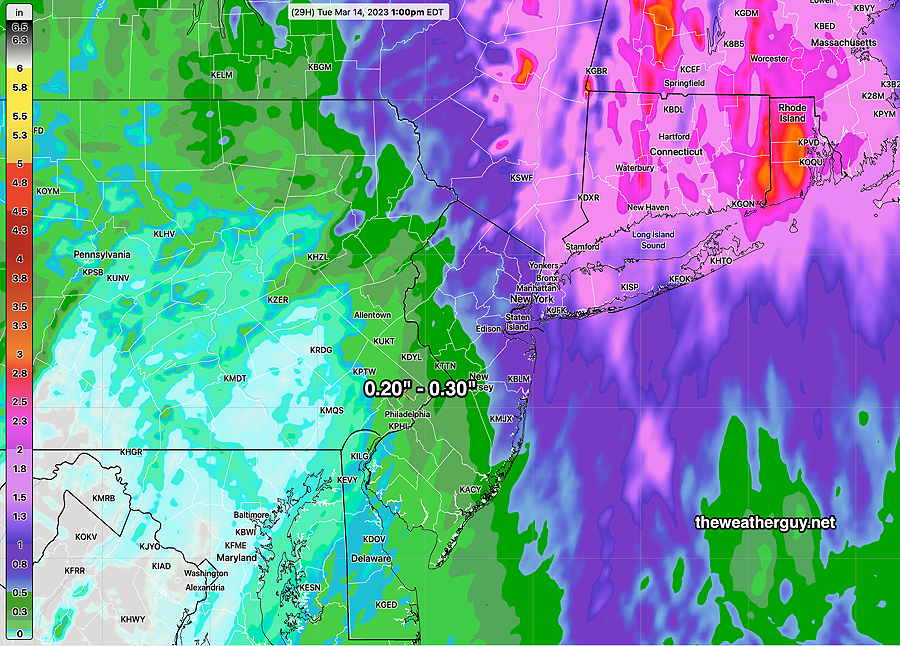 With the reduction of total precipitation, the possibility of any accumulating snow here has been even further reduced to close to zero. The NAM-NEST shows almost nothing, the CMC HRDPS has a small accumulation near Doylestown.
For today, Monday, the rain doesn't really get started here until 3-4 PM, moving in from the southeast.
The NBM shows this well—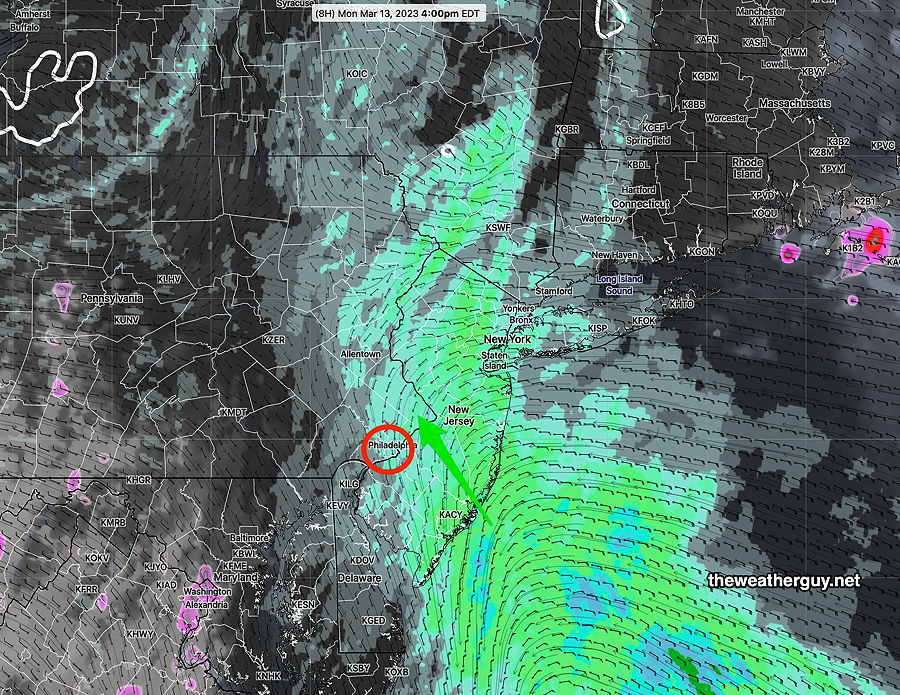 As for the change of rain showers to snow showers, the NBM is showing the transition to occur early morning hours Tuesday. Most of Tuesday will be non-accumulating snow showers. The snow showers will linger until about 8 PM.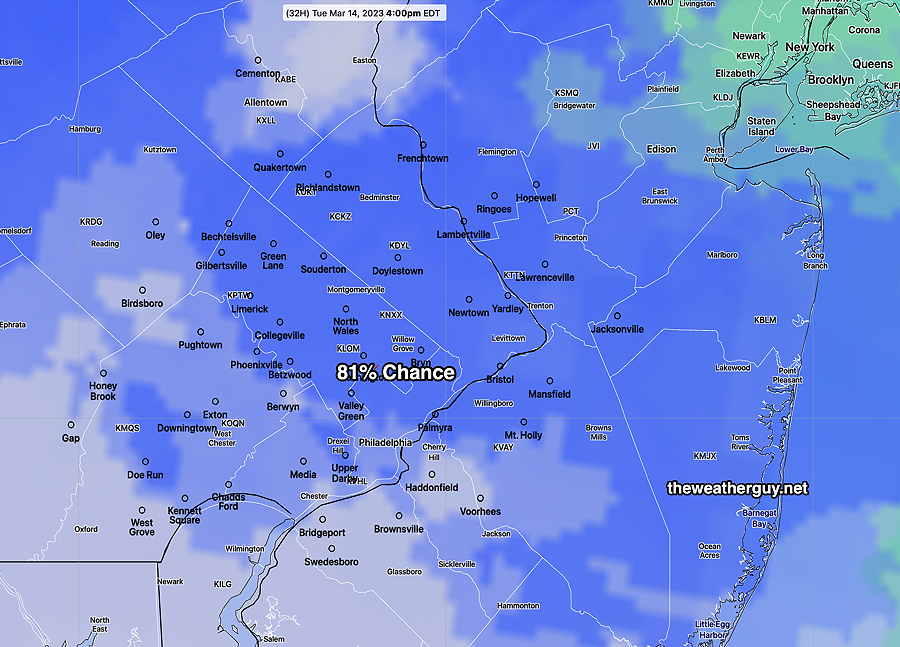 Stay tuned for any additional changes.
---