Update Thu @ 12:44 PM — On Tuesday, I mentioned the possibility of a coastal low forming after the cold front moves through Sunday evening. The 'possibility' didn't show on yesterday's models, but last night's ensemble models began showing something possible.
Today's GFS shows a full coastal system developing later Sunday night.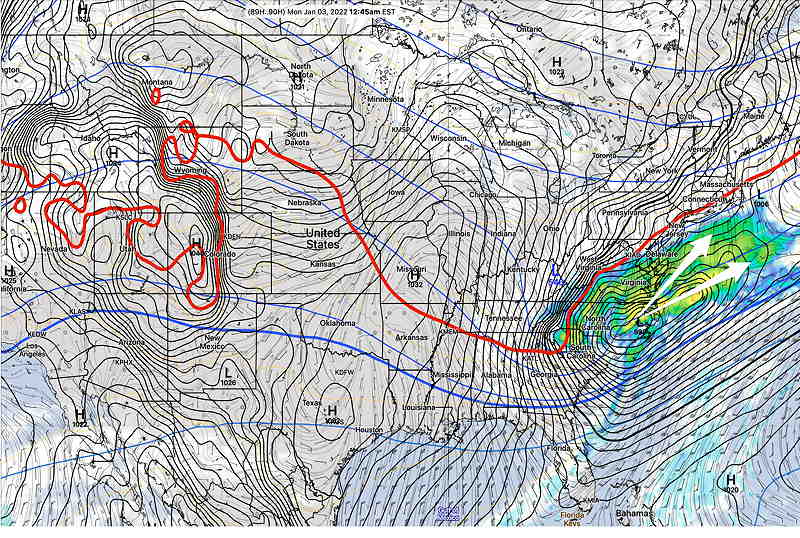 Right now the models have the new storm just brushing us as it moves northeastward, but the current forecast for the weekend has begun to change today. I'll update this evening.
---
Update Wed @ 7:04 PM — Continued mild through Sunday afternoon. Different low pressure systems move over the next two days, mostly during the nighttime hours, with gradual partial clearing during the daytime hours.
More specifically, Thursday looks to be mostly cloudy after morning showers move out. High in the mid 50s
Friday will be the nicest day, with sun expected to break through a thin cloud layer and mild and dry. High mid 50s.
The models are in fairly good agreement for this weekend.
New Year's Eve will be dry and mild but rain will move in several hours after midnight.
New Years Day will be rainy, but mild.
Sunday starts rainy, but the rain becomes more sporadic in the afternoon. The specifics for Sunday's forecast are not quite final, as a strong cold front moves through on Sunday about 6 PM with showers and gusty winds.
Temperatures drop rapidly. Residual showers may turn to snow flurries.
---
Update Tue @ 5:50 PM — A pattern change is shaping up for the country and our area, as cold air has been building up in northern Canada and appears to be poised to make a plunge into the continental US next week, pushing the jet stream southward. This change will occur for our area towards the end of the upcoming weekend. (I recently made mention of my approach to conceptualization of jet stream positions in a recent post about our mild winter.)
A cloudy, unsettled pattern will be with us through Saturday, New Years Day as we'll be on the warm, moist side of an approaching upper trough. Low pressure systems will be moving up along this slowly approaching boundary, bringing us periods of rain. Timing these systems will be an important part of the forecast.
Of interest is the possibility that low pressure may develop as the strong cold front moves through sometime Sunday. Light snow may be possible late Sunday or Sunday night. Stay tuned.
---
Mon 05:23 PM Forecast Review —So we had a few wet flakes and a few drops of rain around noontime.
But overall, the models over-predicted the chance of snow and over-predicted the amount of precipitation. The GFS did incredibly poorly with this forecast and didn't correct itself until this morning's run which first became available at 10:45 AM.
This is the first full winter for this version (16) of the GFS, which became operational last February. It's something to keep in mind going forward this winter.
(Even the European model [which I have limited access to] incorrectly predicted about 0.4 inches of snow.)
So did any models get this forecast right? Well, last night's HRRR did pretty good and the ICON model did well. The new Canadian models (which were just upgraded two weeks ago) didn't fare all that well, but did better than the GFS. The GEFS from yesterday did well, but it went in the wrong direction last night. The high resolution HIRESW suite of models also over-predicted snow.
The model blend (NBM) did pretty good with it's median forecast of 0.00″ snow, but it over-predicted the rain during the day.
So, in summary, yesterday's HRRR, NBM, GEFS and maybe the ICON were the winners. Something to keep in mind for the next time.
Following a beautiful day today, Sunday, the weather model guidance shows a trend towards colder weather and a somewhat unsettled weather pattern.
But first, Monday—
I should begin with the acknowledgement that Monday's possible snow showers do not merit the amount of attention I'm giving them. But, I just don't want to get too rusty predicting snow this season…
Update Mon @ 8:47 AM— The latest SREF model just available has changed its forecast to rain only here in the immediate PHL area, with light snow north of Quakertown. Over past years, the SREF precipitation type has done well. I guess we'll see.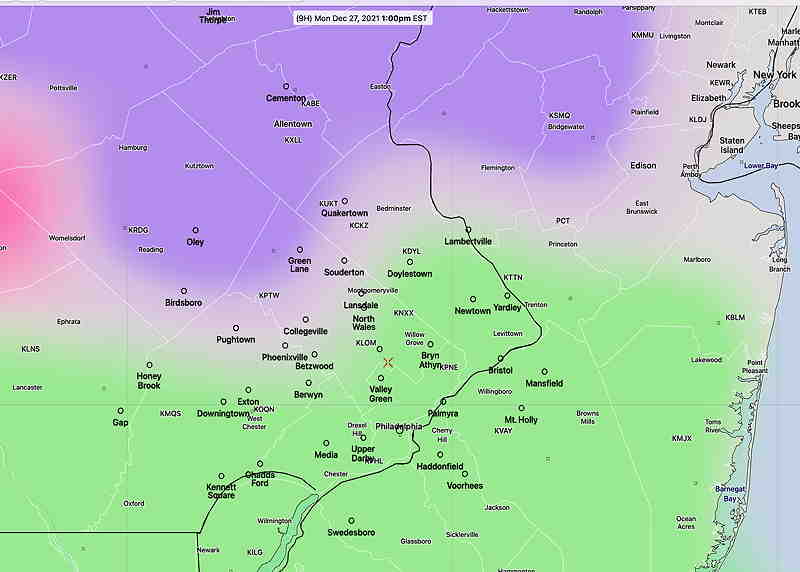 ---
Updated @ Mon 7:31 AM— Latest GFS in a similar range as the posted graphic last night. NBM percentile predictions continues with 0.00" to 0.22", a coating at most
All changes to light rain after 2 PM.
---
Update Sun @ 11:04 PM — Tonight's models, as usual, have a range of forecasts for tomorrow's light snow. The range of accumulations is from about 0.5 – 0.75" (GFS) to 0.0 (ICON).

Falls between 10 AM and 2 PM.
The NBM which is designed to sort through these discrepancies has a median of 0.00 " to a possible coating. I think we'll go with the NBM.

Turns over to light rain after 2 PM.
---
Update Sun @ 7:45 PM — The GFS has a statistical ensemble version (GEFS) which just became available. Its snow forecast seems more reasonable for us than the GFS posted earlier—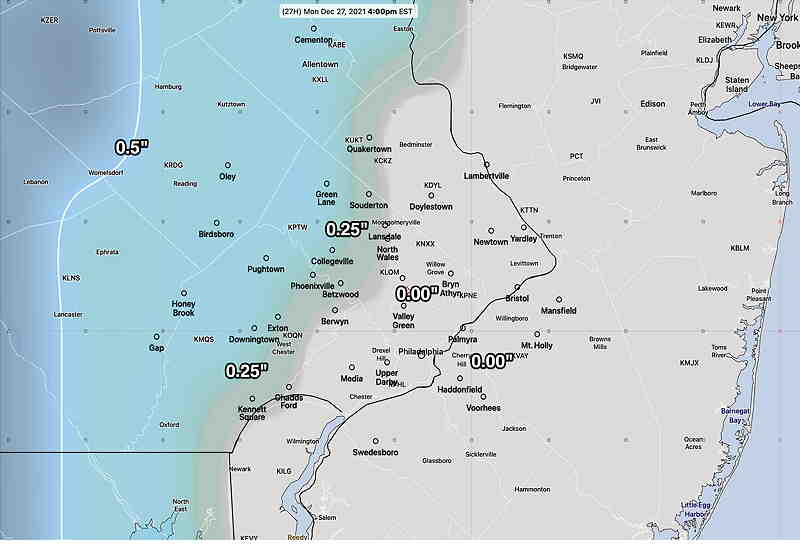 ---
Update Sun @ 5:25 PM — This afternoon's GFS has come in as an outlier with today's higher resolution models. It forecasts measurable snow for us Monday, while the other models have nothing accumulating. Hard to believe, but here's the latest GFS—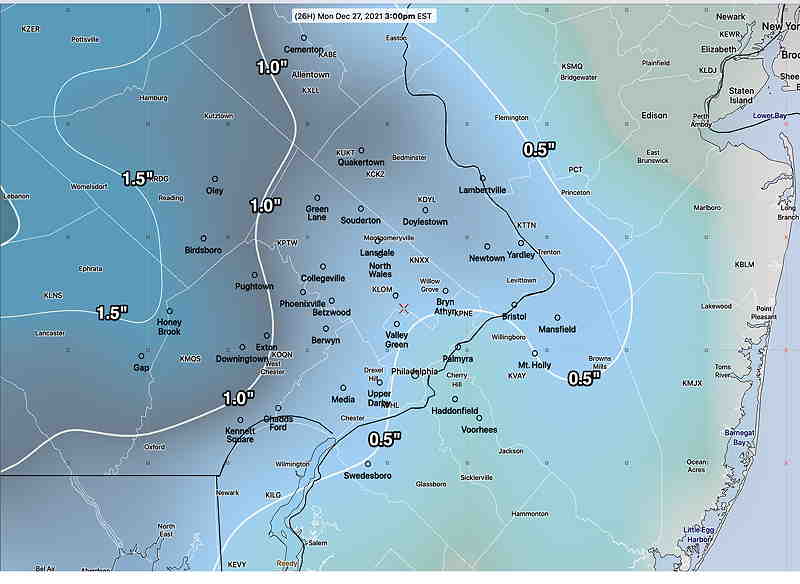 ---
The front that moved through Saturday night is to our south and will return as a warm front. Moisture moving up ahead of the front on Monday will encounter a column of cold air. Several models have the light precipitation initially falling as light snow. There is agreement that surface temperatures will be above freezing and little if any accumulation is expected. (The GFS forecasts a coating.)
The NBM also shows snow for early Monday, but extremely light amounts. The NBM median accumulation is 0.00".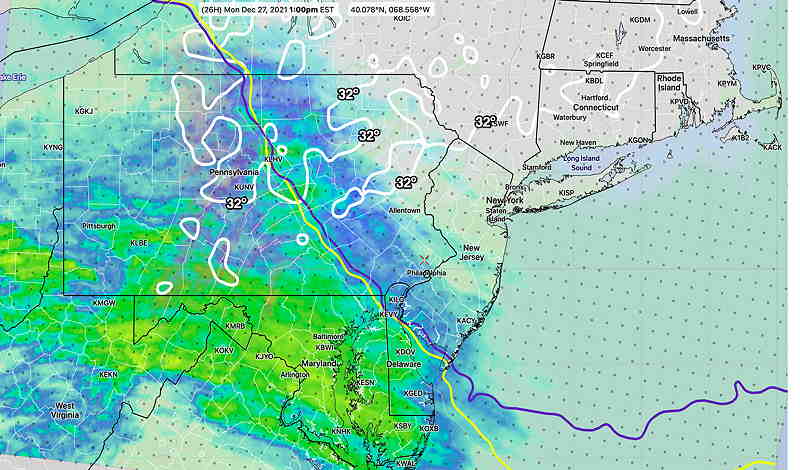 Whatever falls, there will be a changeover to rain.

---
For the rest of the week the jet stream configuration over the continental US will transition from the current ridge, with warm air pushing northward, to a flat configuration.
Wednesday, cold air building in Canada is expected to flatten the entire pattern and push a just bit further south, keeping us consistently colder.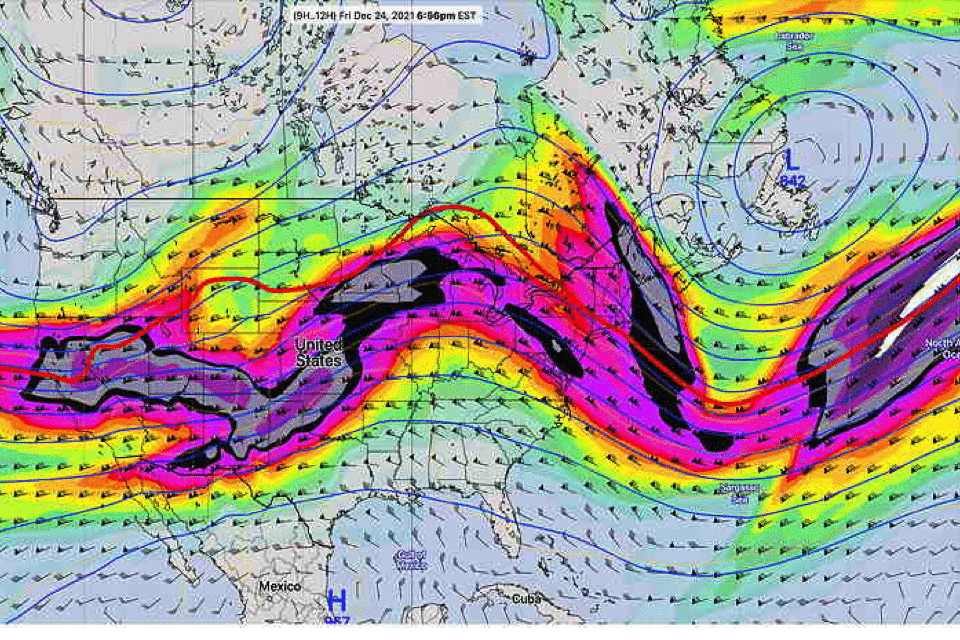 The same flat pattern will prevent any major storms from developing near us.