Fri 6:40 AM Forecast Review — Well, we have 5 inches of snow at 6 AM in my neck of the woods, higher than predicted by any model.
When I briefly woke during the middle of the night and looked out the window, I saw that my over-reliance on last night's NAM was misguided. As I fell back to sleep, I remembered another forecasting concept called "model spin up".
I realized that the low snow model forecast from the latest 00z models were for a weather event that had already begun in our area. Not allowing for "model spin up time" was one reason the NAM and GFS 00z models had suddenly lowered their snow totals for this storm in our area.
Basically, it is known (and sometimes forgotten) that the latest model isn't always the best version for a large scale weather event in progress, as it doesn't allow the computational state of a model to develop. The time needed is called model "spin up" time and is often a few hours. (True for large scale weather events, not always true for mesoscale events like thunderstorms.)
That's why yesterday's afternoon models (3-4 inches) were closer to the actual snow totals. However, additional mesoscale banding occurred, allowing even higher snow totals. Placement of mesoscale banding is very difficult to predict in advance.
Some of the accumulation on streets and sidewalks are closer to the forecast range, probably because of some melting/compaction; actual ground surface temperatures have been quite warm for weeks.
Always a learning experience. I guess I need to add "model spin up" to my mantra.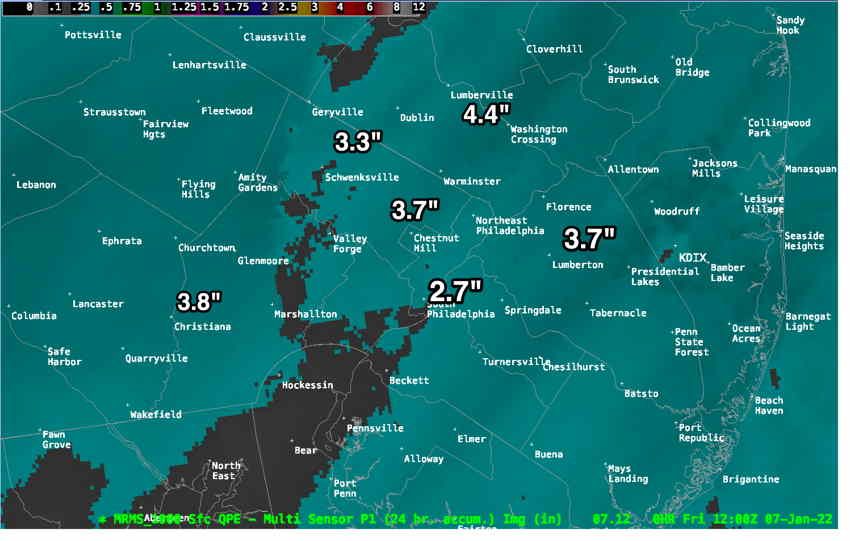 Official snow totals at this link.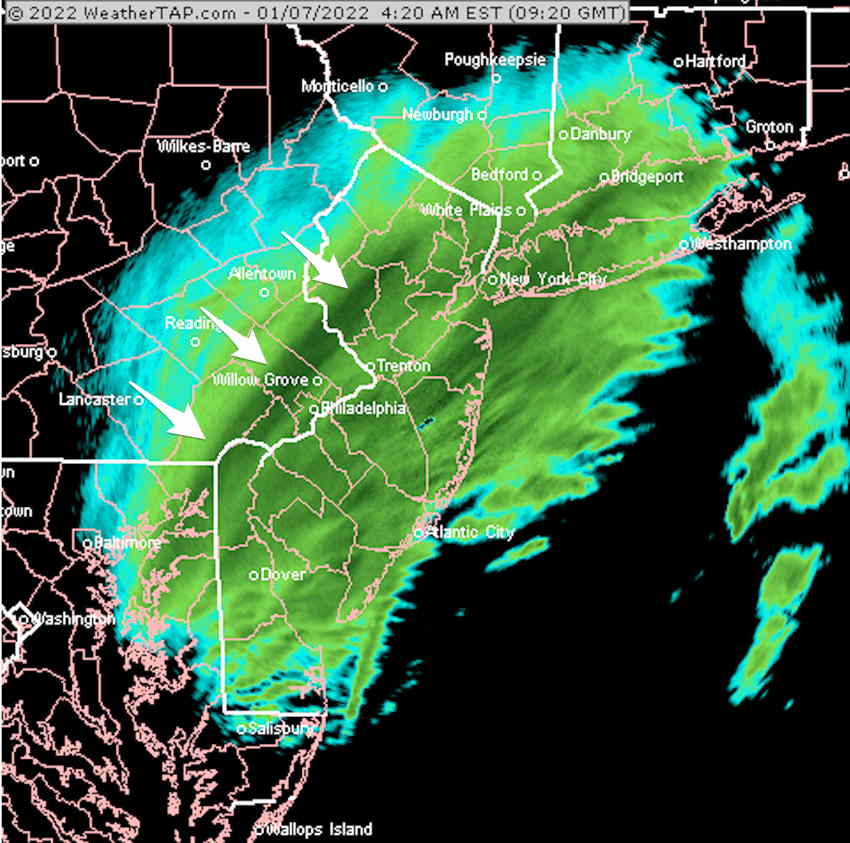 ---
Update Thu @ 10:56 PM — Tonight's GFS has its snow totals lower than previous runs and has moved in the direction of the NAM. Tonight's ICON has also has lower accumulations. I would go with the NAM forecast graphic just below, perhaps adding 1/2 inch.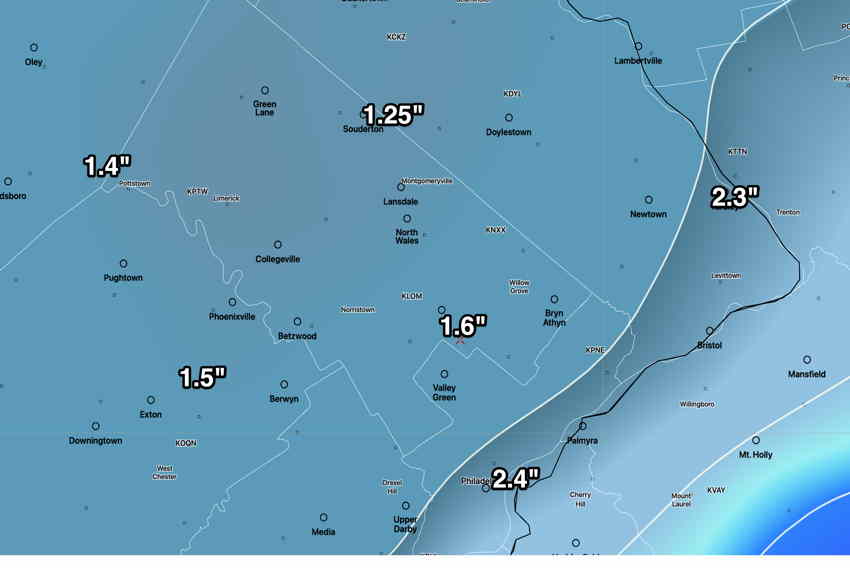 ---
Update Thu @ 9:23 PM — Tonight's NBM, HRRR, NAM and SREF forecasts have become available. (The GFS isn't available until 10:45 PM.)
Snow is moving in to our western suburbs at 9 PM. Moderate snow develops after midnight and tapers off from west to east about 8-9 AM.
The NAM has come in with another surprise and everyone here possibly knows my mantra: "Never ignore the NAM" —
NAM Model 00z —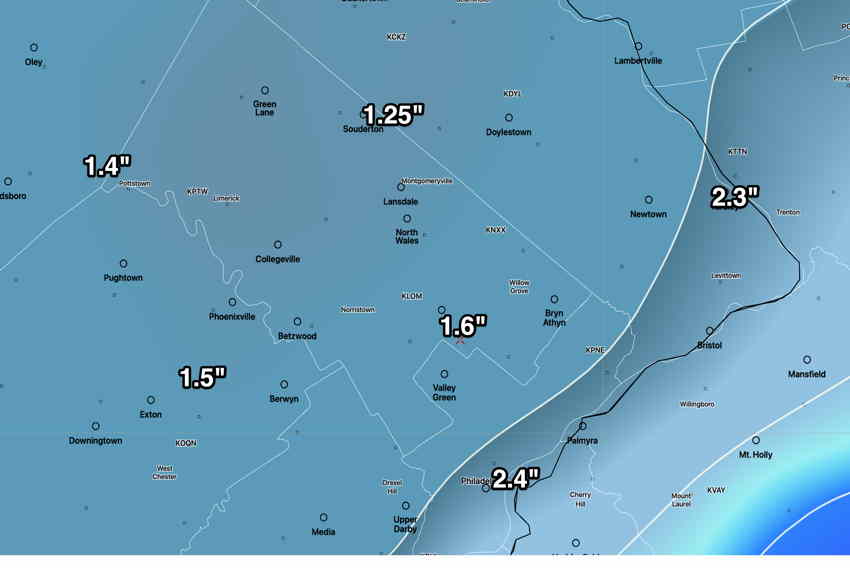 The ICON (which correctly predicted the zero snow for Philadelphia this past Monday along with the NAM) predicts similar lower snow totals as the NBM, in the 1 to 2 inch range.
I think the Model Blend (NBM) is capturing the range of snowfall totals very well and likely is an average of the GFS and NAM. I would pay attention to the lower end of the range—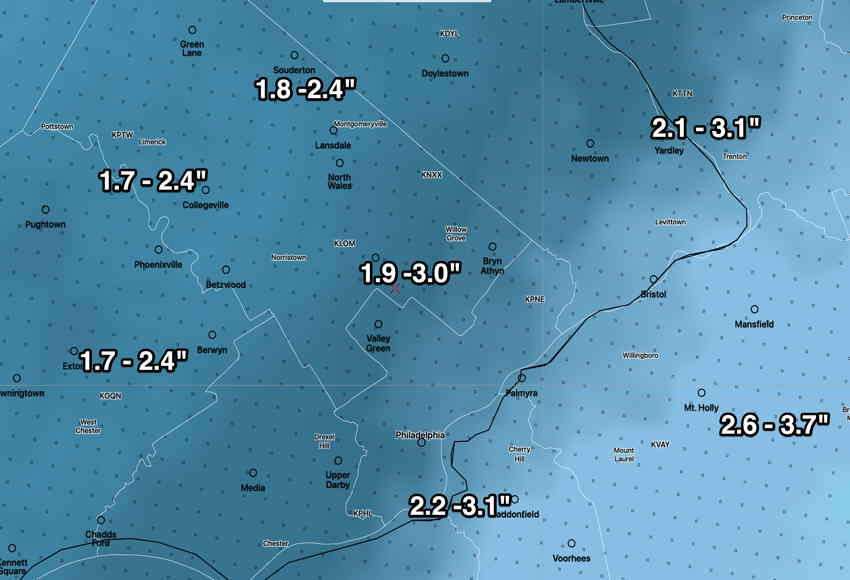 ---
Update Thu @ 4:58 PM — This double low pressure system, expected to bring snow to our area tonight (Thursday) will be a fast moving system somewhat limiting snowfall amounts. Snow starts light this evening and becomes heavier after midnight and ends about 7 AM or so.
This afternoon's models continue in the general range of 3 – 4 inches. However, the latest GFS just became available and it has somewhat higher snow totals—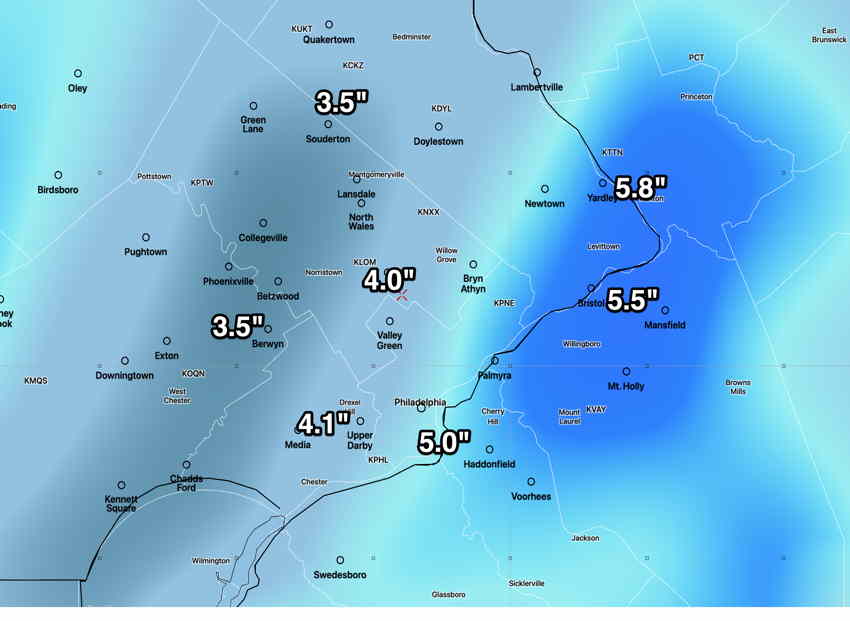 The best snow estimate is an average of the GFS above and the NAM just below.
Here's the latest NAM model —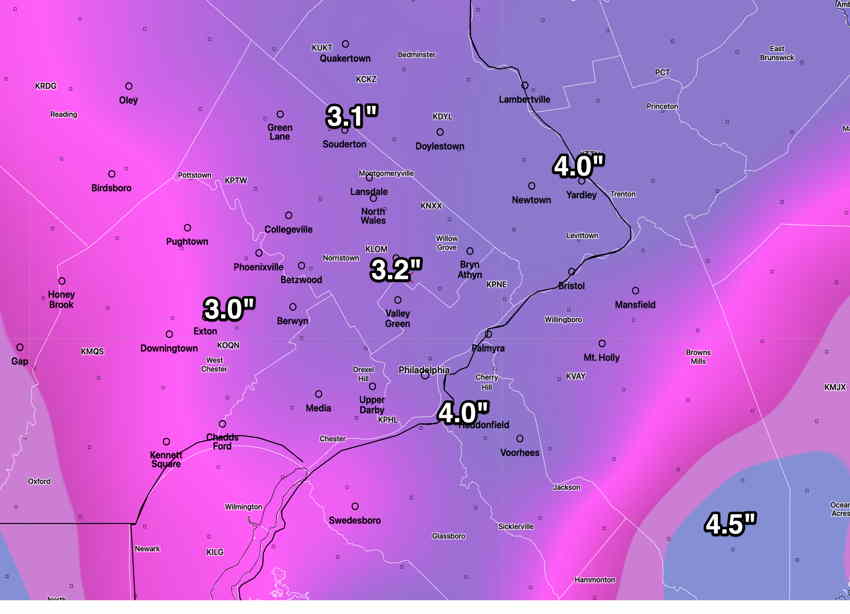 Model Blend (NBM) snow forecast which I think is a good fit for this storm—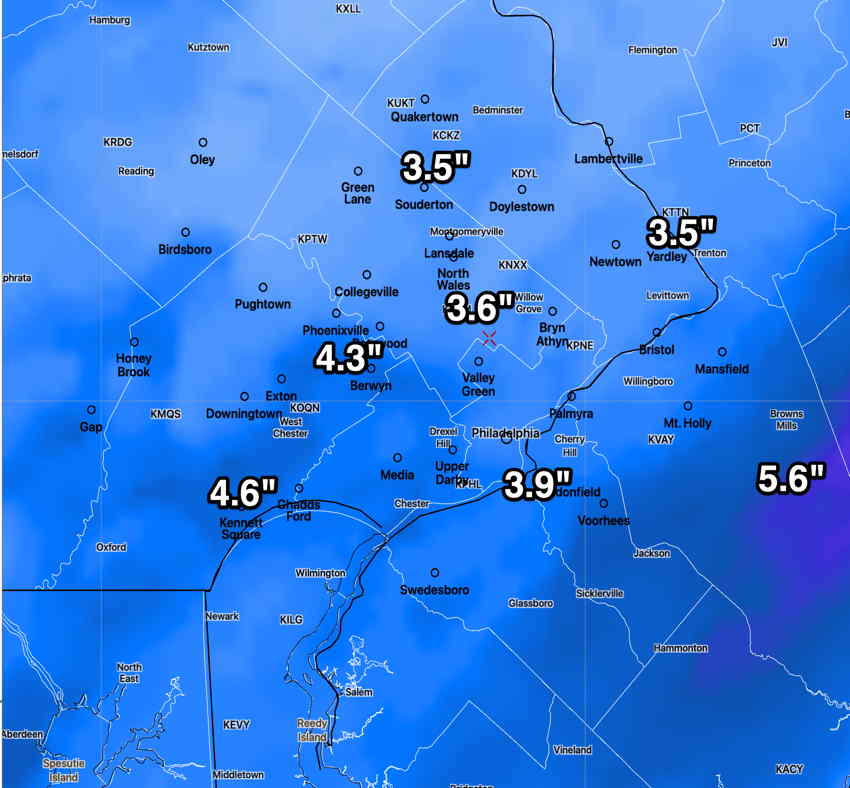 On the low end is the ICON model—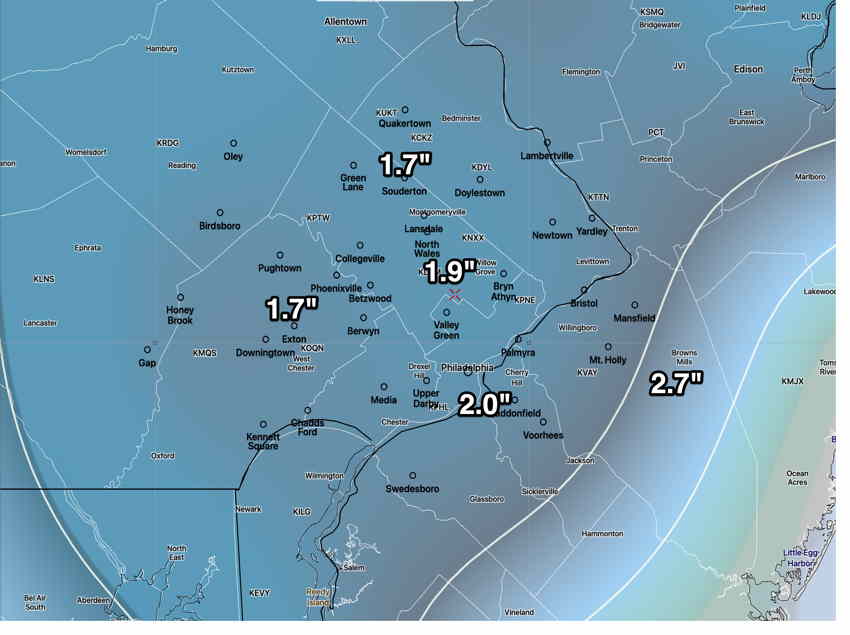 High resolution HRRR model—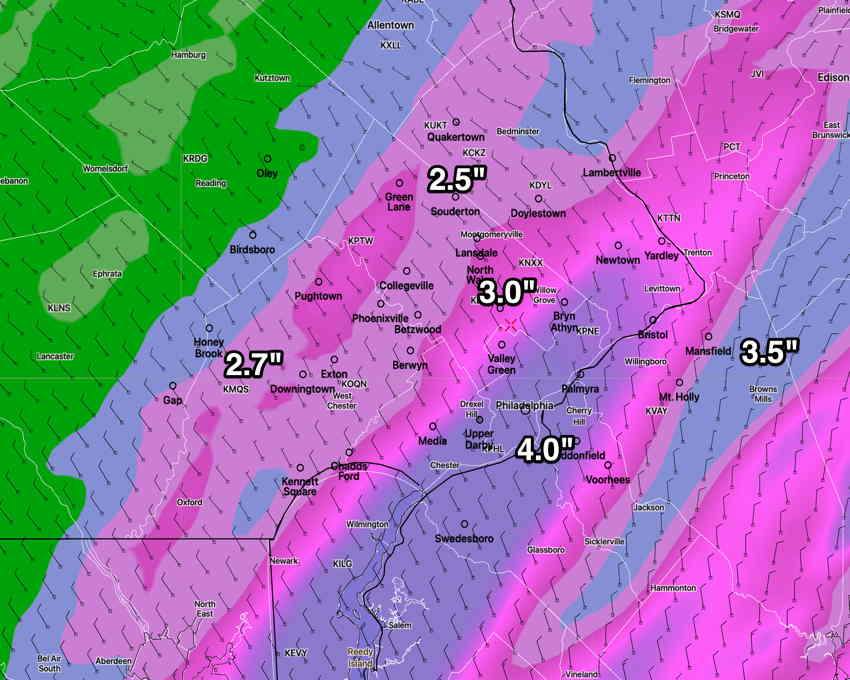 BTW, one of the two main NOAA weather servers has been down for several days. This is the longest outage I can remember. Weather model data has been slower to retrieve today with only one server operational.
---
Originally Posted Thu 11:22 AM —
Low pressure will develop and move off the coast late Thursday into Friday morning. The system is forecast to be complex, with two low pressure centers. The low center to the east is expected to "rob" the coastal low of its energy and moisture, decreasing snow totals for our area.
Here's the latest GFS showing two centers to the storm.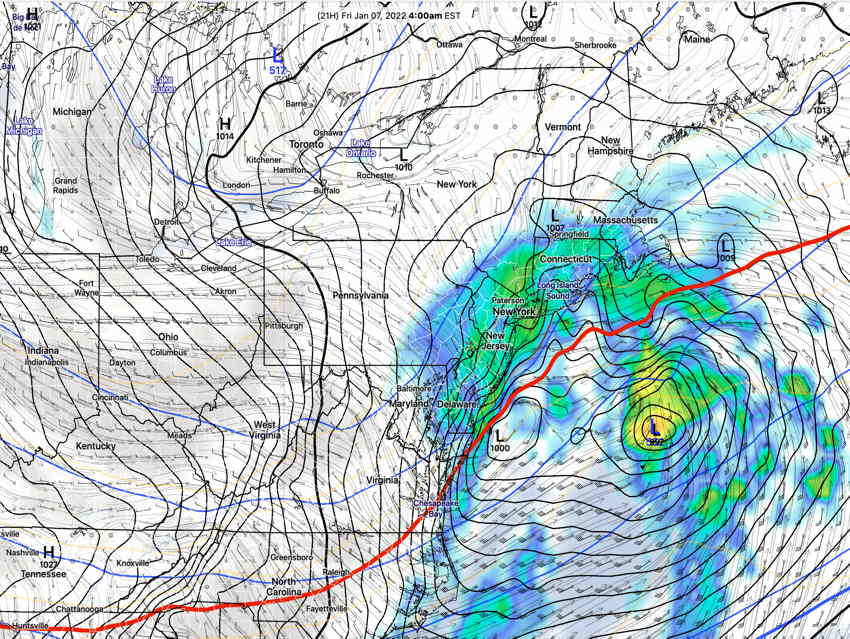 Snow is expected to develop between 10 AM and midnight Thursday evening and will end about daybreak Friday.
Here are the current snow forecasts from the GFS and NAM models— I think the best estimate of snow accumulation will be an average of the GFS and NAM models—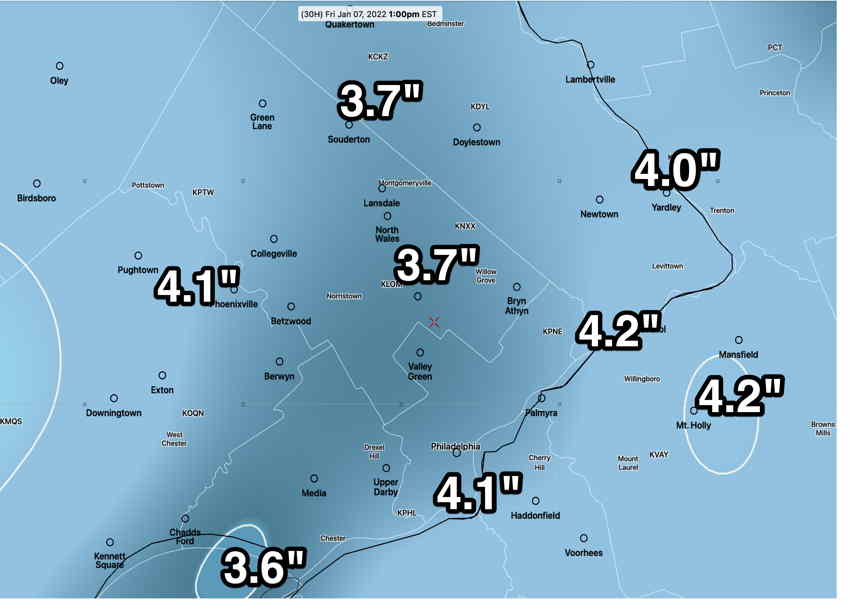 NAM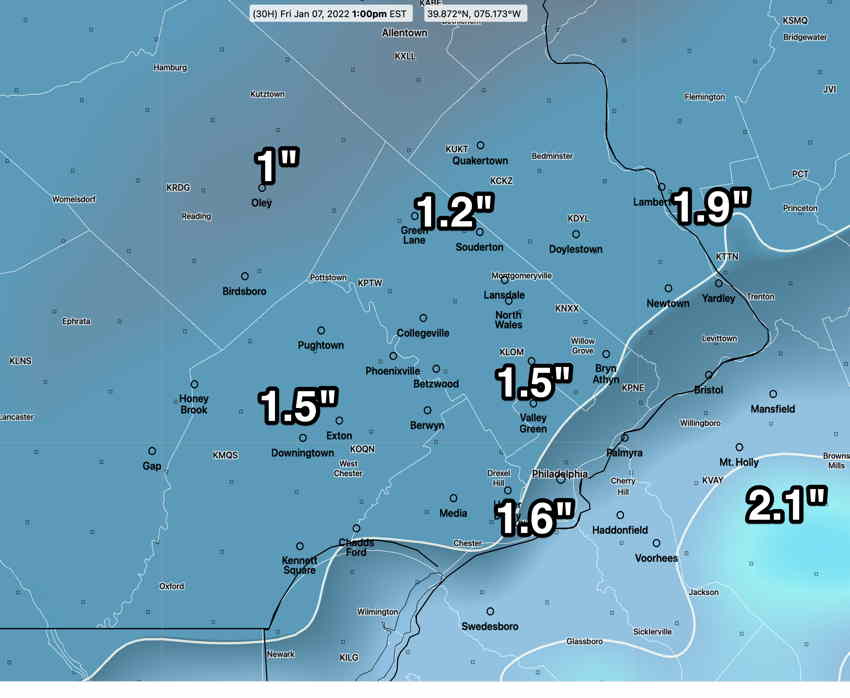 I'll update later this afternoon. Stay tuned.