Last Updated
Things have changed…..So, we had the approximate predicted snowfall last night, with snow coverage further north than predicted. However, it doesn't  appear to be ending early morning, as has been predicted last night.
While we slept, the 1 AM run of the models changed their tune about a persistent band of snow that originally was predicted to be pushed to our south.   It has now set up shop over us.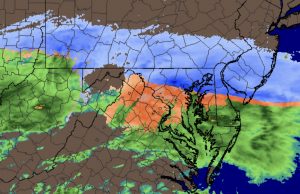 Some of the statistical models suggested this yesterday, but most missed it.
An additional QPF (based on the 1 AM runs) of 0.12 inches water may fall as additional snow today.  So an additional 1.5 inches of snow is possible during the daytime hours on top of what we have.
The radar image above shows the general area where the snow will fall today.
Things will change tonight with the approach of the main low pressure system.  Already, the 1AM model runs suggest additional warming in the upper atmosphere that was not predicted earlier.
I'll update later this morning, after the latest model runs have become available.