Forecast: Friday through Sunday
Update Thu 11/24 10:35 PM —
Friday's forecast essentially on-target. Most models have about 0.13" of rain, ending about noon or so, but several high resolution models just have a few showers with only about 0.05". Windy in the afternoon.
No changes in Saturday's or Sunday's forecast at this time
---
Update Thu 11/24 @ 10:03 AM —
A front moves through on Friday. A storm brings considerable rain on Sunday.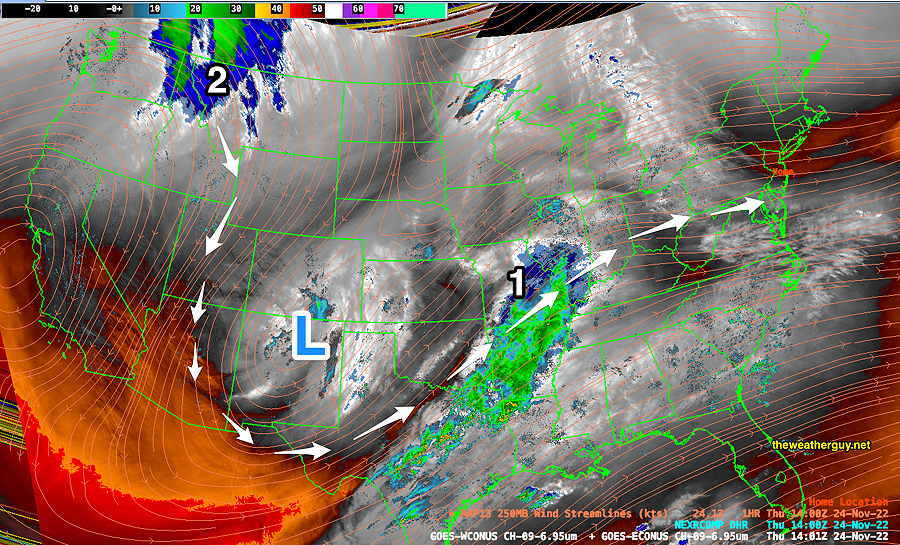 Friday—The cold front comes in with some showers. This morning's HIRESW has the rain ending about noon, earlier northwest of the city. Sunshine breaks out behind the front early afternoon. High 52-53º (Blue Bell, PA)
Saturday— Sunny. High 52-53º (Blue Bell, PA)
Sunday— Cloudy with rain. Rainfall ~1.0″. Very Windy! High 54-55º
---
Forecast: Thanksgiving through Sunday
Update Wed 11/23 @ 7:53 PM — Reduced rain totals on Friday
Update Wed 11/23 @ 6:06 PM —
The models have finally come together for a forecast for the weekend.
Thursday —Thanksgiving : Sunny, a brief period of cloudiness in the mid afternoon. High 53-54º
Friday— A cold front moves through in the late morning with showers. Rainfall light, about 0.06 inches. Clearing in the afternoon. High 52º
Saturday— Sunny and a bit cooler. High 51º
Sunday— Cloudy with rain. Rainfall 0.30″. Very Windy! High 55-56º
---
Evolving Forecast for Friday through Sunday
Update Wed 11/23 @ 9:59 AM —
The models continue to come together for the weekend forecast, but the forecast is now somewhat different than previous days.
With the exception of the GFS (which has a minimal of rain for us on Friday ~ 0.04″), Friday now appears to have light rain from the morning into early afternoon. The rain will be light (0.15-0.20 inches). Skies clear about 3PM with colder air moving in behind a cold front.
Saturday— Sunny but highs only in the low 50s, somewhat cooler than previously forecast.
Sunday— A secondary low pressure develops near NYC. Rain in the morning, possibly heavy. Showers in the afternoon.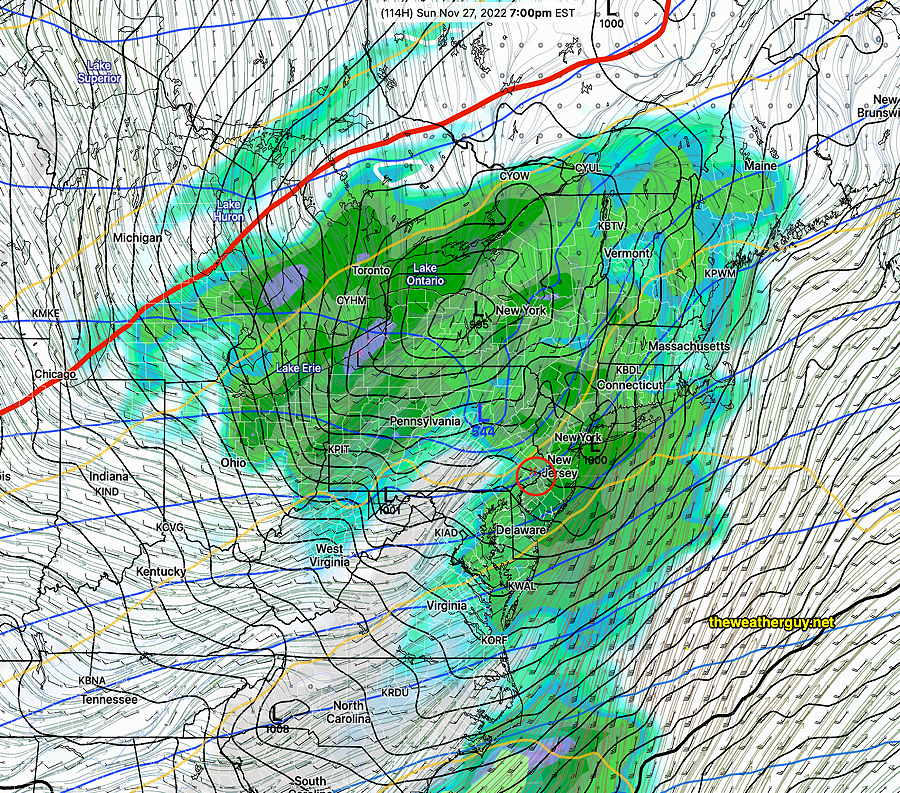 ---
Updated Tue 11/22 11:04 PM — Tonight's NAM, GFS, and Canadian GEM models are more aggressive with some rain moving in from the south on Friday.
---
Weekend forecast comes into focus
Update Tue 11/22 @ 4:29 PM —
The models are finally coming together into a more unified similar forecast.
Thanksgiving Day – Thursday
Very nice autumn weather. Sunny and mild.
Friday Through Sunday
The models are coming together.
Friday: The latest GFS keeps us cloudy, with the entire area dry on Friday. However, several other models including the model Blend (NBM) have light showers just south of the city. The current Canadian RGEM captures this—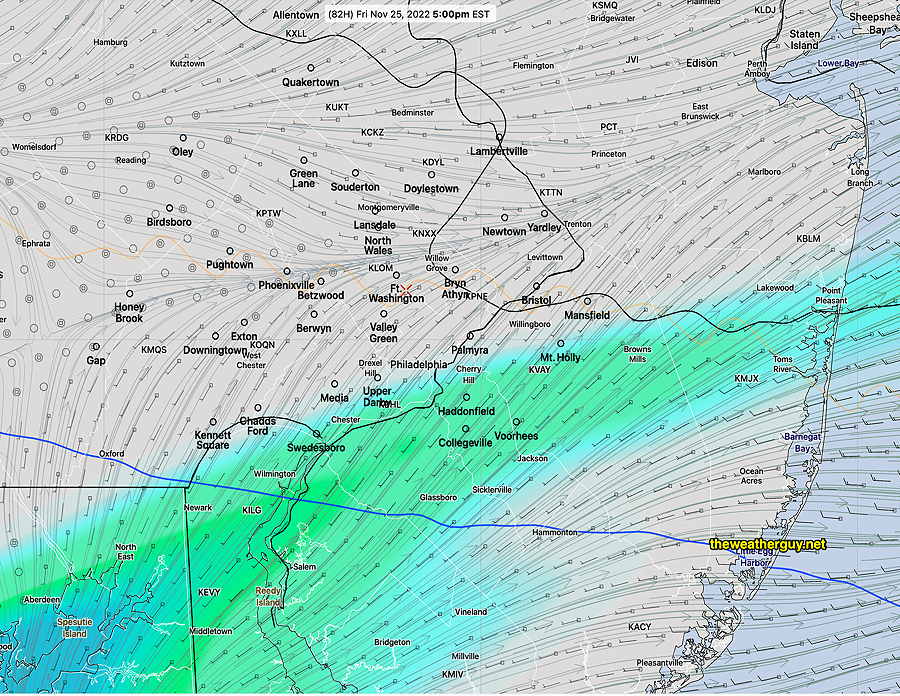 So there's some uncertainty about the northern extend of showers on Friday.
Saturday appears to be very nice and sunny.
Sunday: It seems the scenario that had been expected on Friday will now occur on Sunday. A secondary low (coastal) low form on Sunday with the potential of moderate to heavy rain ( 1 -2″). Very windy.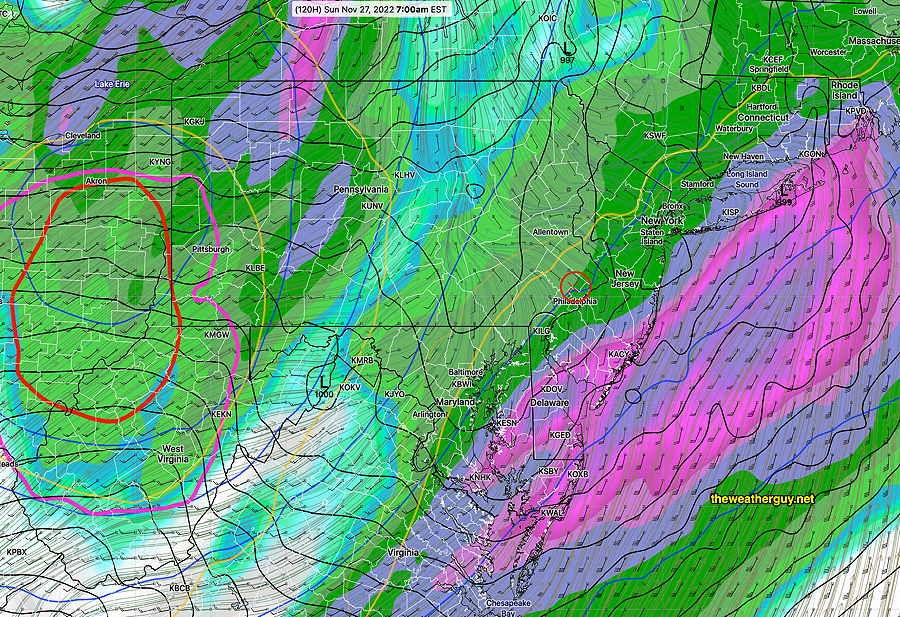 ---
Continued Uncertainty in Weekend Forecast
Update Mon 11/21 @ 8:19 PM —
Today's models have backed off on the heavy rain for Friday, with the Canadian, German ICON, and ECMWF all having some light rain moving through. Our GFS model has no rain for Friday. The GFS was the first to pick up on the change in jet pattern and I wouldn't be surprised if we see a fairly dry Friday.
Temperatures will remain mild from Thursday through Sunday.
The model Blend (NBM), which is supposed to sort these things out, has a very high probability of rain on Friday. Go figure.
Unfortunately, there's a chance possibility of rain on Saturday and rain is likely Sunday. The models are still divergent, except now for Sunday.
GFS model forecast for Sunday—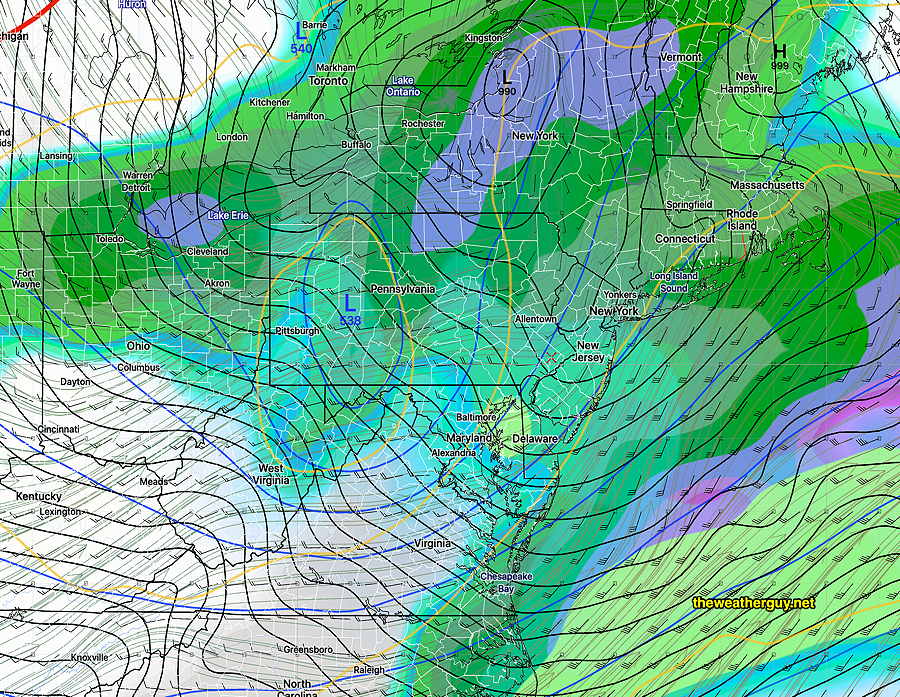 In summary, the forecast for the period Friday through Sunday remains below average confidence.
---
Significant Change in Friday's Outlook
Update Mon 11/21 @ 11:44 AM —
Since the weekend, I've indicated that there were extreme differences in the model forecasts for Friday. Sometimes that might mean one is getting it right and one is getting the forecast wrong. But often, it means that NEITHER model was accurately modelling the atmosphere.
Last night and especially this morning's latest GFS has moved towards a forecast that is totally different and it appears that the ECMWF is moving in that direction—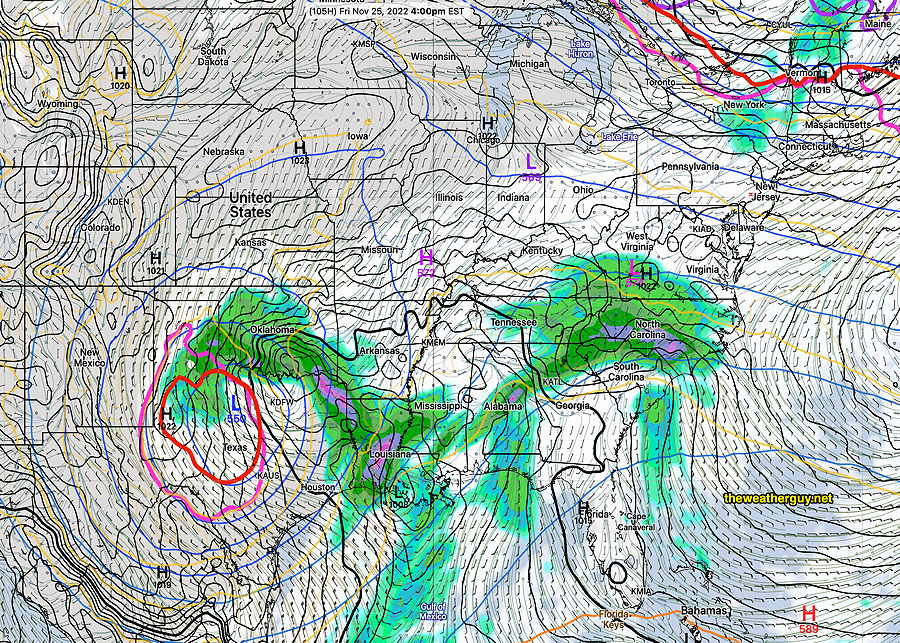 Basically, it shows a cut-off closed upper air low over Texas, very different than the sharp dip in the jet flow from previous models, especially the ECMWF.
It now appears that low pressure with rain may not move in until at least Saturday, with just clouds on Friday. Movement of closed lows are very difficult to forecast. I expect further changes in the coming weekend forecast. Stay tuned.
---
Previously Posted Sun 6:40 PM —
Following Sunday's [colder than] January-like temperatures and colder wind chills, this week will see moderating temperatures. High pressure will assure dry conditions through Thursday. Major uncertainties creep into the forecast by Friday around a developing storm.
Thursday—Thanksgiving Day
A beautiful day with sun, light winds and moderating temperatures.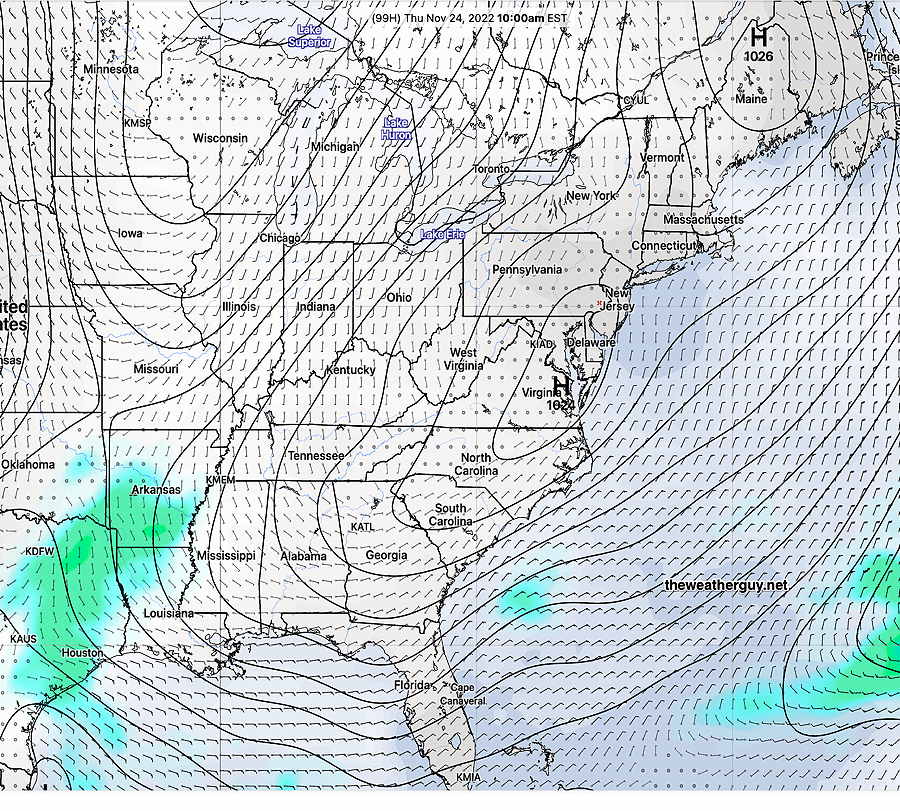 Uncertain Friday Storm
The models have been in lack of agreement with a potential coastal storm expected to develop on Friday.
The ECMWF has been the most consistent with a sharp plunge of the jet stream and a secondary coastal low pressure development—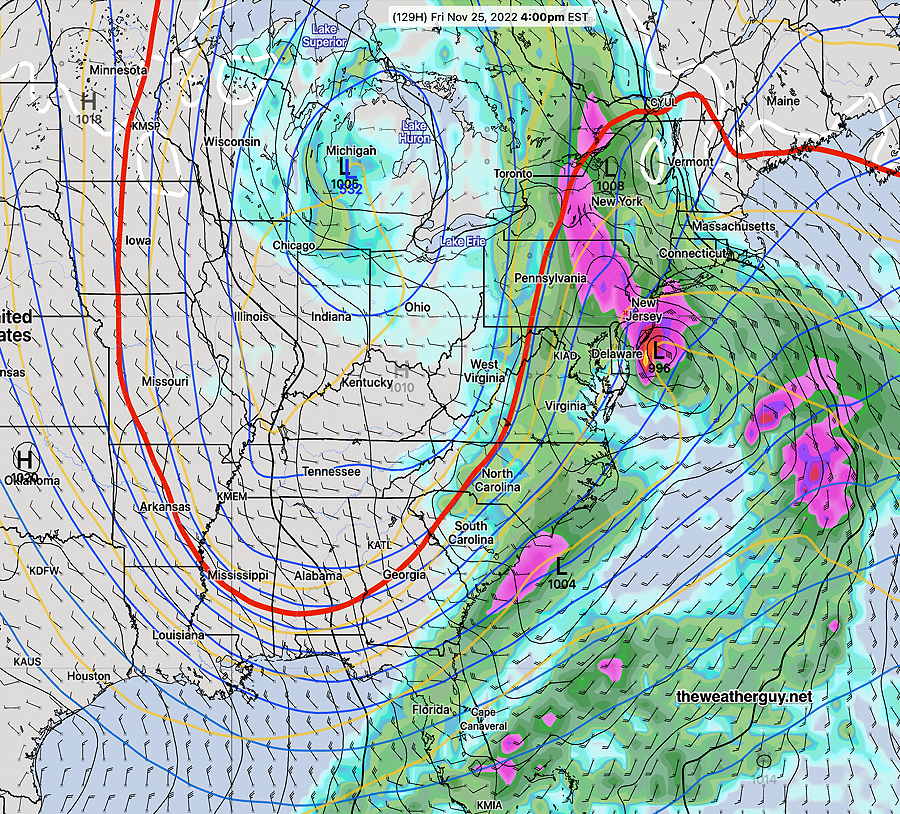 The "ensemble models", specifically the NAEFS (a combination of the US and Canadian Global statistical models) had a similar forecast until this past day or so. It now shows a much less amplified jet flow and delayed development of the low—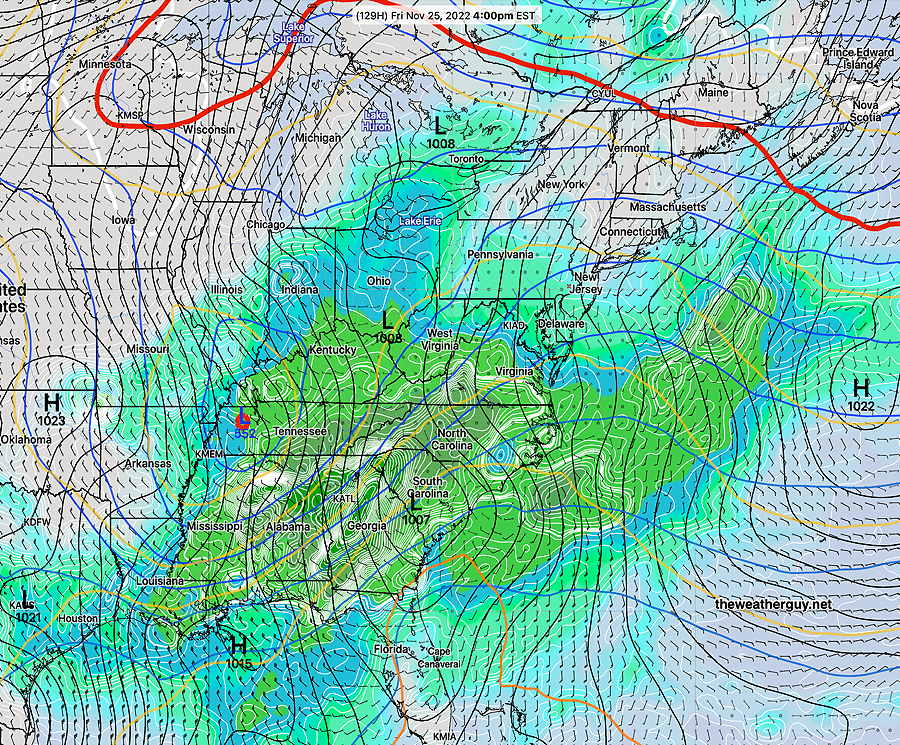 Looking at it from a different perspective, the ensemble forecasts show forecast uncertainty in the form of increased standard deviations.
Here's the latest GEFS pressure with pressure standard deviation—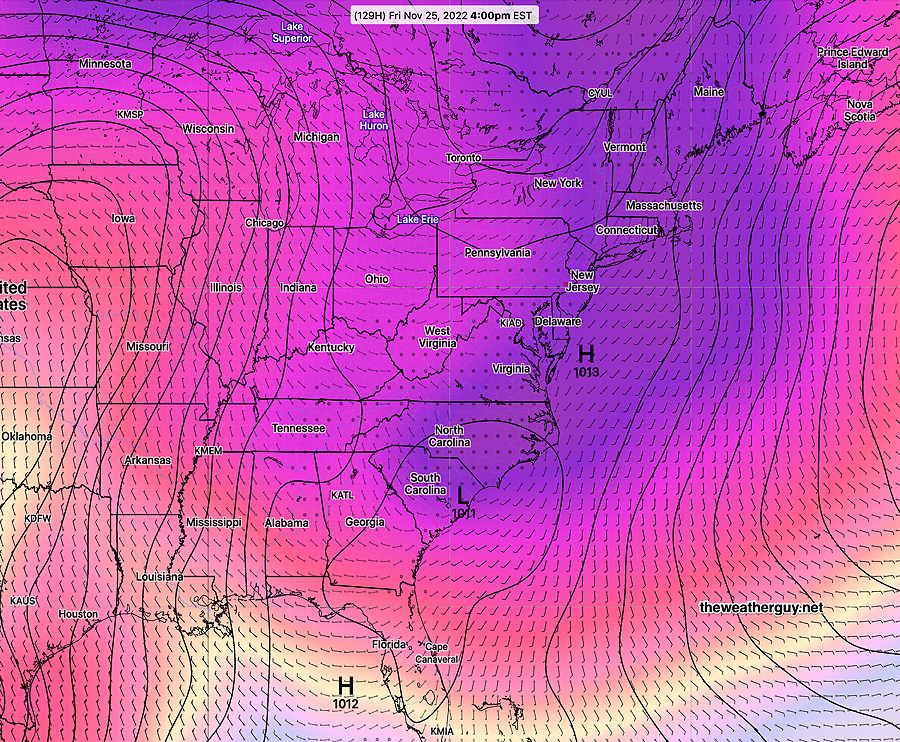 Here's the Canadian GEPS, also showing high uncertainty along the coast. It's low center is closer to the ECMWF forecast above —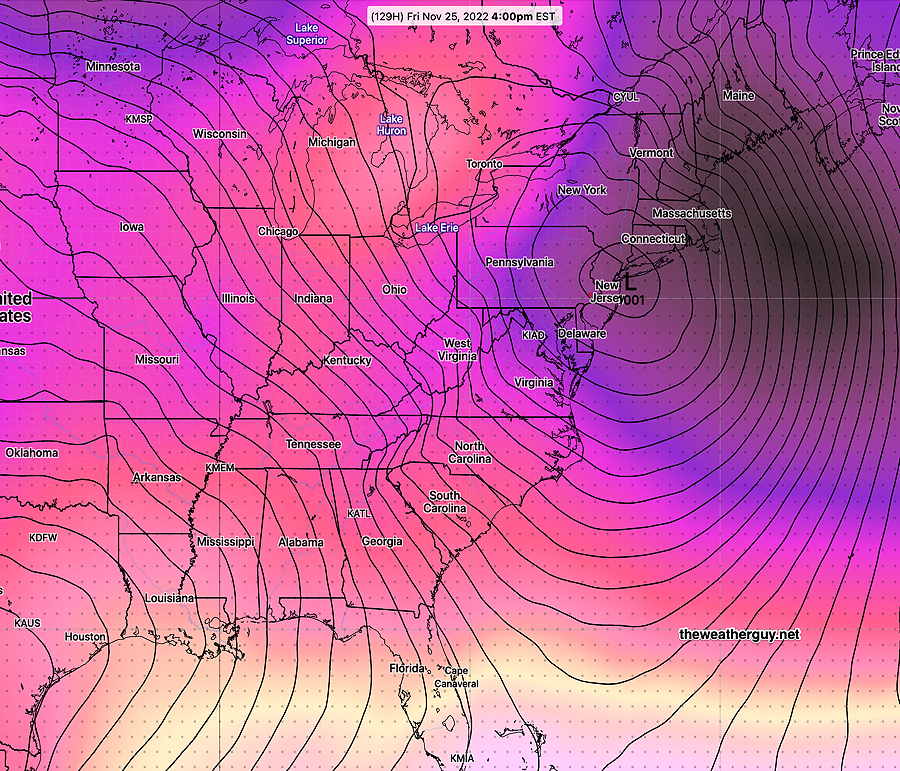 The bottom line is that the forecast for Friday is extremely uncertain at this time, with a high likelihood of rain.
The latest NBM precipitation probability (which combines over 25 different models) for it's forecast shows high chance of rain throughout the area—