Updated Thu 10/06 9:29 PM —A cold front moves through late Friday afternoon, preceded by an increase in winds early afternoon. There isn't much moisture associated with this front and its passage will be marked by only minimal cloudiness and a wind shift. The Canadian high resolution model shows a few light widely scattered showers/sprinkles about 7 PM Friday evening after the front moves through.
A cool but beautiful weekend. Mostly sunny but a few hours of cloudiness moves in about noontime Saturday.
A nice weather weekend
Update Wed 10/05 @ 9:01 PM —The low pressure system that's been with us for days is departing tonight. High pressure builds in Thursday and Friday. A cold front moves through Friday afternoon with possibly some clouds and an increase in wind speed.
Cold high pressure moves down from Canada for Friday and Saturday, but quickly departs—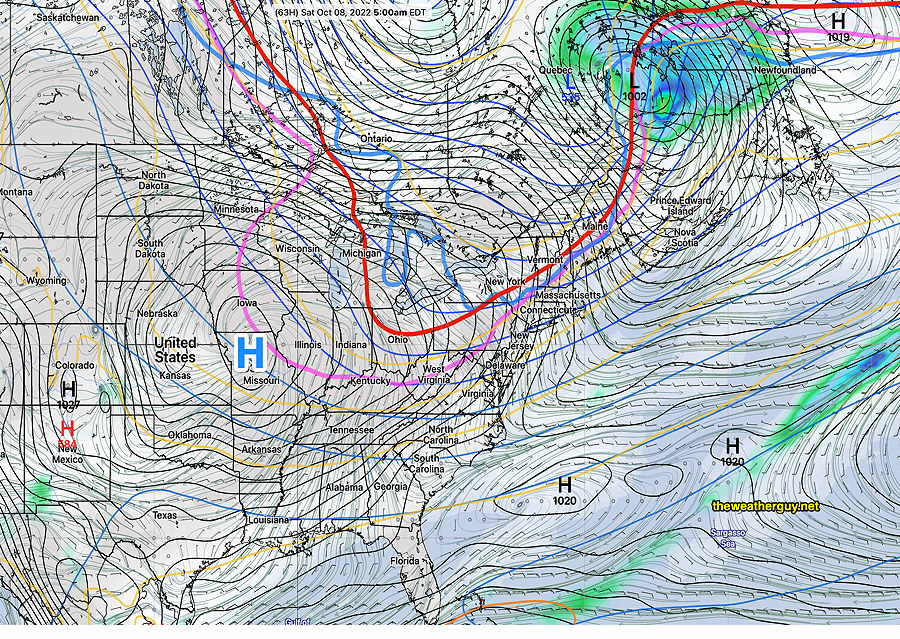 There may be some instability cloudiness mid day on Saturday as an upper air disturbance moves through. Otherwise sunny Temperatures may go to the low 40s Friday night and Saturday night with some upper 30s northern and western suburbs. Highs upper 50s to near 60º.
---
Update Wed 10/05 @ 7:35 AM — The latest GFS this morning shows light showers and clouds lingering until about 4-5 PM today.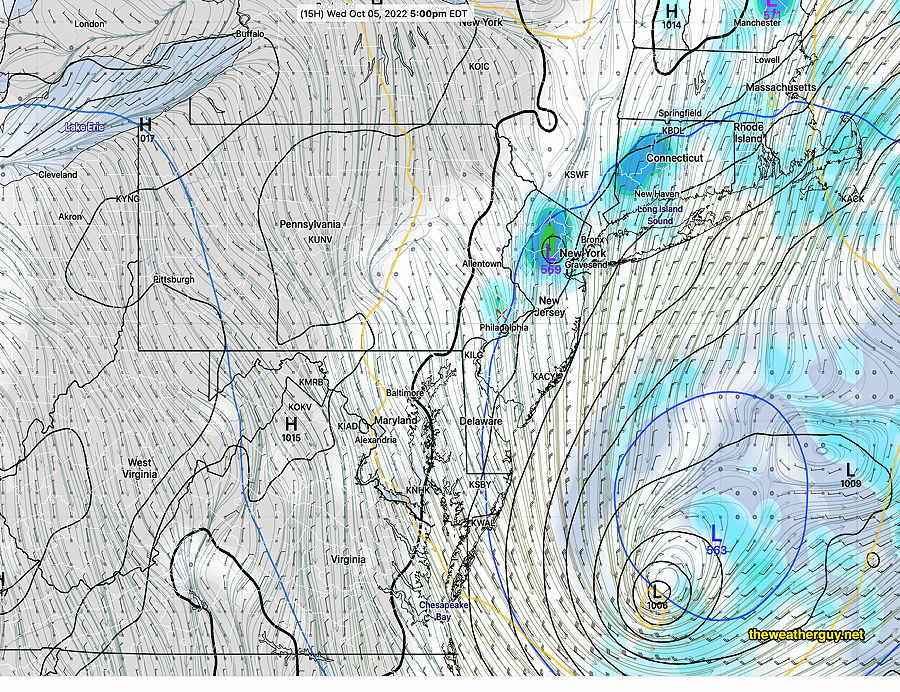 Rain moves out Wednesday evening
Updated Tue 10/04 10:01 PM — Some showers may linger into early evening Wednesday.
Update Tue 10/04 @ 6:01 PM — Current water vapor image captures what's going on in the atmosphere—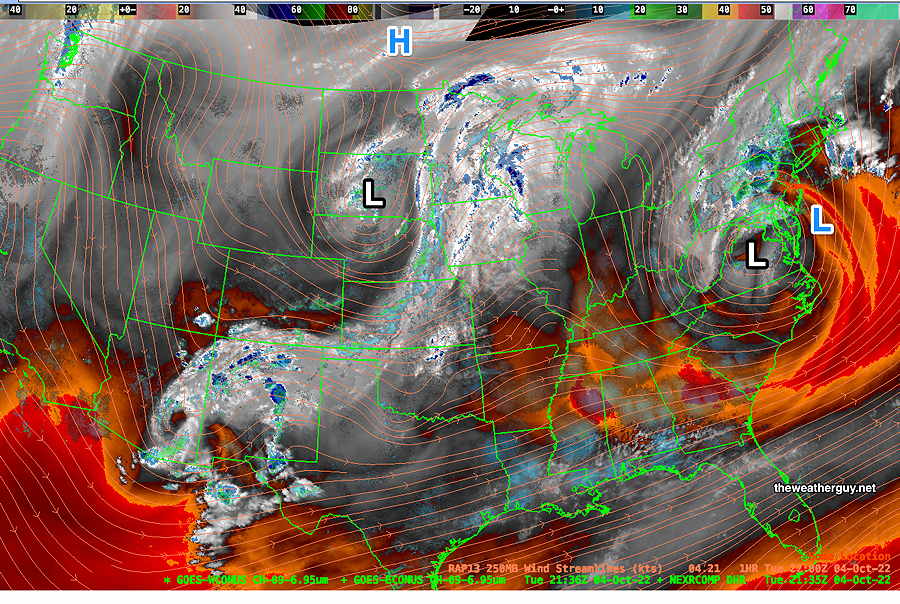 ---
Rain Continues into Wednesday Afternoon
Update Tue 10/04 @ 11:50 AM — The latest models show the rain continues into at least Wednesday afternoon. Here's the latest HREF model forecast for Wednesday at 2 PM—
Update Mon 10/03 @ 6:05 PM — This afternoon's models are in good agreement that an additional 2 – 3 inches of rain will fall before it tapers some time Wednesday afternoon. That's on top of the amounts shown in the MRMS graphic below.
Here's additional rain prediction from the Canadian High Resolution —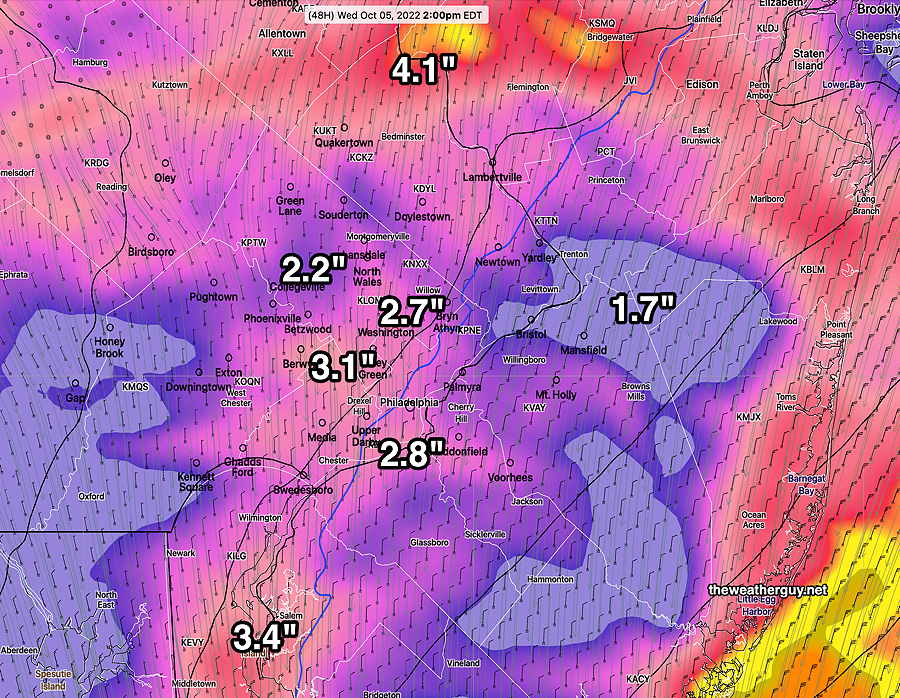 Updated Mon 10/03 12:43 PM — Latest models continue to show periods of heavy rain through part of Wednesday. Total additional rain accumulation is coming in at 1.5-3" in the immediate PHL area with the upper range favored.
Previously Posted Mon 8:56 AM —
Tropical systems and their remnants often change the weather pattern and such is the case with Ian, where we've gone from a near drought situation to over a month's worth of rain in a few days.
Here's the past 72 hour rain accumulation, according to the MRMS—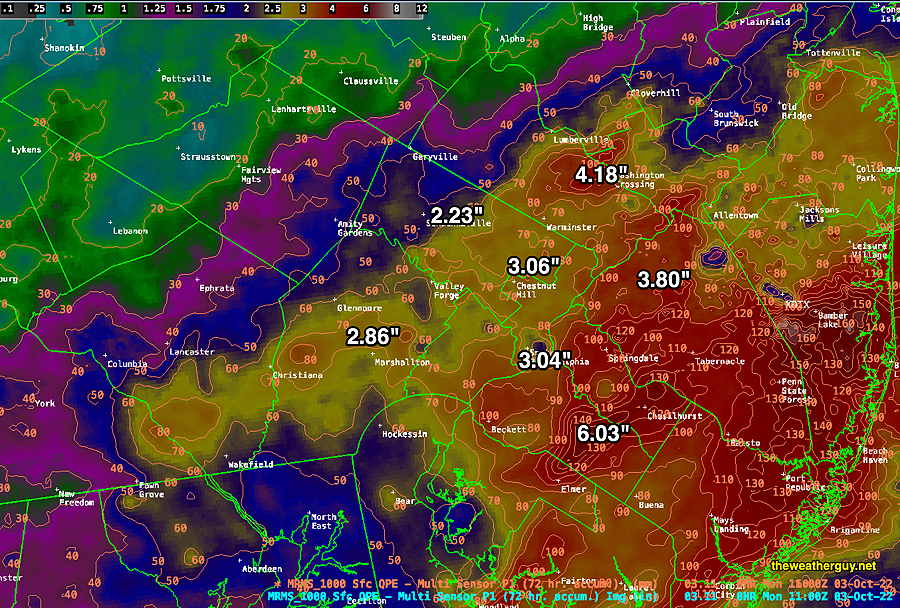 The current weather in the upper atmosphere is best captured by the satellite water vapor image—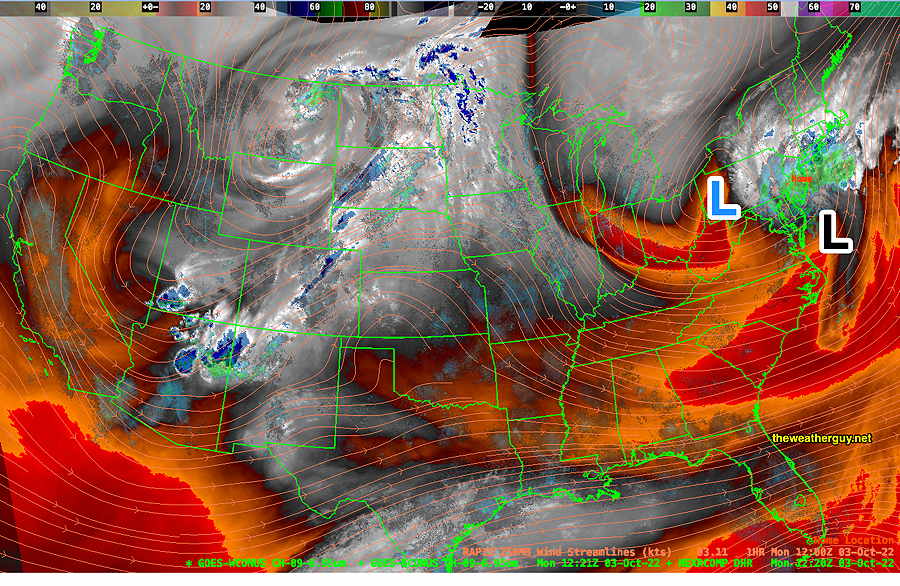 An upper low, the remnants of what was Hurricane Ian, is to our west. It's energy is being transferred to a secondary coastal low that will be slow to move.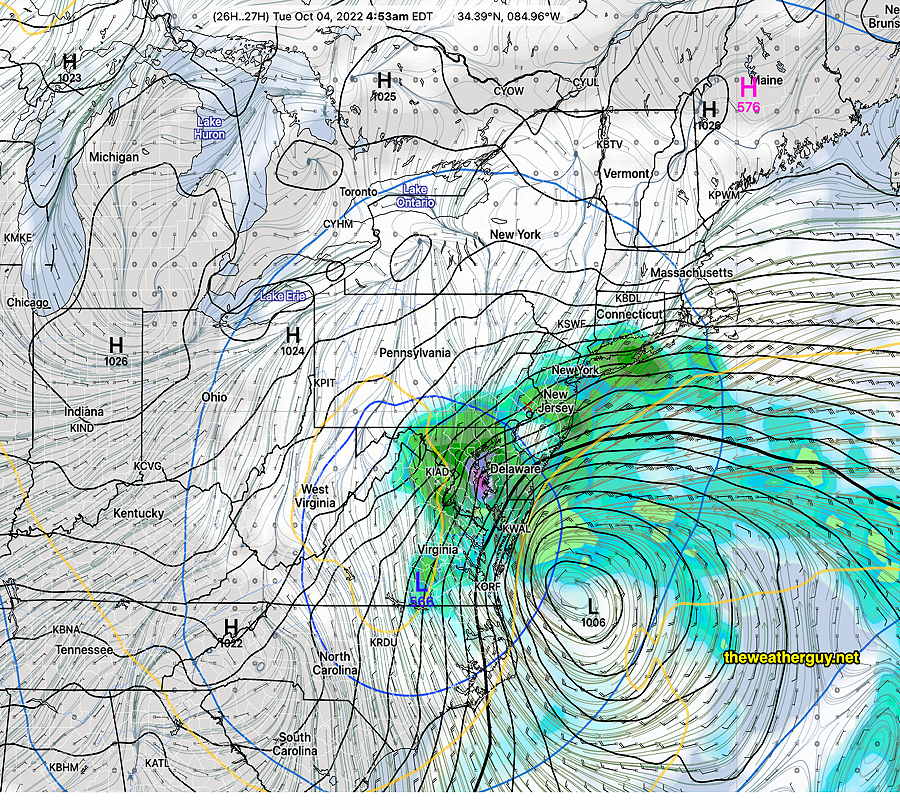 Significant moisture in the system will be thrown back towards us over the next two-three days in the form of heavy rain.
Several models show several additional inches of rain possible in some areas on Tuesday, although the trend with some models is for the heaviest rain now to be to our west.
Last night's models had the rain stopping for the immediate PHL area today. The 06z GFS continues with some rain for today, Monday, becoming heavy after midnight, with a soaking rain on Tuesday.
Many models have the system departing on Wednesday, but it may be slow to do so. Exact timing with such systems is tough. Stay tuned.