Update Sun @ 9:48 PM — Latest radar and latest RAP and HRRR have the storms not making it into our area tonight. I can't account for the GFS and HREF which had forecast this disturbance to move in.
---
Update Sun @ 8:41 PM — The line of storms expected earlier this evening did fall apart, as many models (but not all) had predicted. Looking closely, the shear vectors and storm motion vectors were at 90º to each other.
There is another strong upper air disturbance that is very much blossoming on water vapor imagery this evening (see the live water vapor image on this site).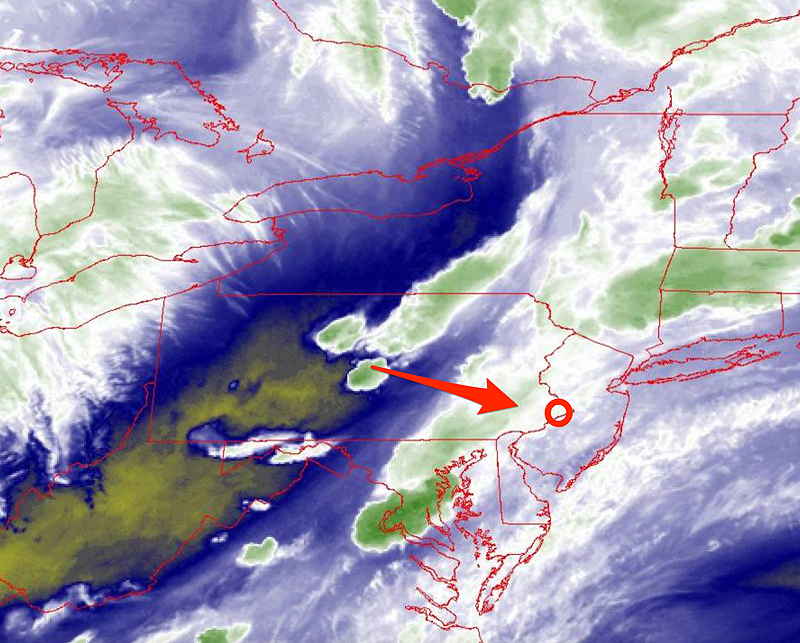 Here's a current superimposed radar with water vapor image at 8:40 PM —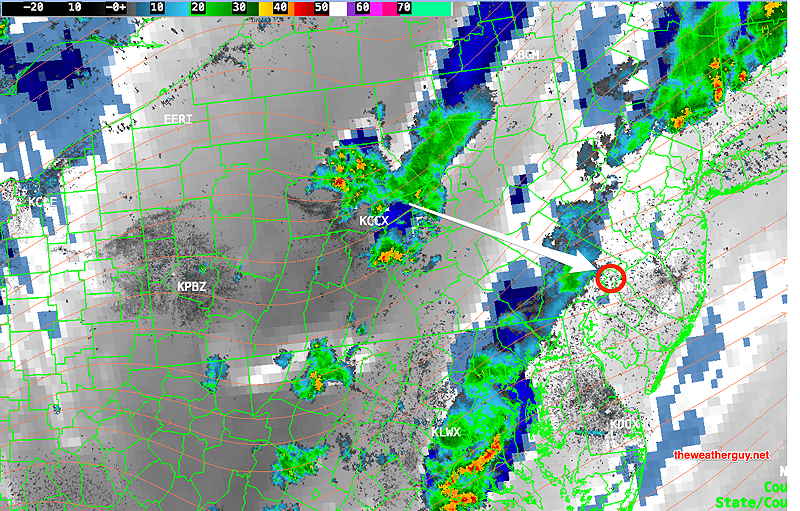 Storm motion and shear vectors align better about 11 PM. These storms may make it into Philadelphia between 10PM to 1AM. It will be interesting to see if it happens, as it is forecast by the latest GFS.
Monday will be an active day here weather-wise as a strong cold front moves past. Isolated storms may break out in the morning. Available CAPE values are expected to be very high, exceeding 2500 joules/kg. Heavier storms in the 3-6PM time frame. More on that tomorrow.
---
Update Sun @ 6:11 PM —More models show some storms moving into the Philadelphia area between 9 PM and 1AM. Monday looks to be an active weather day. Stay tuned.
---
Update Sun @ 11:37 AM — Last night's models had any rain dissipating before making into our area this evening. However, some of this morning's models show the showers and thunderstorms making it into the Philadelphia area this evening, between 6 PM and 11 PM. (Not all are on-board: the HRRR has them missing us; the Canadian RGEM has them falling apart just west of us.)
Here's the latest high resolution HIRESW forecast for 7 PM—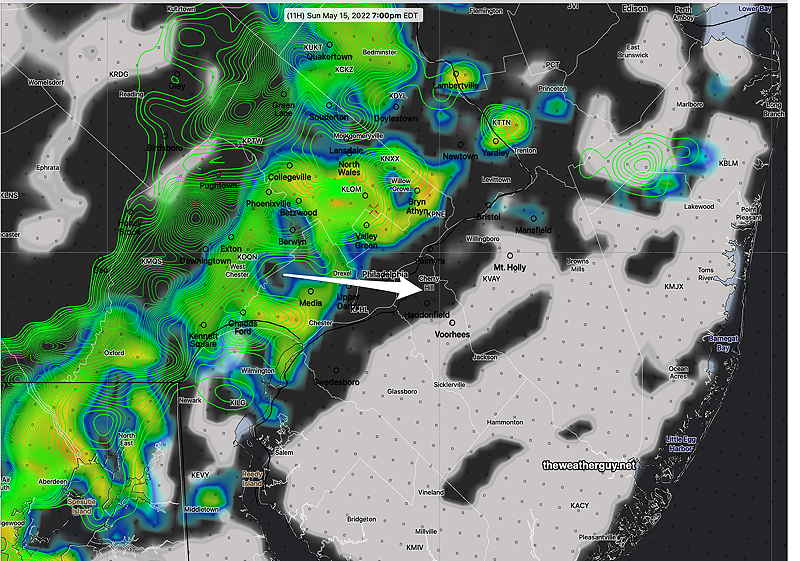 ---
Updated Sat 10:41 PM — Sunday Forecast below unchanged. Fog lifts and clouds break for sunshine around noon. Showers and thunderstorms look less likely late Sunday and Sunday evening; they will weaken as they approach Philadelphia from the west. Western suburbs may see some activity after 6 PM.
Monday may be an active day for afternoon thunderstorms.
---
Update Sat @ 9:42 AM — The latest HRRR radar/rain/clouds forecast for 2 PM Saturday—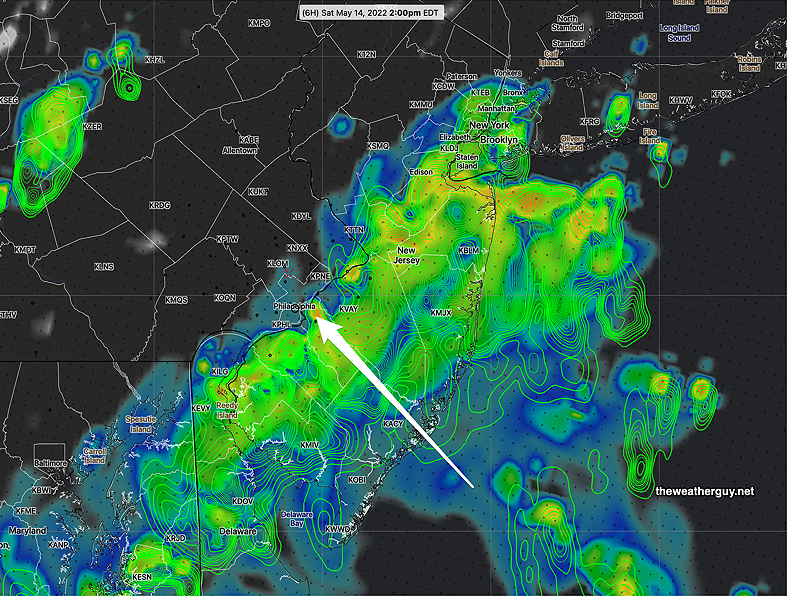 ---
Updated Sat 7:34 AM — Last night's models have come together with the forecast of showers moving in from the southeast as early as 11- 1 PM Saturday. About 0.2-0.3 inches of rain expected.
For Sunday, the forecast is mostly the same- cloudy in the morning, becoming sunny in the afternoon. Chances of thunderstorms moving in, especially western suburbs late afternoon Sunday.
---
Sunday
Cloudy early, then by late morning sunny, hazy warm, and a bit humid with dew points in low 60s. Showers move in late in the afternoon. Thunderstorms possible late afternoon and evening, especially western areas. High temp 80.0º ± 3.0º NBM model, Blue Bell.
---
---