The models continue with the scenario of low pressure moving along a stalled frontal boundary.
Reviewing today's NAM and GFS data, the rain-snow critical thickness cuts right through Philadelphia.  QPF values are about 0.39 inches water.
Additionally, until precipitation gets going, it will take some time for dynamic cooling to establish a cold enough profile.  However the middle levels of the atmosphere will remain too warm for snow to form in much of Philadelphia, south and east.  
For most of Philadelphia, rain may mix with some sleet and maybe some rain snow mix after 4 AM, but should barely accumulate, even on grassy surfaces.  It should be wet, not white, in most of Philadelphia. 
Precipitation ends about 9 -10 AM.
For extreme Northeast Philadelphia, Chestnut Hill and areas of Montgomery County and Bucks County, 1/2 to 2 inches measured on grassy surfaces is possible, but even less on roadways.     The graphics below best depicts this snow accumulation potential—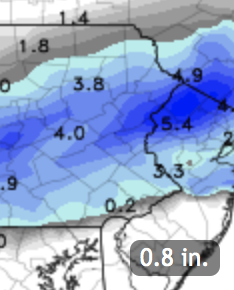 Much of South Jersey will have no accumulation.   Temperatures rise in the morning and rapid melting will occur with whatever falls.