The stagnant, very mild pattern we've been in should continue, as I would describe the current overall situation as a "lack of very cold air" to our north.
Whatever blob of cold air exists in Canada will sag into the western/central US over the next few days, but  our area will still be on the relatively mild side of things. No very cold outbreaks in sight right now, although a weak front will bring in cooler temps for Sunday.
The Short Range Ensemble Forecast Model (SREF) sums it up well with the "540 thickness line"  (RED) staying north of our area—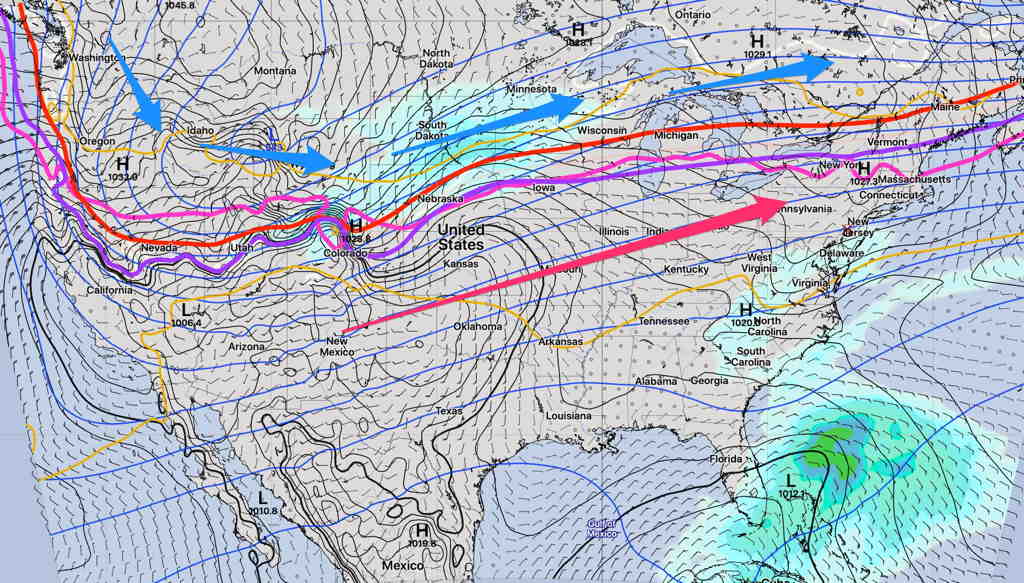 Saturday—
As for the specifics for this weekend, a weak cold front will approach on Saturday about noontime, but upper air support is lacking and the front will fizzle out.   Showers with the front far west of the Philadelphia area are expected to reduce to some widely scattered sprinkles.
Speaking of  forecast specifics, it's been difficult to predict when the low clouds level would lift each morning.  Over the past week, the higher resolution meso-scale models have been a bit too cloudy and the GFS has been useless, as it rarely showed the low clouds and fog that developed each early morning.  Saturday's forecast is a bit different since clearing skies are expected during the afternoon after the frontal passage according to the model blend.  (Some models have slower clearing through the afternoon. ) Still mild with highs near 73º.
Sunday—
Sunny early.  High pressure moves off to our north and an easterly wind flow will bring in cooler temps and clouds late morning and cloudiness will increase during the afternoon.  Highs only 55º
Fri 03:36 PM Update — latest models have showers early evening Sunday.
Current seasonal average highs are 61º and average lows are 41º.