[su_box title="Weather Outlook Update Tues PM " box_color="#defcdc" title_color="#000000″]I posted this weekend outlook Tues morning and things have already changed regarding timing. The front that moves through Friday may linger just to our south to allow some instability showers on Saturday afternoon.
The large low pressure system forecast to bring rain for Sunday may move in later in the day, keeping Sunday dry for much of the day. [/su_box]
It's April, and that's where we get the expression, "April showers brings May flowers."
This coming weekend, or at least Saturday, appears to be sandwiched between two low pressure systems— one Friday afternoon/night and another stronger low pressure system on Sunday.
Timing can change this far out in the forecast period, but the models have been fairly consistent with these two systems.
It appears that Saturday will be mostly sunny and warm.  High temperature possibilities show 70s for Saturday, but the statistical spread in the EKDMOS (Ensemble Kernal Density Model Output Statistics)  is quite large, indicating uncertainty in the forecast.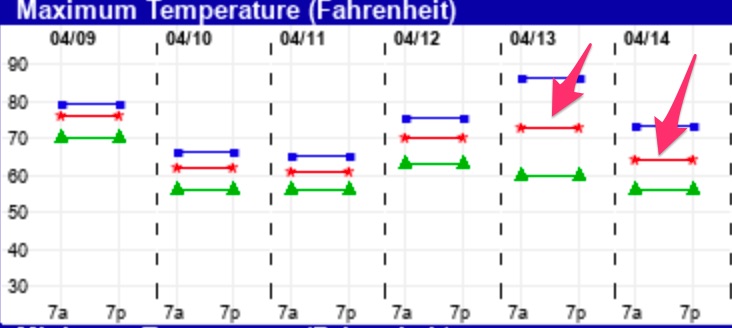 For Sunday, it appears we'll be having rain.  Notice the lower spread in the temperatures suggests greater certainty in the temp forecast and weather for Sunday's weather.
As usual, I'll update Friday evening.