#weather #paweather #wx #pawx #philadelphia
Friday Forecast Update & Saturday Outlook—
Update Thu 03/09 @ 5:52 PM — The next weather maker moves in early Friday afternoon. Rain moves in from the west, between 1 and 3 PM Friday. It will become increasingly windy Friday night. About 0.5-0.75″ of rain expected before it ends around daybreak Saturday.
It appears that the primary low will spawn a complex secondary structure early Saturday; low pressure will develop far off the coast to our south and another center near NYC.
The rain and most of the energy will move away on Saturday, but residual moisture Saturday morning will likely result in some snow flurries. Saturday looks to become partly to mostly cloudy in the afternoon with some gradual clearing later in the day.
The system coming in late Sunday is still a rain event for Monday, but may begin as light snow in northern and western suburbs.
---
Monday's Storm Trending Warmer
Update Thu 03/09 @ 9:57 AM — Last night's models have the lower levels of the atmosphere (< 2000 feet) trending warmer, reducing the likelihood of snow, even at the start. What was already a marginal chance for non-accumulating winter precip, at least at the start, has reduced to a very low chance.
This storm is still several days away and additional changes in the forecast are likely to occur.
Nonetheless, we have entered a very active weather pattern with disturbances from the Pacific, affecting California, are rapidly crossing the country and spawning additional low pressure development on this coast. Slight changes in the flow can create big changes in our weather. Stay tuned.
---
Rain Friday afternoon. Possible Snow-Rain Mix Monday morning
Update Wed 03/08 @ 8:02 PM — Rain is still expected Friday to move in from the west between 1 PM and 3 PM and continue into early Saturday morning. Very slow clearing on Saturday, possibly with lingering sprinkles.
Of interest is a new storm now expected to form Sunday night to our south and intensify as it reaches the coast. The GFS and ECMWF both show a mix of snow and rain possible before daybreak Monday, likely changing to all rain during the day.
Temperatures are expected to be above freezing, so little or no accumulation is currently expected. This is a changing situation.
Here's the latest ECMWF and GFS for Monday morning—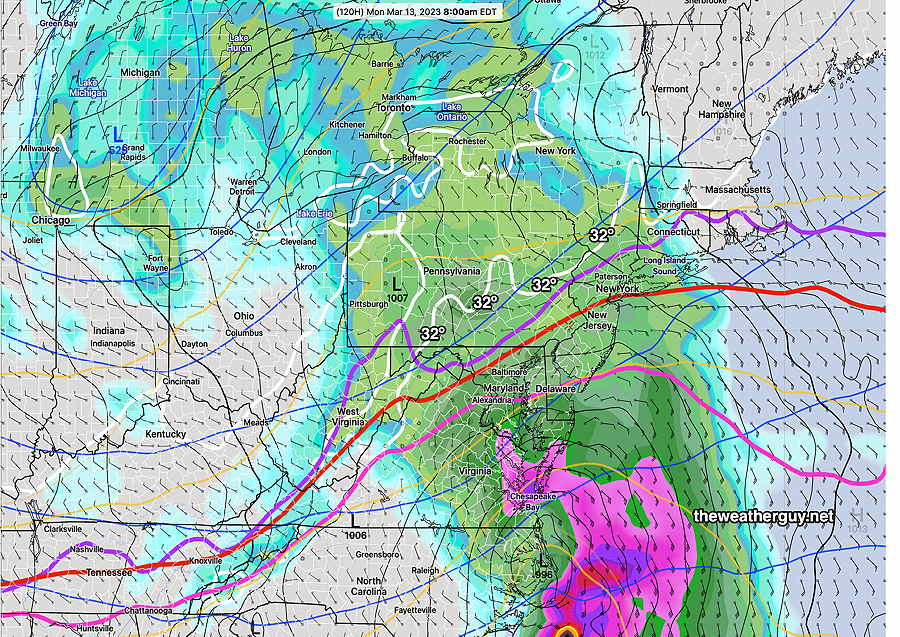 Here's the GFS—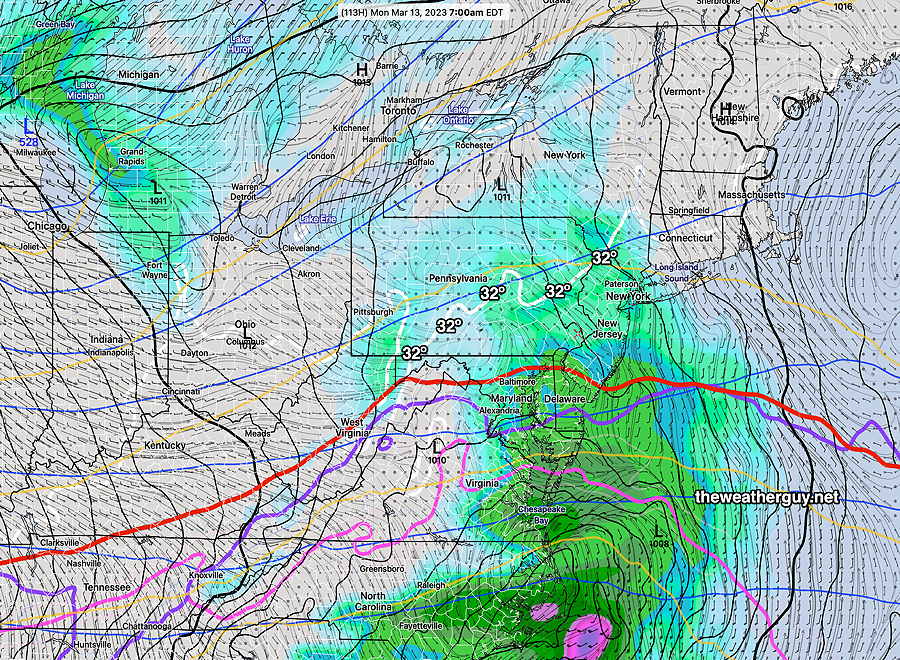 Something to watch. I'll keep my eye on any changes.
---
Previously Posted Tue 5:51 PM —
The weather will continue to be fair and relatively cold through Friday.
An approaching storm on Friday is now being forecast to exit faster than previously predicted.
It appears that rain will begin Friday afternoon with this storm—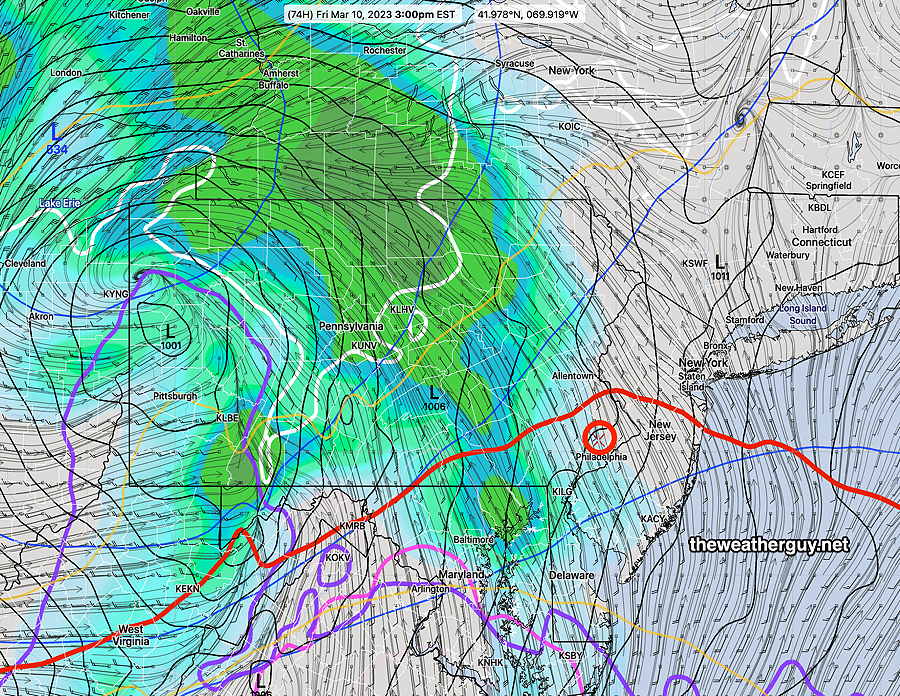 The models have backed away from this being a storm with secondary coastal development. It will not be as deep a storm as previously forecast. The ECMWF model is leading this trend.
Rain likely ends Saturday morning with partial clearing occurring during the day. It will be windy and colder.
Much of next week looks to be colder than average. No snow seen in the forecast.
---