Update Fri @ 9:30 AM—
Incredibly our high temperatures today, Friday, and Saturday will be at or above 80°F.
Regarding Saturday, last night's models continue their forecast of timing the surface frontal passage, based on wind shift and lowest barometric pressure, about 2 PM on Saturday.
Meteorologically, this will be an 'anafront' and the models are showing that most of the rain and embedded thunderstorms will occur after the frontal passage. The model trend has been for the precipitation to occur somewhat later, now starting about 3:30 to 6 PM.
More information on this with my regular Weekend Weather Forecast this Friday evening.
---
Update Thu @ 7:25 PM—A cold front on will move across our area between 2 and 5 PM on Saturday. Today's NBM model shows the possibility of some thunderstorm activity with and after the passage of the front.
As mentioned last night the main issue will be gusty winds. Total rain accumulation is not expected to be heavy with the front, although a brief heavy downpour might occur.
Meteorologically, this front is interesting in that it is what is known as an 'anafront', where most of precipitation occurs behind the frontal passage. So the actual front moves through between 2 and 4 PM but much of the rain and possible thundershowers will move through it as late as 5 to 7 PM.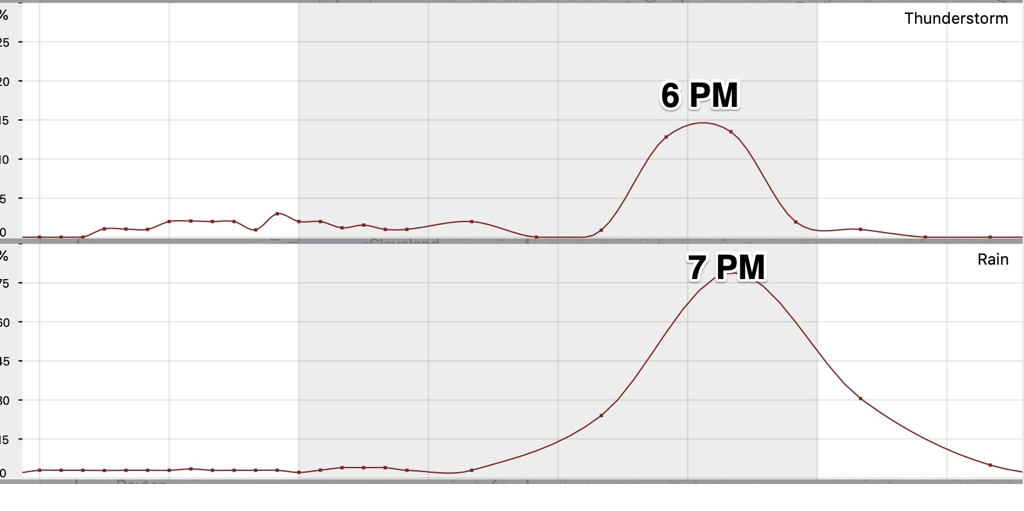 ---
Update Wed @ 8:14 PM— We will finally see some sun Thursday and Friday.
The models are in good agreement with a cold front moving through Saturday afternoon. The strongest dynamics with this front will be far north of our area, but the models are still forecasting some rain in our area.
The front will lower our temperatures closer to seasonal averages Saturday night into Monday. The main issue will be gusty winds on Saturday, peaking with the frontal passage. Current timing for the frontal passage is about 2 -4 PM Saturday. Windy/breezy conditions into Sunday.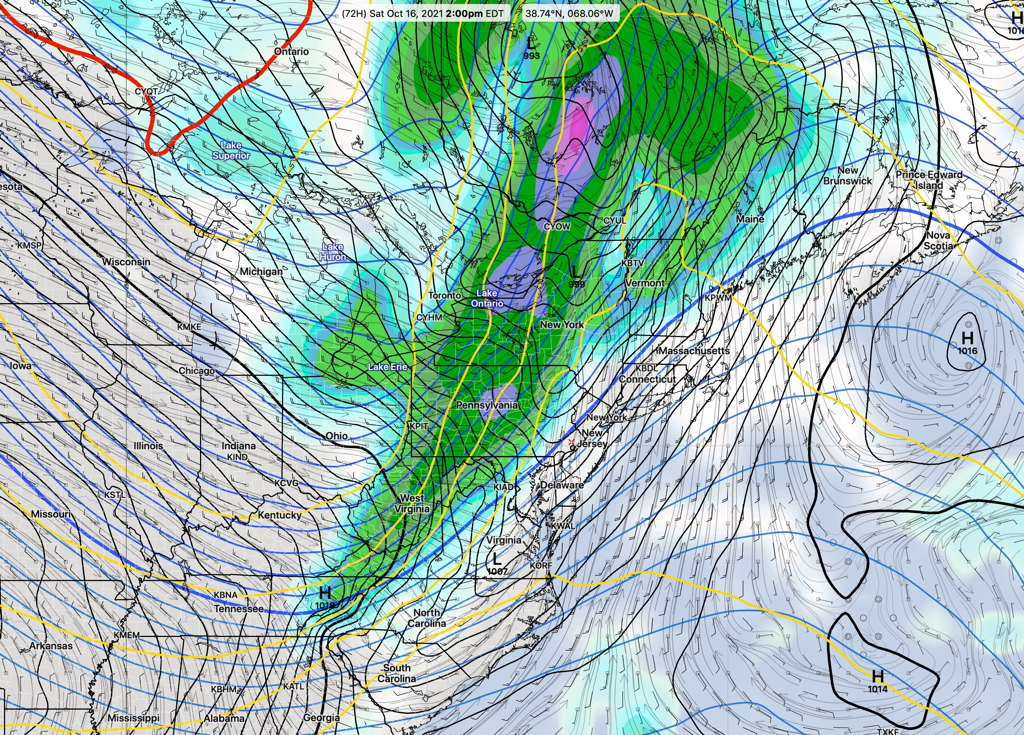 ---
Update Tue @ 5:15 PM— Mild days through much of Saturday. A rather strong cold front moves through mid to late Saturday afternoon with showers and thunderstorms expected. Windy conditions on Saturday and into Sunday. Temperatures chill down on Sunday with low temperatures Sunday night as low as the upper 40s.
---
The low pressure system that affected our weather on Sunday will continue to linger off the coast. More clouds expected on Tuesday.
The coastal system will gradually move off by Wednesday, allowing an upper air ridge to bring in warm air to the Philadelphia area.
Unseasonably warm weather Wednesday through early Saturday.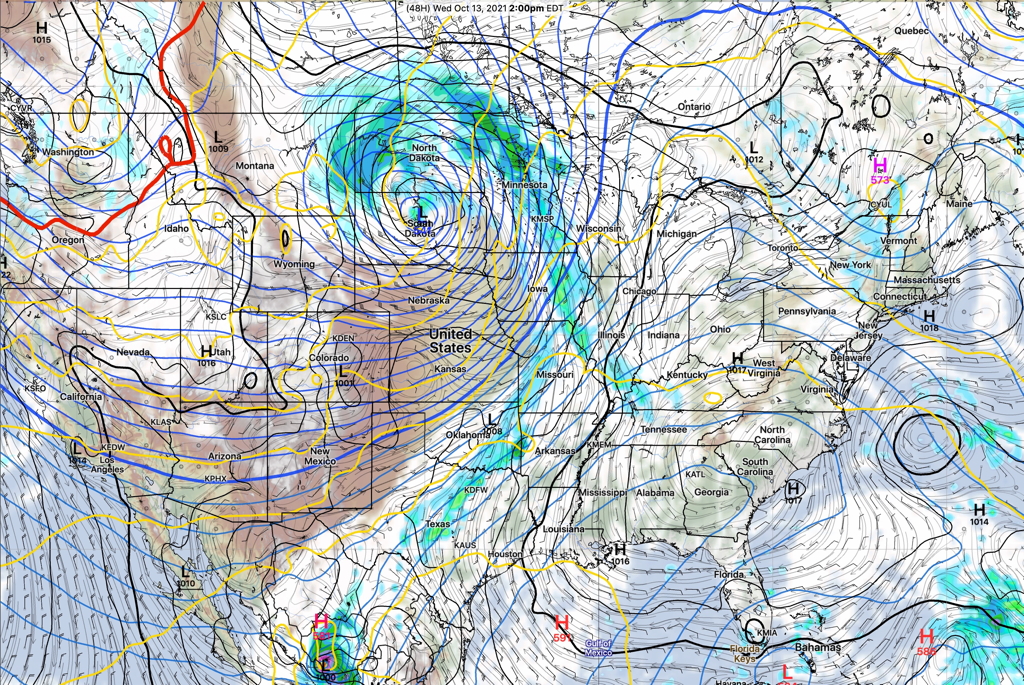 The GFS, Canadian GEM and ICON all show a cold front moving through. The current timing is Saturday afternoon. The models differ with the amount of showers/storms in our area. Here's the GFS forecast for 2 PM Saturday—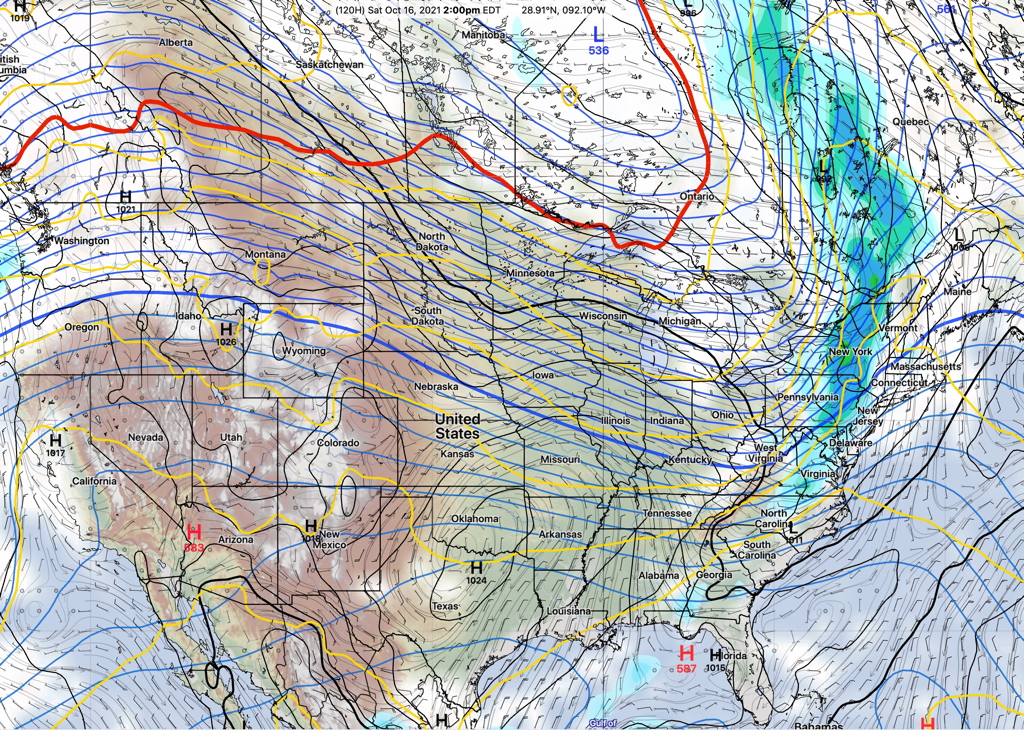 Despite a cold front passage, temperatures rebound by next week
GFS jet stream position next Monday. Another ridge is poised to move in—