Sun 1:36 PM Forecast Review — Clearly, the phrase "relatively rain-free" was misguided on my part with Sunday's forecast. And "relatively dry" was downright wrong.
As of 1 PM, PHL airport only reported 0.03 inches of rain. It certainly felt like a lot more than that.
I had wanted to distinguish my preference for the GFS forecast (~0.03") from the other models which showed significantly more rain. If I had to do this forecast again, clearly "relatively rain-free" and certainly "relatively dry" were the wrong way to go.
Sat 9:00 PM—The latest GFS continues with a very cloudy but relatively rain-free Sunday.
This weekend's forecast has been anything but straight-forward, as there have been huge differences in the major models for several days. I've put extra focus on Center City and the Philadelphia Broad Street Run forecast time frame.
Things are coming more into focus, with the Sunday period coming within the range of the higher resolution models. (Most models only have a forecast range of 48-84 hours, with the majority only 48-60 hours.)
Overview: High pressure over the North Atlantic will nudge down over us tonight as a back door cold front. An easterly flow will develop around this high pressure system. A coastal system with tropical characteristics will attempt to move up the coast, but will be blocked by the high pressure system.
Saturday
An easterly flow will develop over our area, bringing in moisture and clouds. The models differ with the amount drizzle, but several models have some bright spots in the morning, followed by low clouds and widely scattered areas of drizzle by afternoon. High temp 70.2º sd 1.8º NBM model, Blue Bell. Winds ENE 7-13 mph
Update Sat @ 10:01 AM This morning's HRRR still shows some sun for Saturday afternoon.
Update: Fri 7:37 PM Friday night's RAP and HRRR show showers before daybreak Saturday, then sunshine through high clouds Saturday morning into early afternoon. Then clouds move in during the mid to late afternoon. No rain, according to the RAP and HRRR during the day on Saturday.
Update: Friday's GFS has some sunshine through high clouds Saturday afternoon. Not as cloudy as the other models.
The increasingly easterly flow around the high and the pressure gradient with the blocked low will result in some heavier drizzle and light rain Saturday night, mostly after midnight.
Sunday will be cloudy. The models continue to diverge with the amount of rain on Sunday. The GFS and GEFS have come somewhat closer together, with light rain/drizzle in the early morning before 8 AM, then tapering off during morning.
Total amounts of rain are light, regardless of the model. (The NBM has less than 0.17 inches for center City Philadelphia after 8 AM. ) The GFS and ICON continue with MUCH less, on the order of 0.03″.
High temp 69.7º sd 1.9º NBM model, Blue Bell. Winds light ENE with occasional gusts to 13 mph.
Sat 9:00 PM—The latest GFS continues with a very cloudy but relatively rain-free Sunday. There is still a low range of precipitation forecast by other models, but I continue to favor the GFS model's very cloudy but relatively dry forecast.
Sat 8:51 AM— The latest GFS model from early Saturday morning (06z) continues with a relatively rain-free forecast for Sunday.
I'm leaning towards those GFS lower rain amounts after 8 AM.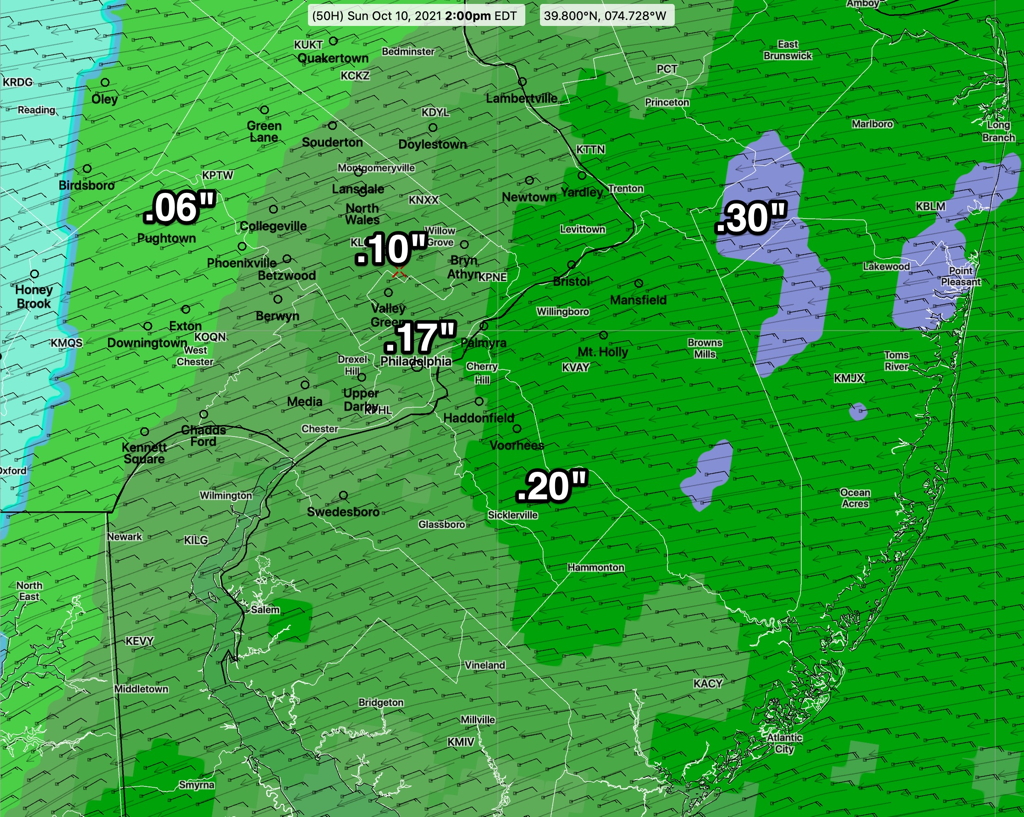 (Heavier rain expected east, towards the Jersey Shore.)
The latest GFS (18z model run= 2 PM EDT) just became available as I post this. Still low amounts in Philadelphia.