Here's the latest on the snowstorm expected Wednesday. Tonight's NAM data along with this afternoon's model runs show high continuity suggesting that this is likely to be a high confidence forecast.
Latest NAM has a QPF of 1.34 inches water for PHL, higher amounts north and west of Philadelphia. (Expect those numbers to change with each model run. It's the nature of weather prediction.)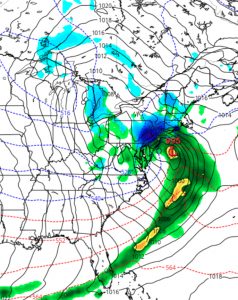 Still a significant snowstorm, with snow totals 12-18 inches as a current best guess.
Snow starts as a wet mix between 7-10 pm Tuesday night but changes to snow overnight. Snow falls moderate to heavy after daybreak Wednesday , tapering off about 6pm.
I'll try to update tomorrow morning about 9:15 am.
[su_note note_color="#ebf2d9″]Tonight's GFS has an almost identical QPF of 1.33 inches water. GFS has heavier snow earlier on Wednesday [/su_note]