Tues @ 11:02 AM Forecast Review —
This storm showed the limitations of numerical weather prediction ("weather models") in forecasting complex atmospheric processes.
While it accurately predicted the transition of a beautiful day Monday into a rainy night at 8 PM, it could only approximate the general placement and amounts of heavy precipitation—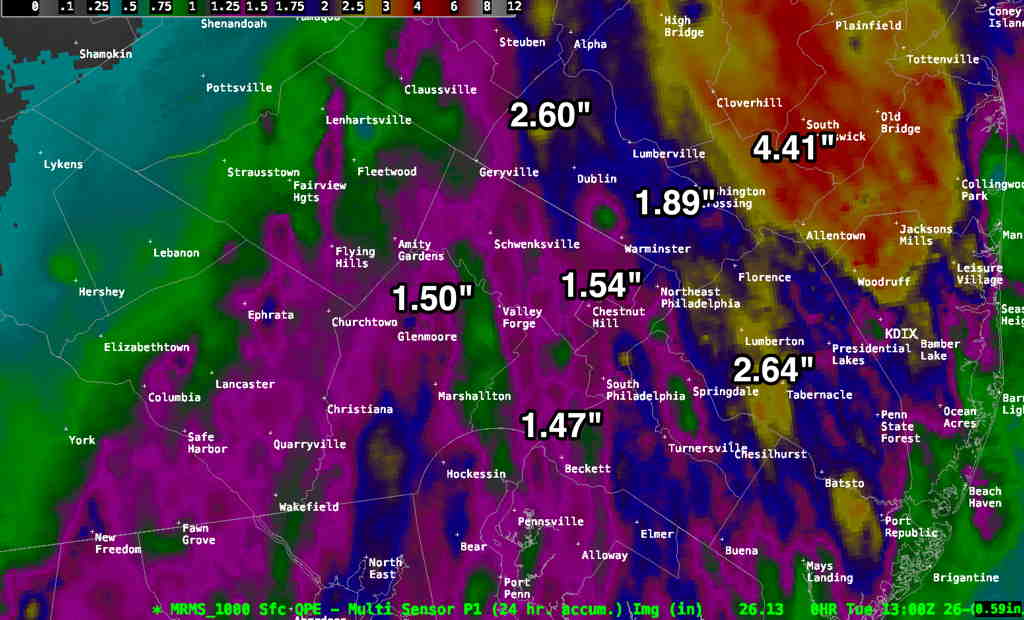 As is often the case, and especially obvious with snow storms, the exact placement and amount of precipitation could be somewhat in the ballpark but not at all exact. The evolution of this complex storm was also off. There's sunshine now breaking through clouds now instead of heavy rain.
With all the current limitations that exist with the resolution and quality of weather model input data, the mathematical constraints in calculating physical processes in large volumes that result in precipitation, and the non-quantifiable chaotic processes that play a part in atmospheric motion, this is probably the best it can be right now.
It's something to remember when snow threatens and the same precipitation forecast limitations are magnified on the rain-snow scale of 9-18 times after you throw three dimensional temperatures into the mix.
---
Update Mon @ 10:23 PM — Tonight's early models (HRRR, NAM and NAM-NEST) continue with very heavy rain through tonight and much of Tuesday morning, then intermittent periods of rain through Tuesday evening. Winds become more gusty on Tuesday.
Total rainfall in our area 3- 4.5" with higher amounts possible north and east!
---

Update Mon @ 7:37 PM — This afternoon's models are on track with the forecast immediately below. Updates about 10:30 tonight with the latest models.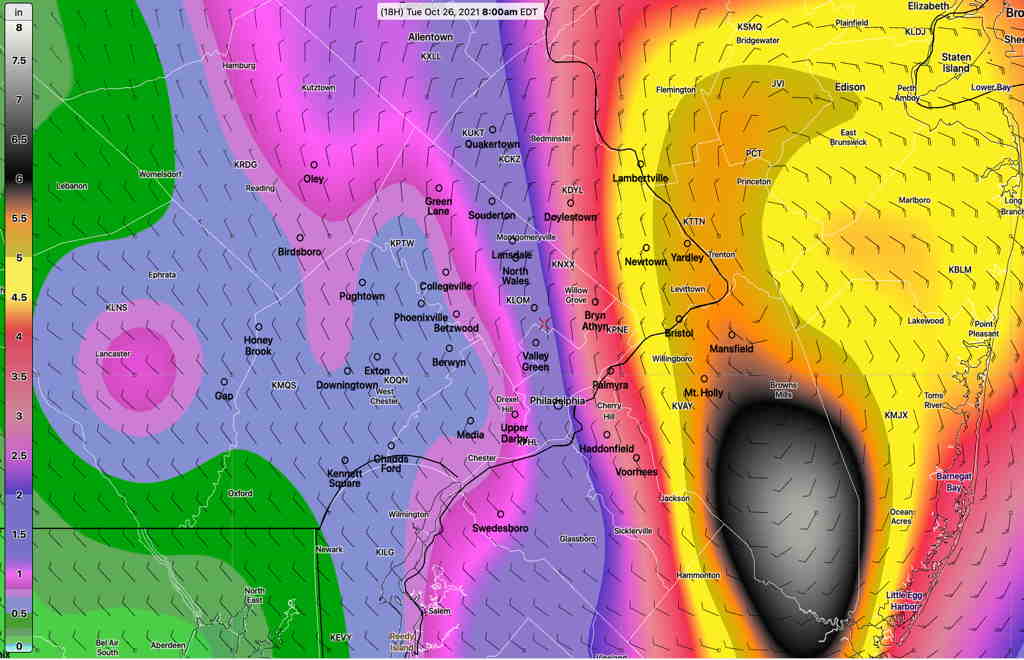 ---
Update Mon @ 11:39 AM—Meteorologically fascinating is how I would describe this morning's models, with 3 low pressure systems. 2.5-4 inches of rain, continuing through Tuesday! Updates later.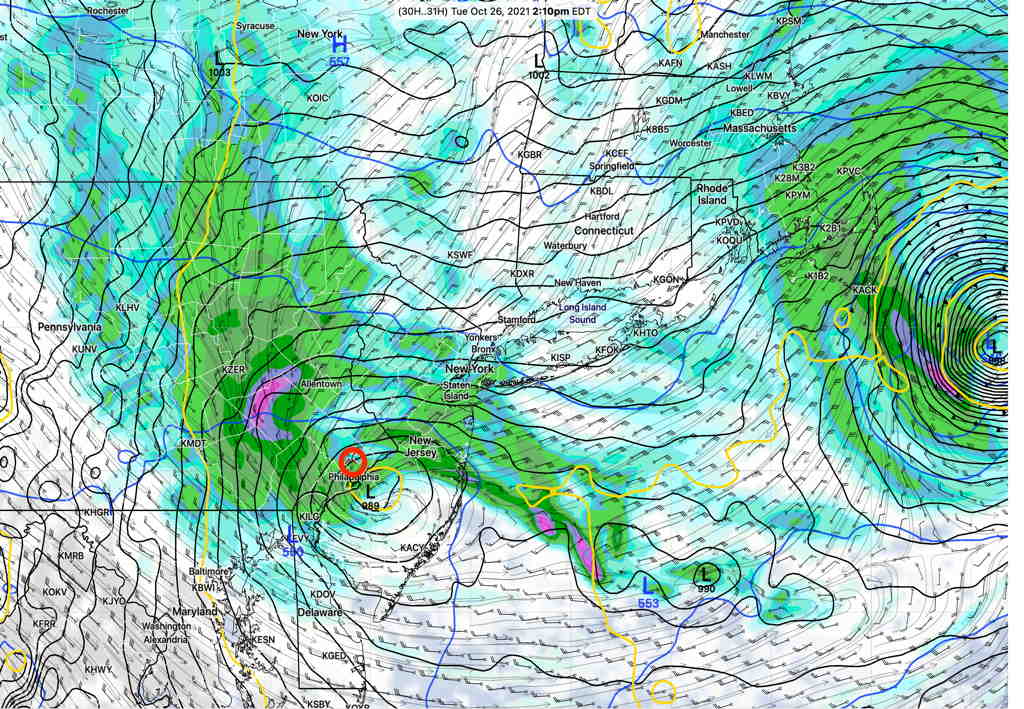 ---
Update Mon @ 9:38 AM—Last night's model runs continue on track with a complex coastal system to develop after midnight Monday into Tuesday as discussed here. The complexity of the expected system is such that the NWS is calling it a "low confidence, high impact event". I can certainly see why; the current position of the upper low (as seen on water vapor) is south of the GFS and RAP model's forecast positions—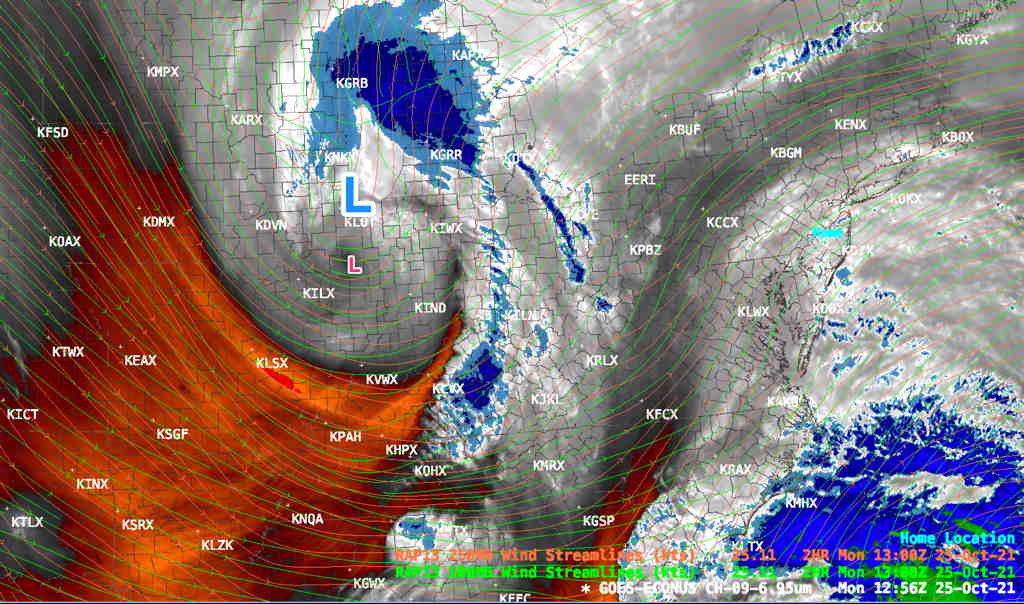 The complexity of the secondary coastal system(s) expected to form (actually, the GFS has been showing THREE low pressure centers) and the difference in the model's current forecast position causes one to question the model solution.
That said, the models are showing a generalized 2-3 inch rainfall with greater amounts in NJ and northeastward starting as early as 8 PM with the main action after 11 PM Monday and ending/tapering off later Tuesday afternoon. High winds look to be less of an issue in our area until gusty winds develop later Tuesday with the storm's departure.
More updates later today.
---
Update Sun @ 11:12 PM — Tonight's short range models continue to show an impressive coastal storm that may linger off the NJ coastline, according to the latest NAM and NAM-NEST models.
Showers break out about 8 PM, but the real action will begin closer to 11 PM Monday night and beyond. Wind gusts in excess of 40 mph.
While some models (Canadian GEM and HRRR) have lower amounts of rain for PHL (~ 1 inch), the latest SREF, NAM and HIRESW models have likely amounts of 2-4 inches, with the rain circling back over us during Tuesday afternoon! Even higher amounts along the Jersey shore. It's a complex system with some models showing three low pressure centers!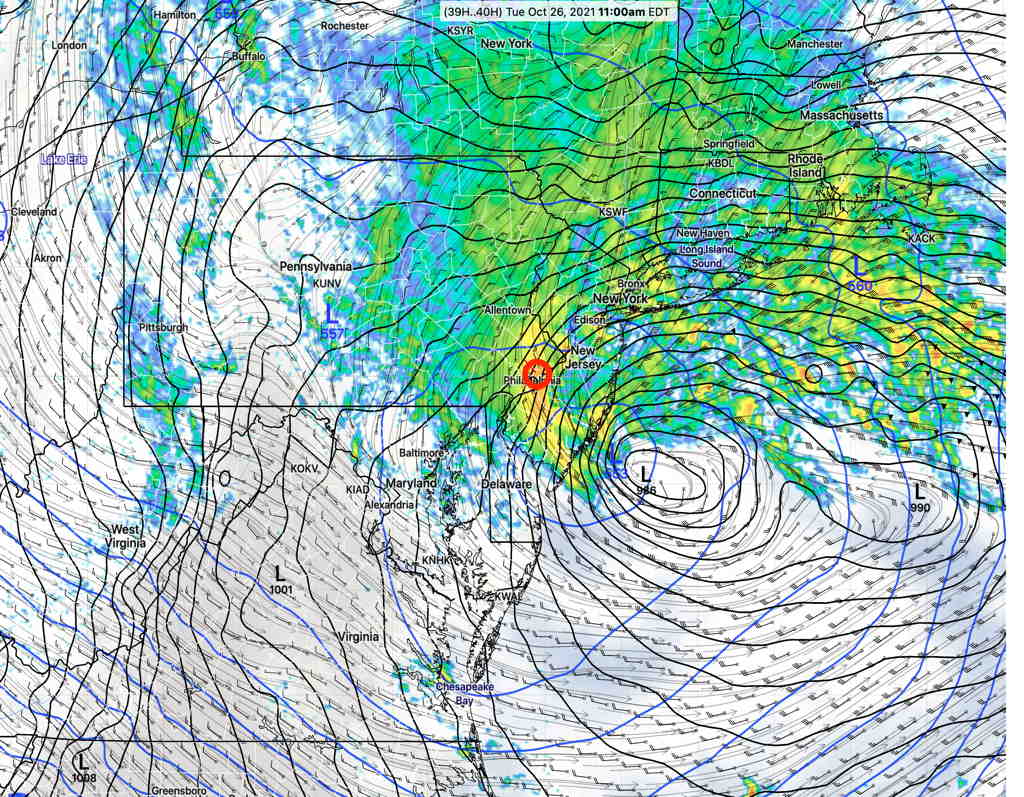 ---
Update Sun @ 5:42 PM— This afternoon's models continue to forecast a deep secondary low formation off the coast that will result in heavy rain in Philadelphia and even more to our east.
Current estimates based on the latest GFS, HRRR, NAM, NAM-NEST and ICON show 2 inches of rain for the PHL area starting about 11 PM Monday night and continuing into Tuesday with gusty winds in excess of 30 mph. Heavier rain to our east. (see below)
---
Since Friday, there have been huge changes in what was then the extended forecast period Monday through Wednesday. Huge low pressure in the Midwest had been forecast to move up towards the Canadian provinces, dragging a cold front through our area.
Things have changed.
A disturbance in the southern jet stream flow looks like it will "phase" with the dip in the jet flow of the northern jet.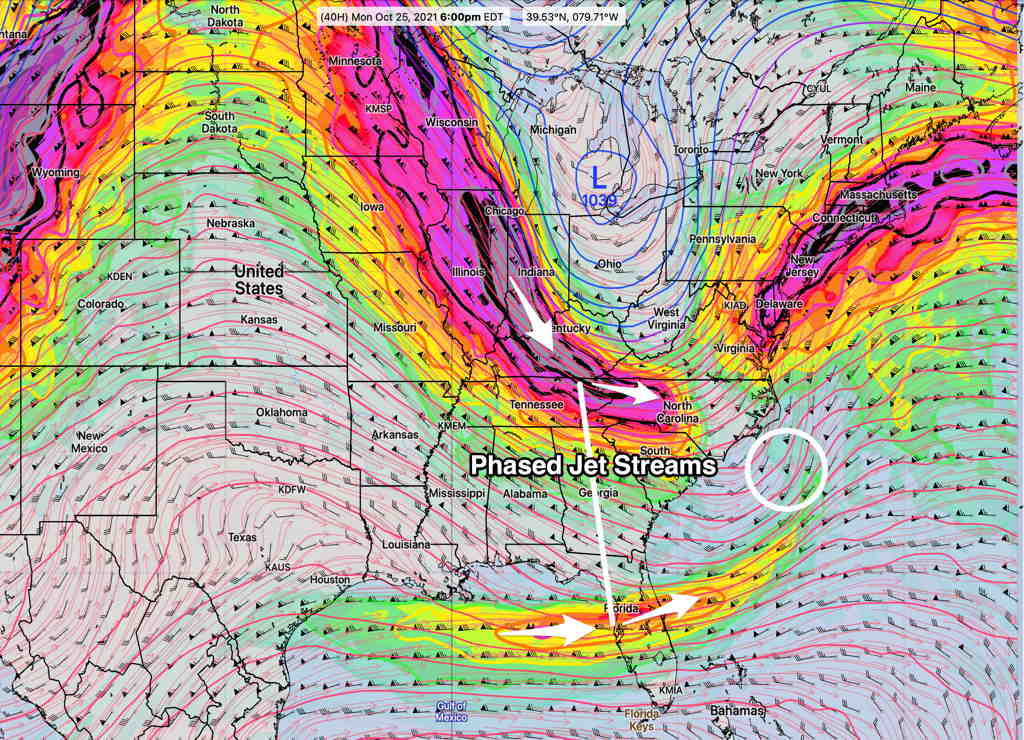 The deep closed low over the Midwest/Great Lakes, rather than moving northward into Canada, will rapidly spawn a deep secondary surface low off the coast while the energy of the closed upper low moves directly over us on Tuesday.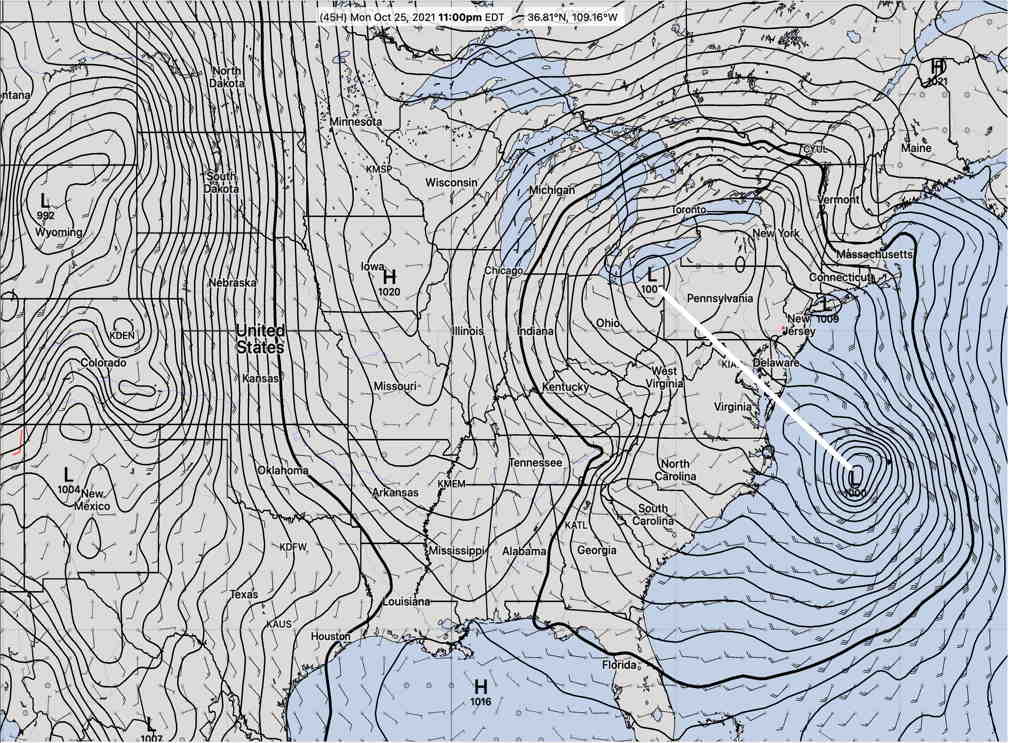 It appears that explosive cyclogenesis (referred to by the TV weather entertainers as "Bombogeneis") may occur as surface barometric pressures drop rapidly. (Sustained drop of > 24-30 millibars pressure per 24 hours)
The exact timing and placement is still not pinned down (the storm may mostly affect the Jersey shore) , but the GFS is forecasting heavy rain (2 inches) with high winds here after midnight Monday into Tuesday, with much more extensive flooding rains (4"+) and yet higher winds along the Jersey Shore. Parts of Long Island and New England may be further impacted. The entire system may linger.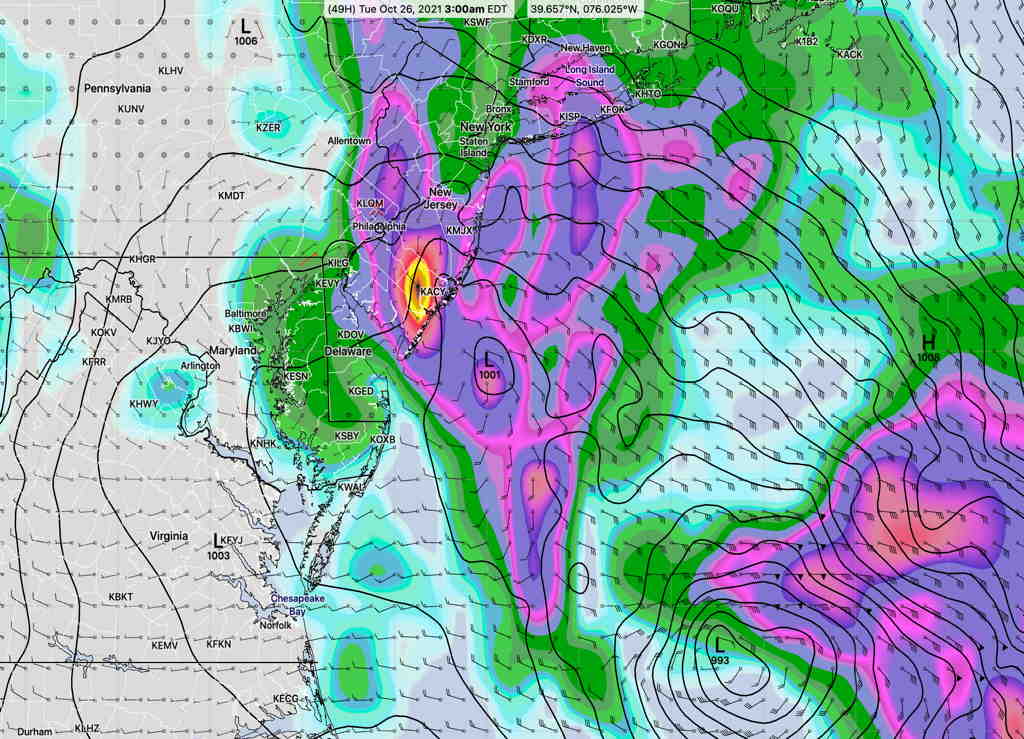 I'll be posting additional graphics during the day today. Stay tuned.