Saturday Noon Update: Heavy rain is falling around the shore in NJ at this hour and much of the activity was east of PHL this morning. Sunshine has broken out in PHL (more than forecast) and the rain in PHL was over-forecast for the morning.
Current short-range analysis has a significant bullseye of deep moisture convergence in the immediate PHL area.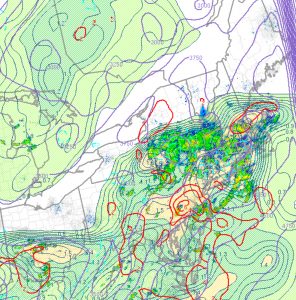 Showers and thunderstorms should re-develop this afternoon in the immediate PHL area.  
A wet Saturday appears to be a certainty, as even the NAM has joined the other models with significant rain. The details were outlined in this morning's early edition post.
Rain and showers are expected on or before daybreak Saturday and should become heavier in the afternoon.  It will be warm and humid with highs near 83 and dewpoints in the 70s.
There's still some uncertainty about the amount of rain and showers on Sunday, but the current thinking is that showers will be more widely scattered with more breaks than Saturday. Highs near 85 and continued humid.
That said, the latest GFS shows quite a bit of rain for Sunday.  I'll need to update over the weekend.