Last Updated
A front will move through Philadelphia late this afternoon and early evening (Friday) with showers and thunderstorms.  Some storms are developing ahead of the front this afternoon in the warm, humid air. The dynamics suggest the possibility of heavy thunderstorms in PHL, although the strongest dynamics may move through to our north.
Updated 9 PM Fri:  The heaviest storms were well north of the Philadelphia area. Rainfall was less than forecast. The sky appearance was impressive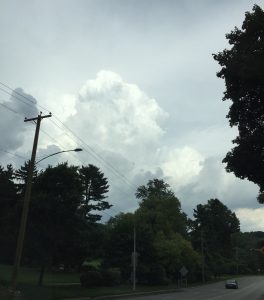 By Saturday morning, the front will have moved off the coastline resulting in sunny skies with gradually falling humidity/dew points as the day goes on.  Highs will be around 86 with a light wind out of the west.
For Sunday, some cloudiness very early, then partly to mostly sunny. Lower dew points in the 60s and highs around 85.
A return to unsettled weather and humidity for early next week.