Forecast Updates Highlighted
Sat 10:40 PM: Updated Sunday Forecast below
Sat AM Update: No significant change. Low clouds linger this morning. Brightening skies through high level cloudiness Saturday afternoon. No rain. Sunday's forecast below still remains on track.
As mentioned earlier in the week, the timing of showers this weekend will make a difference in the overall forecast and it was hoped that much of the shower activity will occur during the evening hours. I started preparing this forecast this morning. By this evening, things are less clear for Sunday. More about this below.
The omega block influencing our weather is slowly breaking down, as low pressure in the Midwest slowly moves eastward. The upper level ridge of high pressure will maintain its hold on us for Saturday, acting like a wall against the low pressure advance, but it will get squeezed out of the way by Sunday.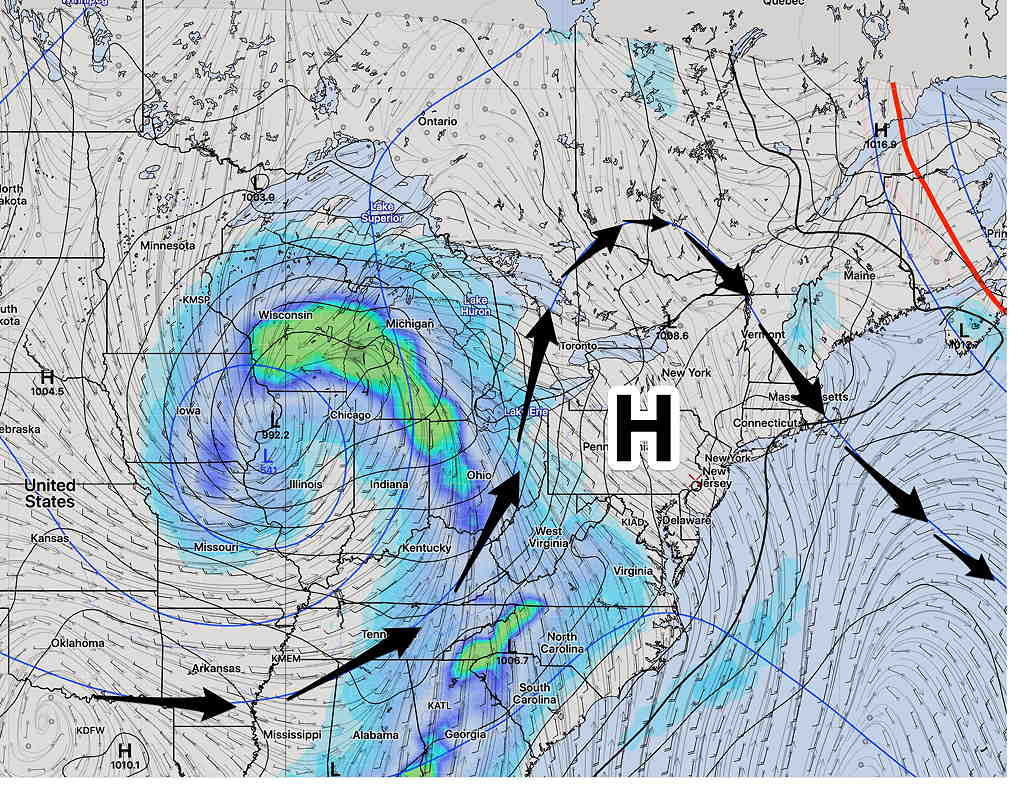 Saturday
Showers rotating around the low in the Midwest will move in Friday night but will exit early Saturday morning.
Saturday will be mostly cloudy in the morning as moist air moves from the east. There may be a break in the clouds and some sun Saturday afternoon. High temp 70.8º sd 2.5º (NBM model Blue Bell).
Winds light (see meteogram below)
Sunday
Nonetheless, the precipitation in Virginia (see above graphic) will advance into the Philadelphia region later Saturday night as a warm front. We'll have showers and maybe some thundershowers late Saturday night.
Sunday will start out cloudy with showers in the early morning, but some sun may break out by noon. Rain ending Sunday about noon to 1:30 PM.
The more sun we get (if any), the more unstable things will get and the Canadian, ICON and to some extent the GFS maintains the chance of scattered showers and thunderstorms in the afternoon.
There still is a question about the amount of sunshine in the afternoon and possibility of additional showers (the NAM and HRRR maintain significant clouds) but the pre-release version of the new HREF (used for much of the forecast this weekend) has clouds thinning for some sun, similar to today..
(The higher resolution models only forecast out to 48 hours and Sunday afternoon is currently beyond this range.) High Temp 74º ± 3º
Also uncertain is the high temperature. The latest NBM has moved the high temp down to 67º but it has the standard deviation very large at 4.6º, showing the uncertainty in cloud cover and position of the warm front.
A weak cold front moves through Sunday night. Showers and possibly thundershowers move through between 6-9 PM Sunday night. Thunderstorms again in the evening 6-11 PM.
Winds for Saturday and Sunday

I expect things go clarify with tonight's models. Check here for updates during the weekend.