[su_note note_color="#ffffff"]Updated Wed 10:20 PM — Changes and uncertainty in the latest models. Tonight's RAP model just available is showing an earlier frontal passage. Showers and thunderstorms move in as early as 7-8AM Thursday.
However tonight's NAM and NAM NEST show scattered storms late morning and another cluster about 3pm in Philadelphia.
Further Update at 10:30 PM —The HIRESW just available still shows the 11AM -1PM timing.
What looked like a straightforward forecast has become a low confidence forecast with higher than usual uncertainty. [/su_note]
[su_note note_color="#ffffff"]Updated Wed 05:53 PM — This morning's models continue with the forecast of thunderstorms moving through Philadelphia around 11AM -1 PM and then slowly moving through NJ during the afternoon.
(Other storms possible much earlier, about 2-4 AM Thursday in far western suburbs.)
Gusty winds Thursday morning and heavy localized rains expected with these storms.
Here's this mornings HIRESW-ARW2 model showing areas of horizontal moisture convergence (red-yellow) and maximum upward vertical velocity at noontime; the radar image tomorrow will likely show a line of storms at this location and timing.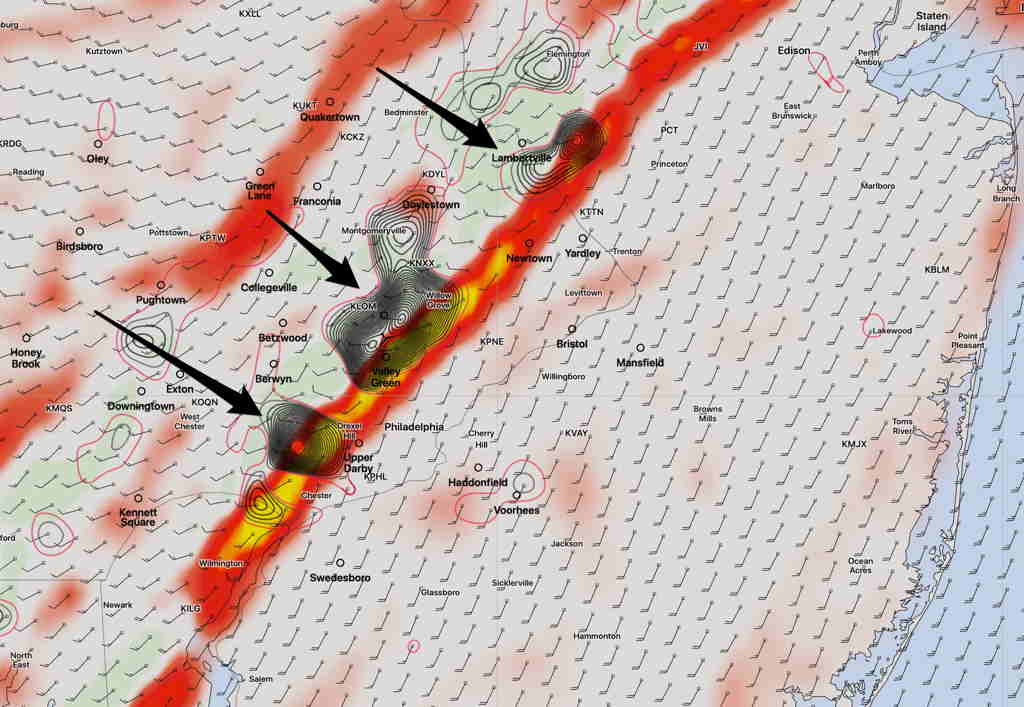 Those areas in NJ may have heavier areas of storms due to more favorable timing for severe weather in the afternoon. [/su_note]
From earlier today..
Following a hot and humid day today (Wednesday) a cold front will approach later in the day. For Wednesday, most models have any thunderstorms remaining in central Pennsylvania and not making it into Philadelphia during the day on Wednesday, although far western suburbs may be touched early this evening.
For Philadelphia, the storms move through in two waves— after midnight and again about noon Thursday.
The models are suggesting that the actual front moves through Philadelphia about 11 AM -1 PM Thursday with showers and thunderstorms at that time—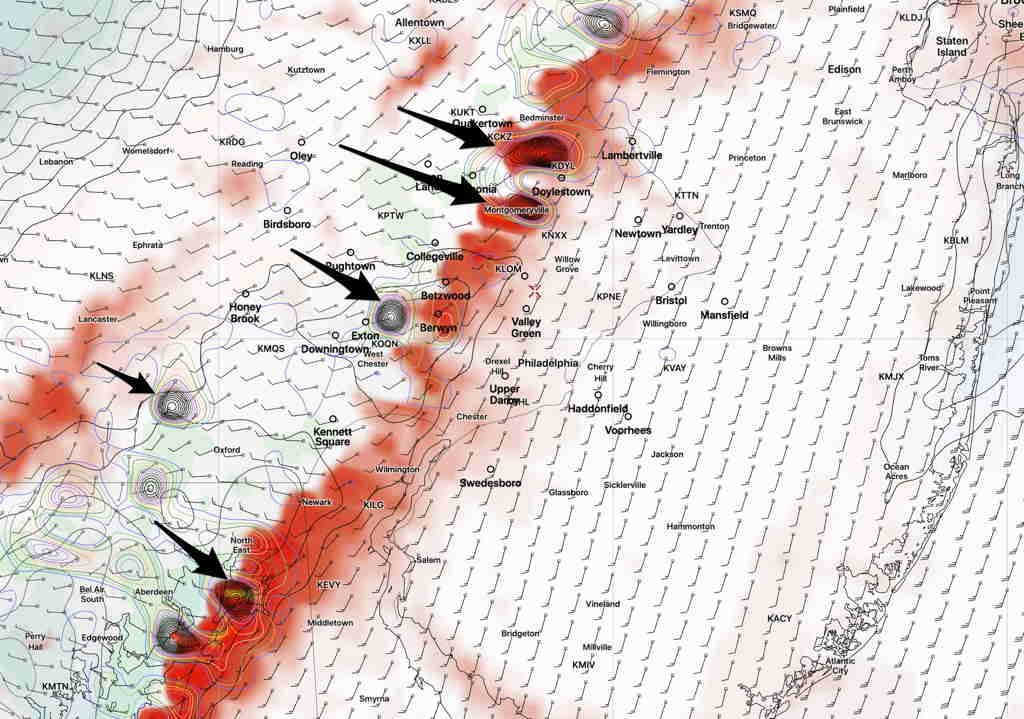 However, several models show thunderstorms also breaking out well ahead of the frontal passage, as early as midnight tonight (Wednesday) and about 3 AM ± 2 hours Thursday morning. These overnight storms may be the strongest for the immediate PHL area.
Clearing is expected to occur in Philadelphia after 1-2 PM Thursday, but the line of thunderstorms will take several hours to move through NJ, not reaching the shore until late afternoon or early evening. .