Update Thu @ 7:40 PM— The models are still trying to come together with this weekend's forecast. Today's GFS and NAM have returned to the earlier forecast that our area will be in an area of jet stream level lift and upper air disturbances on Saturday, causing cloudiness and possibly some light sprinkles until after noontime. Greatest chances of sprinkles areas north of the city. Then breaks of sun and clouds for the rest of the day.
Sunday looks to have some sun early morning, then significant periods of cloudiness and some bright spots.
Here's a meteogram based on the latest GFS model cloud and simulated radar forecast for Blue Bell, PA (remember that meteograms are only for a single location, but in this case, most of the PHL area forecast will have somewhat similar conditions) —

---
Update Wed @ 8:17 PM— Friday and the weekend continue to look better.
Two cold fronts move through and the expected drop in high temperatures to more seasonable levels is apparent from the NBM (model blend) forecast meteogram for Blue Bell—

On Saturday, the upper air disturbance moves to our north and west giving us clouds in the morning but breaking for partly sunny skies in the afternoon. Any showers on Saturday will be mostly to our north and west and will be light.
Sunday starts cloudy with breaks of sunshine by afternoon.
---
Update Wed @ 9:51 AM—This morning's NBM (model blend) has fewer clouds both Friday and Saturday. (Clouds move in later Friday afternoon and dissipate Saturday morning.) Last night's GFS also moved in that direction. Will keep an eye on it.
---
Tues 8:39 PM:
We're having some fantastic sunny, mild autumnal weather and it will continue through Thursday. Temperatures are well above seasonal averages (Avg Hi 62º Low 43º Blue Bell, PA)
A cold front will slowly move through on Friday with cloudiness and possibly some very light showers. The front will stall to our south. Upper air disturbances will move through on Saturday with cloudiness. It looks like we'll be in the "left exit region" of the jet streak, assisting the development of light showers on Saturday from these upper air disturbances.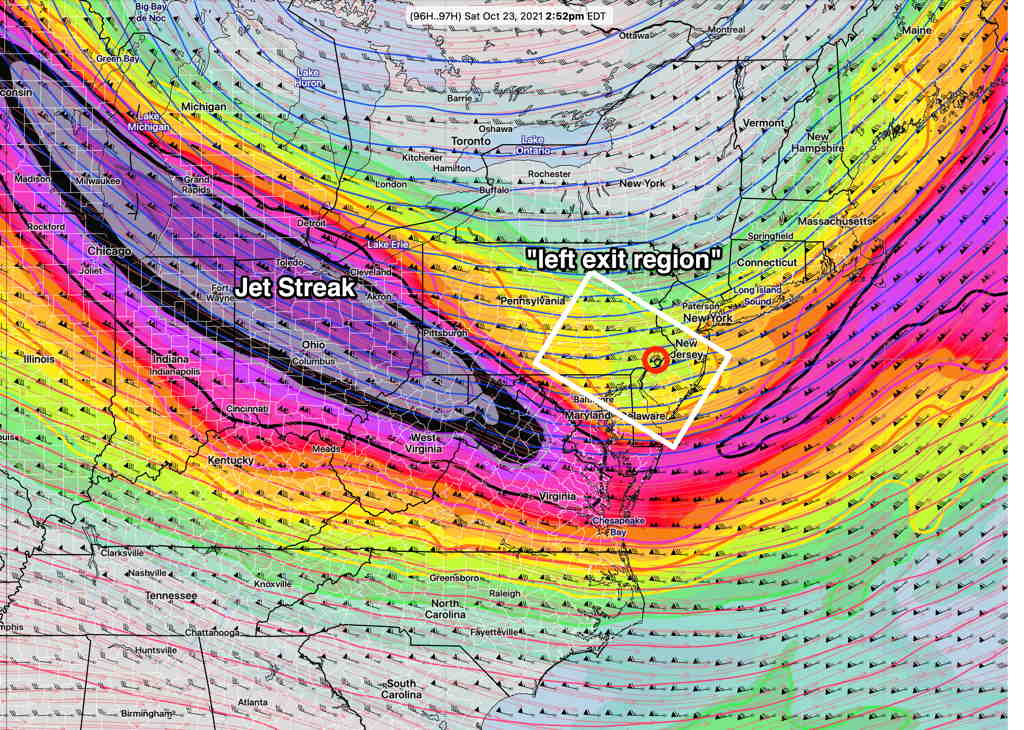 A secondary cold front will be pulled in behind the disturbance giving us more seasonable (read colder) temperatures for Sunday.