Rain Totals and Cold Weather
Update Wed 11/16 @ 8:09 AM — The models did well with the forecast precipitation. Here's the MRMS estimated totals; compare to the HREF forecast below—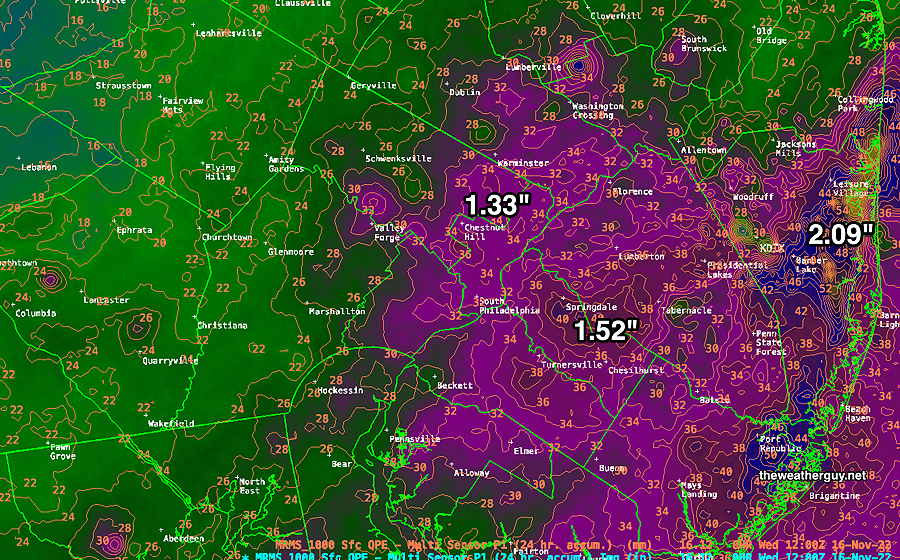 Below seasonable average temperatures expected for the weekend and remaining somewhat cold through much of next week.
Long Range Outlook- Thanksgiving day looks to become rainy into next Friday. Possibility of a coastal storm next weekend with snow or mix quite near our area.
---
Moderately Heavy Rain
Update Tue 11/15 @ 11:55 AM —
No change in the forecast. Rain moves in from the southwest as early as 2-4 PM. Moderately heavy rain tonight. A generalized 1 to 1.4″ according to the HREF model—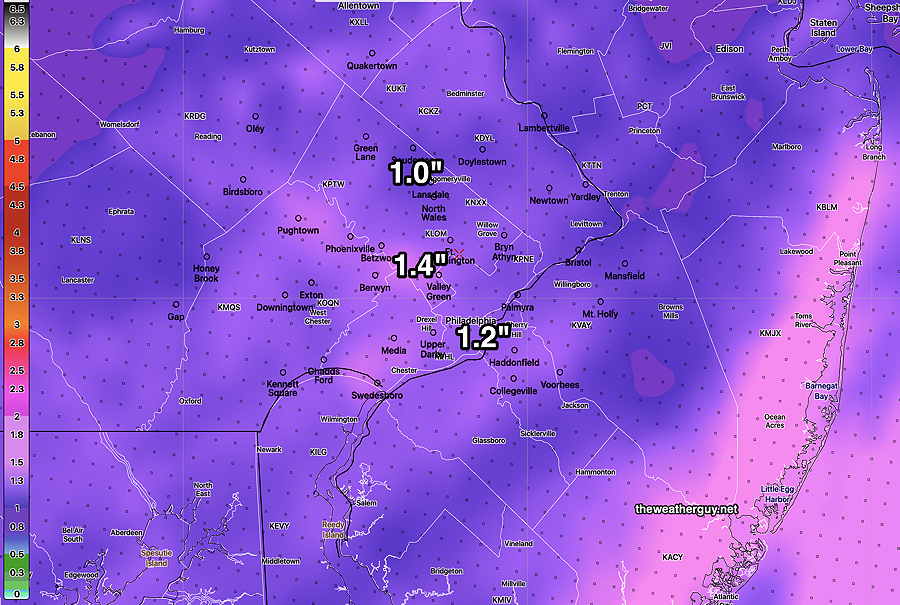 Rain ends around daybreak Wednesday. Some sun but mostly clouds until about 2 PM in the afternoon.
I took a quick look at the forecast for Thanksgiving day. Looks like some rain.
---
Update Mon 11/14 @ 11:14 AM —
A quick update. The latest models have the rain coming in earlier on Tuesday and departing earlier on Wednesday. Rain begins as early as 3-4 PM Tuesday afternoon and ends around daybreak Wednesday. Some clearing expected during by the afternoon Wednesday. Total rainfall about 0.75 to 1.1″
Colder temperatures behind this system for Wednesday night through Thursday.
---
theweatherguy and Twitter – Life after Twitter?
Click here.
Previously Posted Sun 9:12 PM —
This week's weather will be influenced by a jet flow to our south, allowing cold air to move into our area. Additionally, a disturbance now near Arizona (not related to the election) will move east and spawn a coastal storm that will bring rain to our area late Tuesday.
Here's the current jet flow and water vapor image—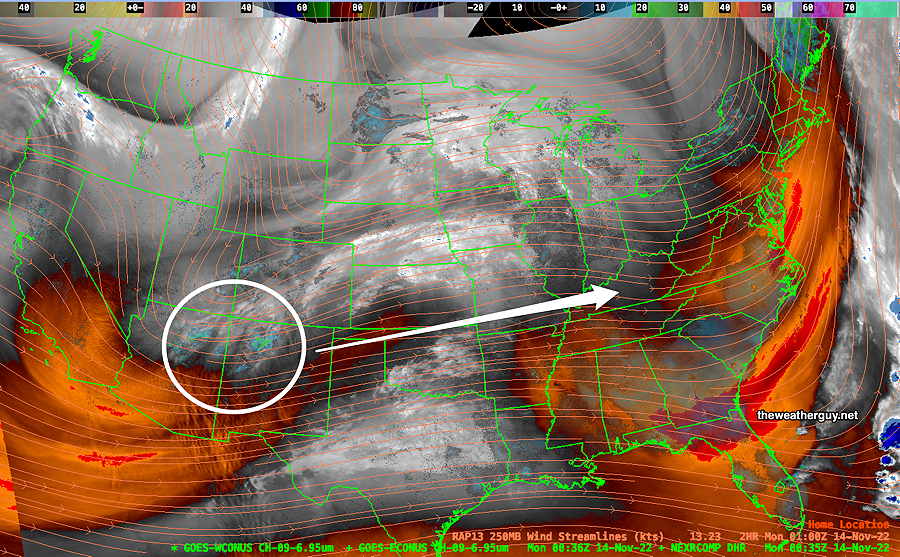 Below is the latest GFS model for the same time period. Notice the Water Vapor image above (with Radar) shows some precipitation but the GFS below doesn't—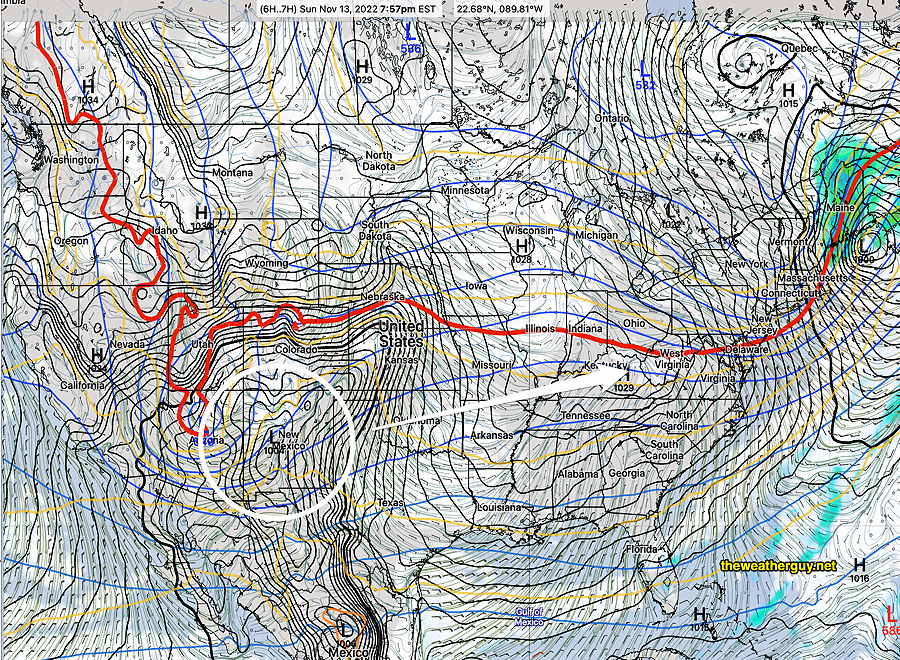 The model forecasts for this system have been changing throughout the weekend, although they are coming together.
Rain is now expected to move in here as early as late afternoon Tuesday. (Previous model runs had it moving in on Wednesday and being further off the coast.)
Here's the latest GFS v 16.3 forecast for Wednesday at 1AM—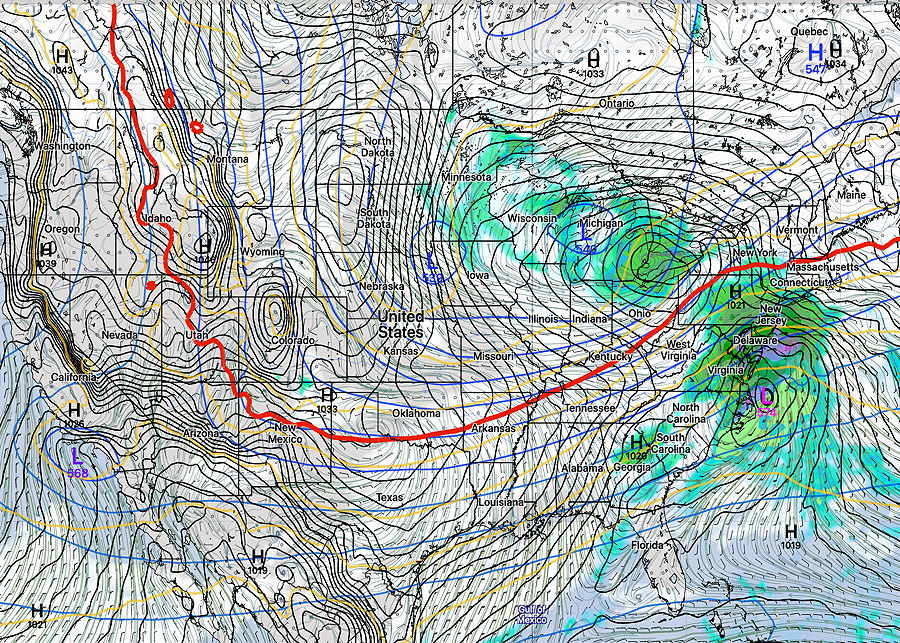 With the above satellite image not really matching the current GFS forecast, I expect to see some additional changes in the forecast. Stay tuned.