#philly #weather #pawx #philadelphia #phillywx
Updates
Updated Sat 9/09 9:23 PM — Regular updates here to This Week's Weather and Weekend Weather Forecast should resume next weekend…. Certainly in enough time for coverage of Hurricane Lee, which the ECMWF model is forecasting to possibly affect our region.
---
Thunderstorms Thursday Night
Updated Thu 09/07 @ 11:55 AM — A quick update. This morning's models are suggesting that most of the showers and thunderstorms stay to our west tonight. We need the rain, but it looks like very little will make it into the immediate Philadelphia area tonight.
---
Updated Thu 09/07 @ 9:27 AM — A slowly advancing cold front will trigger thunderstorms tonight. Most of the stronger storms will affect far northwestern areas (Pottstown, Reading, Allentown) this later this evening.
Most (but not all models) have the storms moving through the immediate Philadelphia area and adjacent suburbs between midnight and 2 AM. Since these storms will be occurring well after the sun has set, surface level CAPE values will not be that high. Severe storms are NOT expected.
Rainfall amounts in our immediate area are not expected to be that high—
---
Thursday Forecast
Updated Wed 09/06 @ 5:40 PM — A preliminary check of the RTMA shows that we 'only' hit 94º in Philadelphia, but areas just west of Atlantic City hit 96º. Dew points were in the mid to upper 60s during the high temperature period.
The hot air 'dome' is being squeezed by a very slowly moving push from the west and a stagnant low pressure system in the Atlantic (the non-tropical remains of what was Hurricane Idaila!)—
Thursday will likely be the hottest day, with temperatures truly hitting 96º+ and a much wider area around Philadelphia hitting heat indices of over 100º.
As the system in the Ohio tries to move eastward, it will be blocked somewhat but some slow progress is expected.
This means an eventual decrease in temperatures and an increasing likelihood of thunderstorms and rain from Thursday evening through at least Sunday.
Areas to our west and northwest will likely see thunderstorms Thursday night. They may not make it into Philadelphia or much further eastward.
From Friday through Sunday, more of our area will see showers and thunderstorms. Sunday looks to have the most widespread activity as the advancing front slows over our area.
---
Wednesday Forecast
Updated Tue 09/05 @ 5:19 PM — High temperatures today (usually reached between 3:45 PM and 4:00 PM) were a degree or two lower than Monday. The increased dew points (69º -71º) more than made up for the marginally lower temperatures.
For Wednesday, temperatures are expected to move back to those reached on Monday, and the higher readings will be more widespread—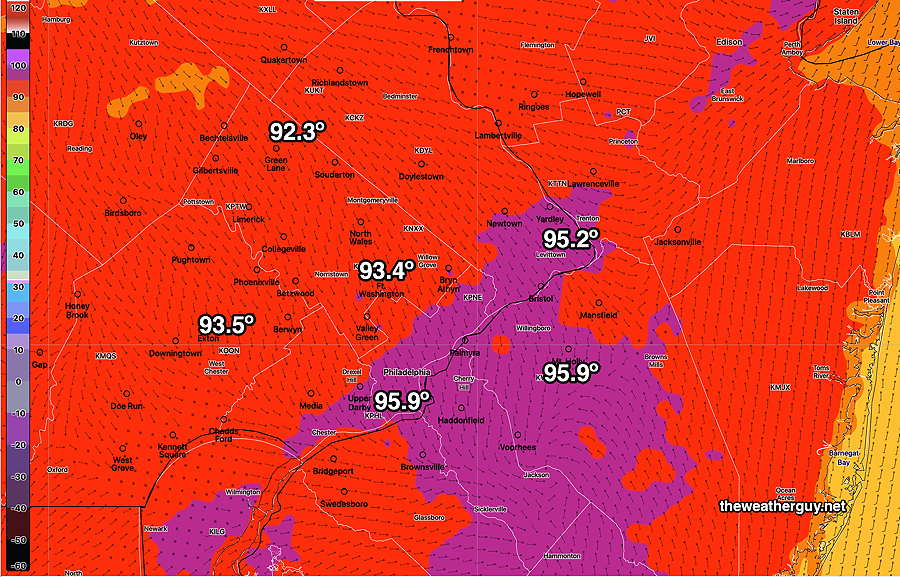 The dew points on Wednesday will be a bit higher as well. As a result, the heat indices will be quite hot in many areas—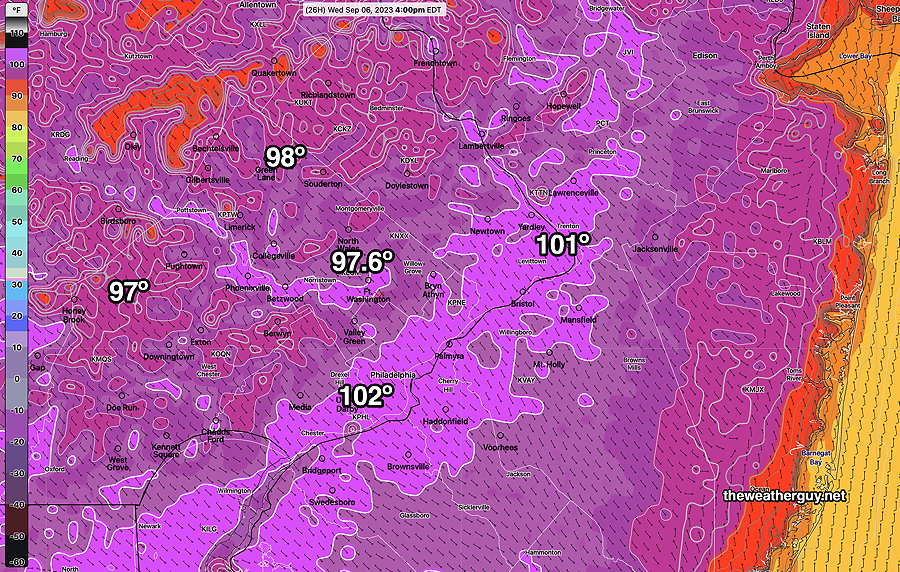 An approaching front will bring a good chance of thunderstorms Thursday evening and Friday evening.
---
Tuesday Forecast
Update Mon 9/04 10:10 PM — Tonight's 00z NBM's high temperatures for Tuesday are coming in a 1-2 degrees lower than Monday, but dew points look to be be higher. So heat indices may be the same or hotter. Another hot day!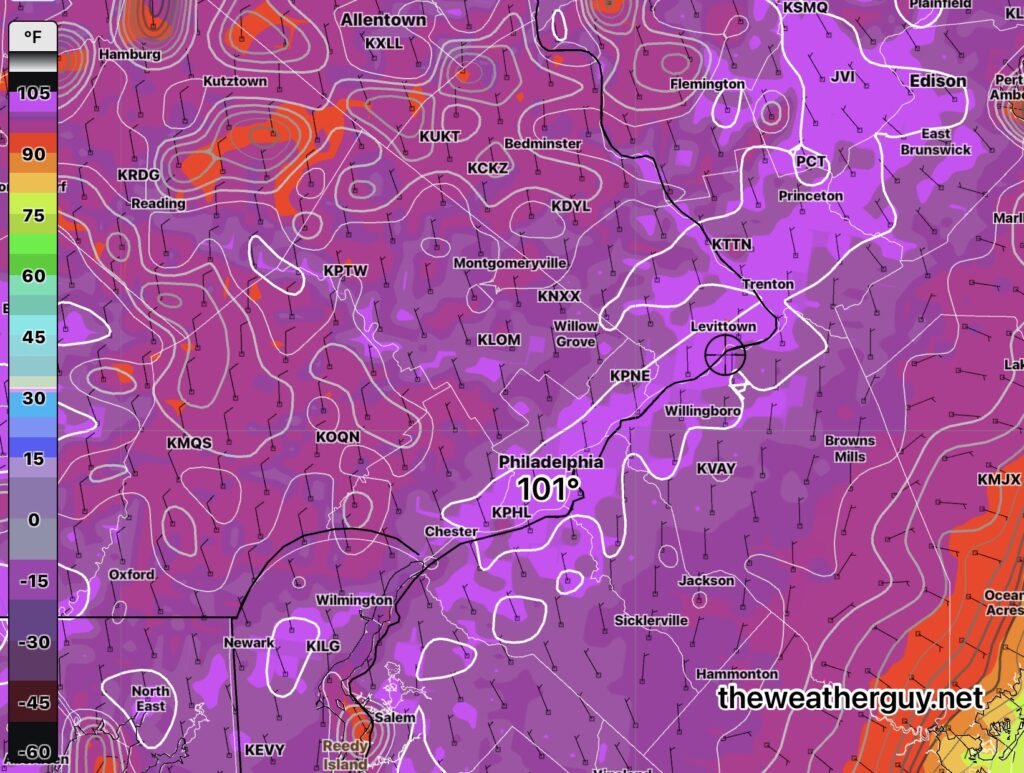 ---
Updated Mon 09/04 @ 5:22 PM — Actual high temperatures on Monday—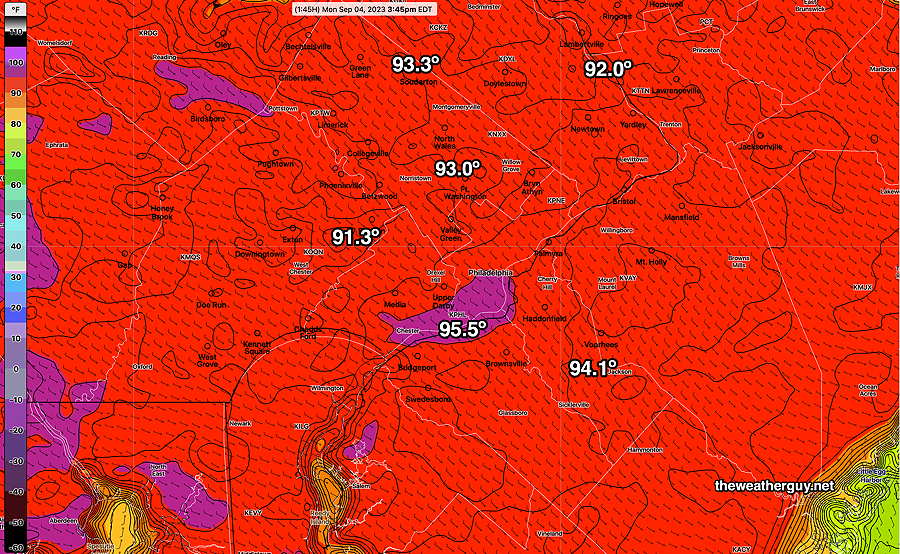 It is very similar to last night's NBM model forecast (but not this morning's NBM) —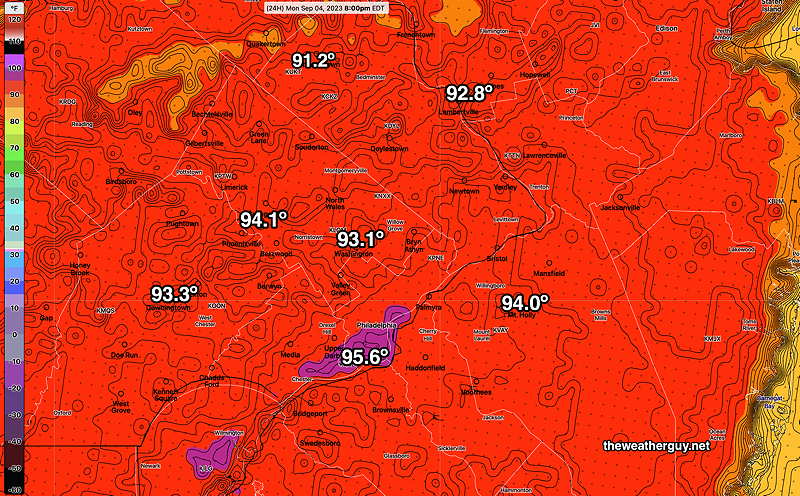 We can see that the HRRR (below) over forecast the high temperatures. When it comes to temperature forecasts, the NBM is often the best model.
---
Previously Posted Mon 10:10 AM —
The large heat dome continues to nudge north and eastward towards us. The "576 thickness line" provides a clue into the three dimensional outline of this hot air mass—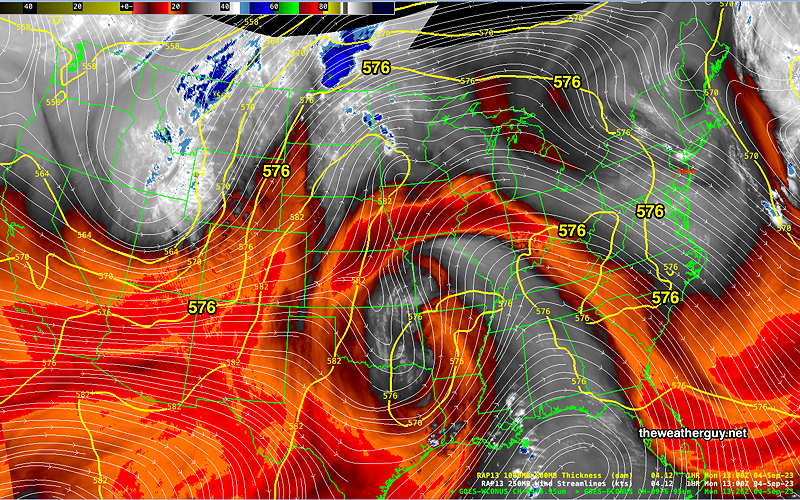 This morning's NBM model's high temperature forecast has moved down a degree or so from last night's forecast highs temperatures.
Last night's forecast—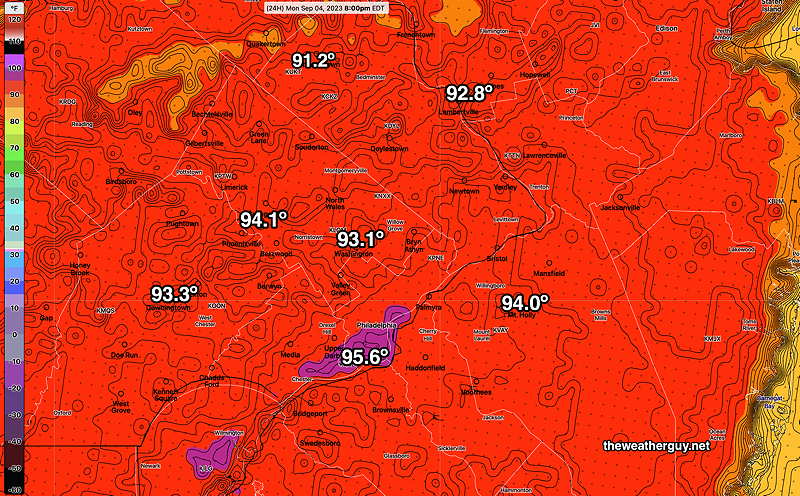 Today's 12z NBM high temperature forecast—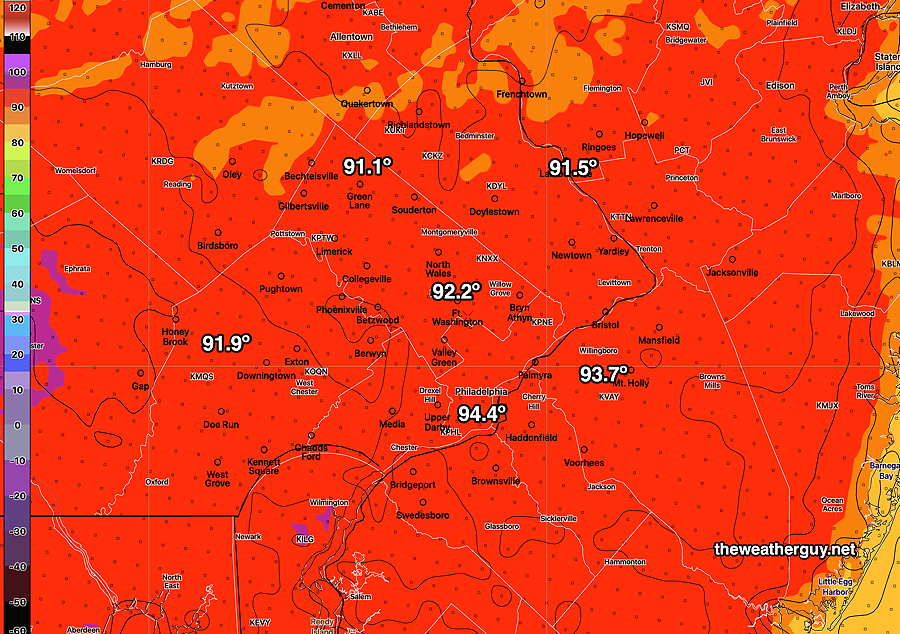 As good as the NBM has been regarding temperature forecasts, it's not forecasting the showers affecting northern parts of the Jersey Shore at this time—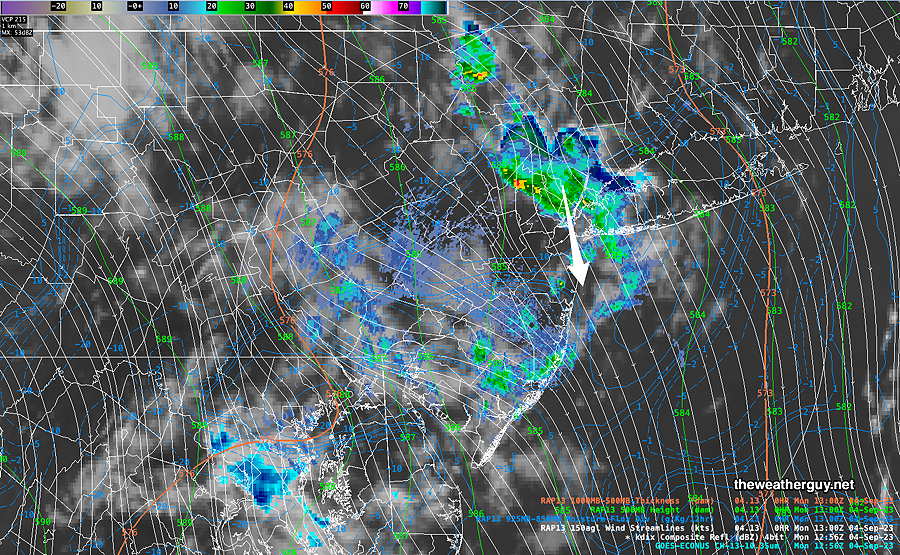 The latest HRRR does show these showers and it has a much hotter forecast for us today than the NBM—
Here's the latest HRRR forecast high temps for today—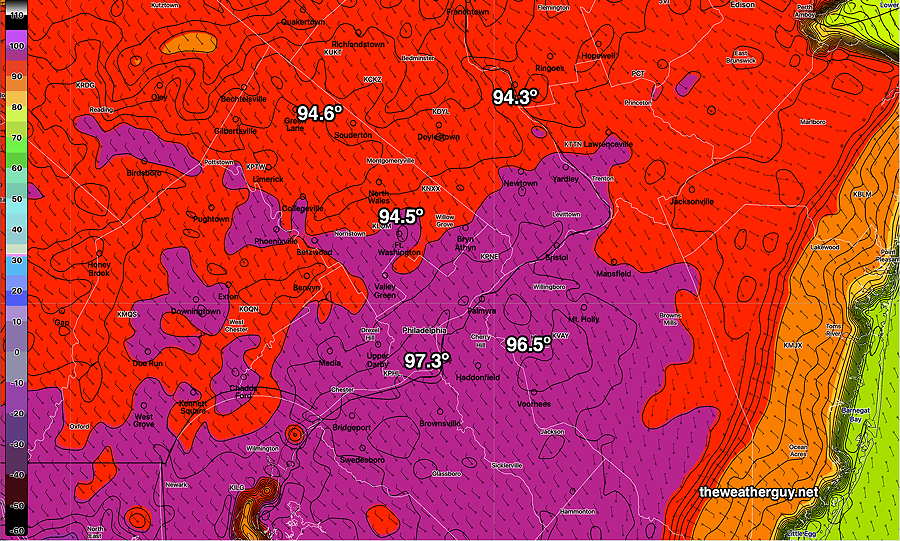 The NBM is my preferred model for high temperatures, but the NBM tends to be a lagging forecast by design.
We'll see if the HRRR is forecasting too hot for today or whether its forecast represents a more up to date forecast.
---
---