The 1 AM model runs continue with the scenario that the heaviest precipitation is just getting started. The NAM has an additional QPF 1.20 inches water from now through 7 PM this evening. The GFS, has a somewhat less but similar QPF through 7 PM.
So the snow is just getting started; the storm is still near Virginia/Maryland right now —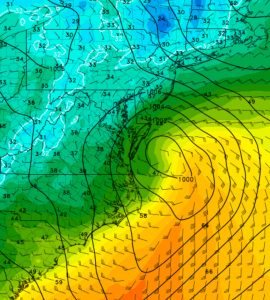 So the forecast remains on-track. With heavier precipitation rates, temperatures should continue to drop to about 32 degrees.
[su_note note_color="#ebf2d9″]Current forecast is 9-16 inches. The NAM 10-1 snow map below is good estimate. [/su_note]
NAM Snow Totals Prediction from the 06Z model run

Hey, I kept hearing on the radio yesterday that the we were going to get snow but the high temperature on Wednesday was going to be about 40! Why do they say such things??

Who knows!
I'll update with the latest model data after 9 AM today.