Forecast Updated Mon 5:24 PM — It still looks like all rain for tonight.  (see meteogram below)

Thursday's storm look like snow, quickly changing to sleet and then all rain, according to the NAM.  Starts Thursday morning about 7-9AM.

Forecast Updated Mon 7:19 PM —The GFS has more snow than the NAM prior to the changeover.

---
From Sunday…
The forecast has been difficult regarding specifics beyond a day or two in advance this winter.  That said, I think I can try to pin down the wintry and rainy forecast for Monday into Tuesday.
First, tonight there may be another period of very light freezing rain about 4AM which should taper to widely scattered precip  after daybreak.   During the day, Monday, there may be some sprinkles, but most of the day will be dry.
Low pressure will approach later Monday and affect our area Monday night into Tuesday morning. Instead of a coastal storm as forecast last week, Monday into Tuesday's storm will move up the Appalachian mountains and no coastal development is expected.
According to the Model Blend (NBM), surface temperatures will be above freezing as early as the early afternoon Monday and remain above freezing. Any sleet or mixed rain during the late afternoon shouldn't accumulate.
I'm always looking for ways to convey the forecast more succinctly.  What might best capture this event is a simulated radar time-line (a "meteogram")  showing light possible mixed precipitation before 8 PM, then increasing heavier precip until 9-10 AM Tuesday.
Of greater interest is a large storm expected beginning Thursday morning.  Another complex precip event which may begin as snow, but the GFS is pointing to secondary low pressure development off the coast which may bring a change back to all snow.   Much uncertainty with this storm.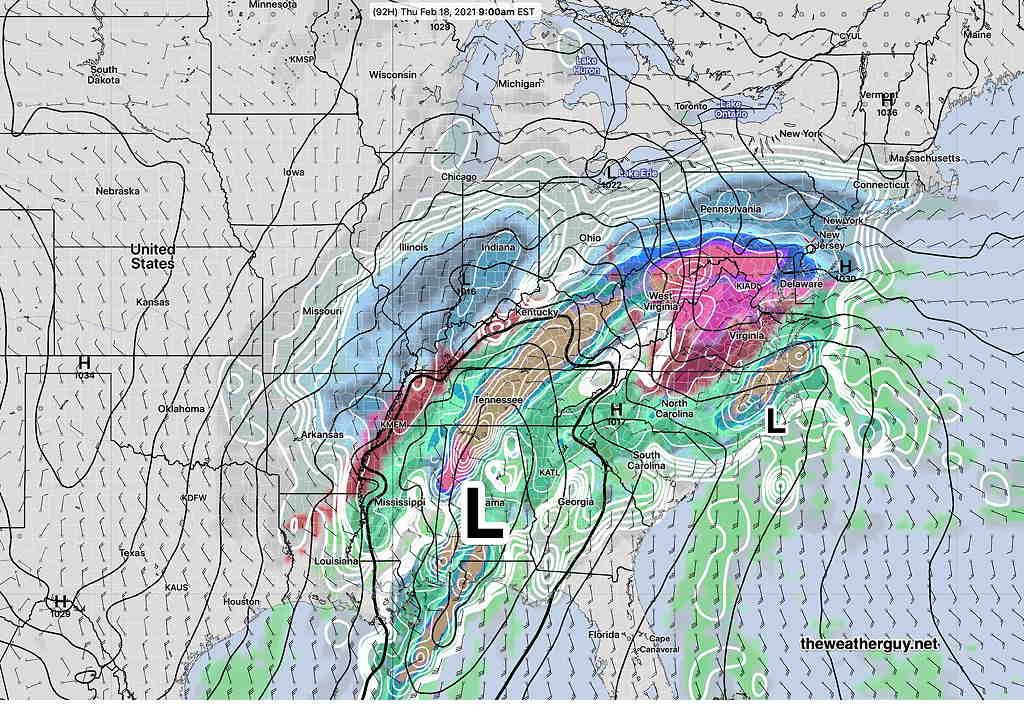 Those of you getting tired of this weather can look towards next week, where the long range models are showing milder and less stormy conditions taking hold.