There's increasing agreement among the hurricane/tropical models that Florence will approach the North Carolina coast and linger, perhaps for 36 hours before either turning slightly southward or inland.  Prolonged high winds and heavy rain is in store for NC.  A bad situation.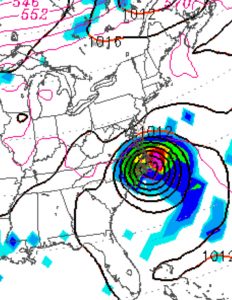 For our neck of the woods, the various models have windy conditions for Cape May to Atlantic City with winds 30-40 mph with some higher gusts.  A mix of some sun and clouds.  The statistical models show the possibility of intermittent showers too.
For Philadelphia, north and west, mostly sunny to partly cloudy conditions and no showers for the weekend, based on the GFS (although the statistical models maintain a low chance of showers.). This is consistent with the subsidence that occurs a certain radius from a hurricane.   It's not clear how far away the cloud circulation from the hurricane may extend.  Overall, Philadelphia may not experience much of anything until Monday or Tuesday with the remnants of what will be a tropical storm then passing over us.
As with any hurricane, the anticipated track is known to change considerably, so forecast changes are likely.  But based on current models, this is what to expect.