[su_note note_color="#defcdc"]Update Fri 11:30pm: Tonight's models have the heavy rain occurring Friday night. Scattered showers on Saturday.
Watching the wintery mix on Monday morning. The NAM keeps the snow to our north. The GFS has light snow —> freezing rain —>rain by afternoon. Stay tuned.[/su_note]
Our weather this weekend will be affected by a deep and intensifying low pressure that has already approached from the south and will be located over us by 1 PM on Saturday: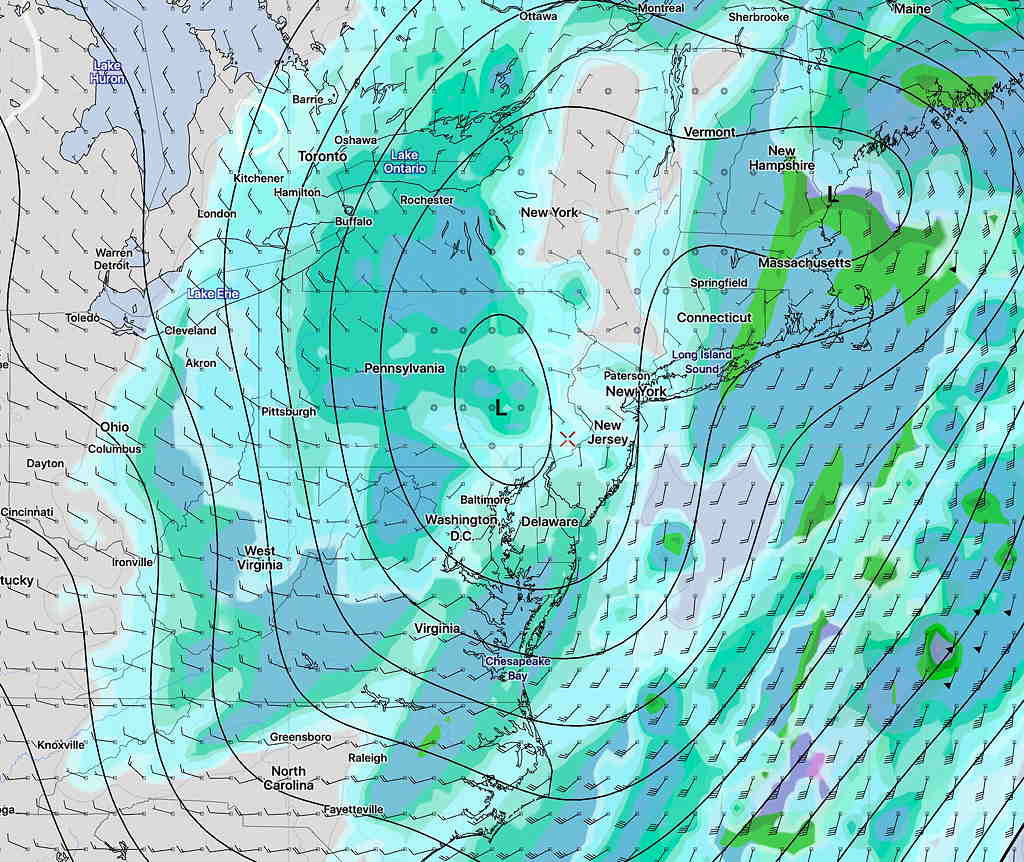 Saturday will be rainy, windy but very mild. Rain may be heavy. High near 60!
Rain shuts off by late afternoon Saturday as the low moves up to our northeast. It will remain windy. Clearing and chilling down Saturday night but still windy.
For Sunday: The effects of the deep low will remain with us on Sunday in the form of windy conditions. It will be mostly sunny. Temps will drop to more seasonable highs of 46.
[su_note note_color="#defcdc"]A wintry mix is being forecast by the models for Monday morning, likely towards the end of the rush hour. Some snow –> rain expected for Monday morning into afternoon as temperatures warm above freezing. Accumulations of zero to a coating expected in the immediate PHL area at this time; everything should change to rain by early afternoon, according to the GFS.
The European Model shows a delayed changeover and a continued period of snow into the afternoon with accumulations of a few inches. Stay tuned. [/su_note]