Forecast Update Sun AM
The forecast from Friday remains on track. High temperature 57-59. Clouds move in during the afternoon.
Winds 5-10 mph W->WSW, increasing later in the afternoon::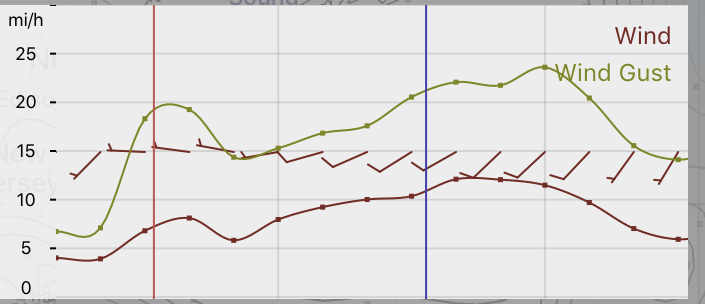 HRRR forecast -Fort Washington gridpoint
Forecast Update Sat AM
Very windy, as expected, today. NBM model wind forecast for our area Saturday (in red box)

The deep low pressure system that brought us heavy rain Thursday into early Friday will move away while it deepens.  A cyclonic flow of colder air will move in for Saturday.
Saturday will be mostly sunny, windy and somewhat chilly.  High 48.  The models don't show any instability cloudiness, although I'm curious to see if any develops in the cyclonic flow.
Sunday will start sunny.  A low pressure system approaching from the Midwest will bring some cloudiness in during the afternoon hours.  High 56-58.
The low pressure system and another cold front moves through late Monday with rain.  Temperatures drop later Monday night.  While there was some thought that there might be some snowflakes mixing in as the precipitation ends, the models, including the FV3-GFS, don't seem to support that scenario now.