Updated Sunday forecast on Sat @ 6:30 PM highlighted below
Overview: The good weather blocking maintains itself for most of the weekend. Moisture aloft in the form of some high, thin cloudiness both Saturday and Sunday. An overall beautiful weekend, weather-wise.
The blocking pattern that has been providing the extended period of fair weather will be breaking down and a return flow around departing high pressure will bring in moisture initially in the form of high clouds. Showers approach late Sunday evening.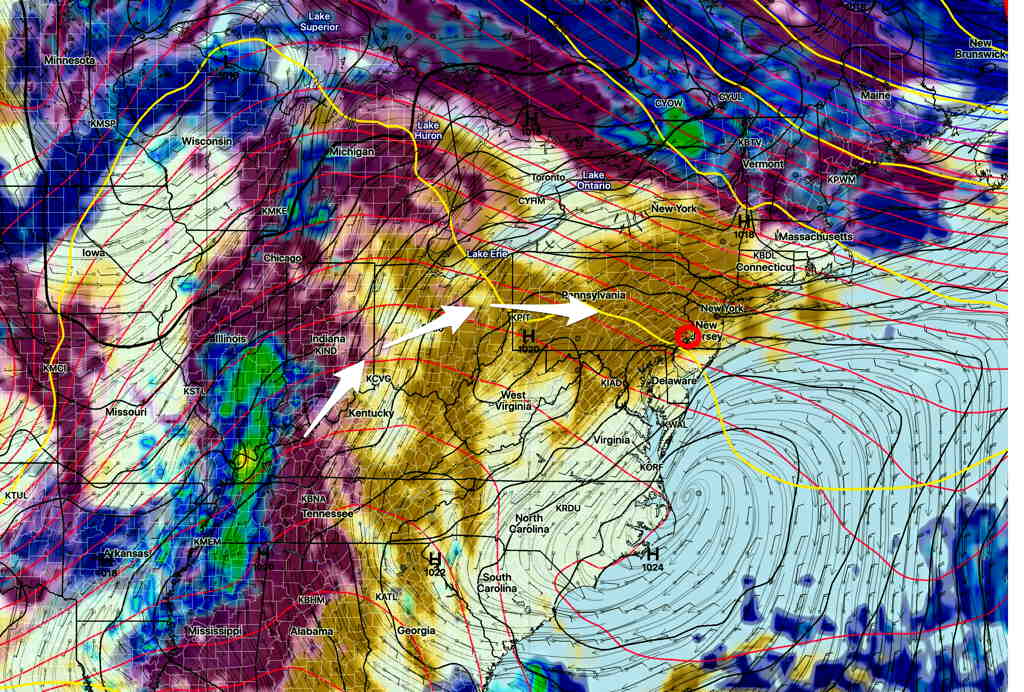 Saturday
Sunny in the morning. Mild. Moisture aloft will move in to our area, with sunshine through high cloudiness Saturday afternoon. High temperature 76.4º ± 2.1º (NBM Model Blue Bell) Light winds.
Seasonal average high temperature this time of year is 69º (Blue Bell) and 71º (Philadelphia)
Sunday
High pressure continues to move off to our east as more moisture moves in aloft. Warmer air moves in.
While Saturday's forecast overstated the high thin cloudiness based on the GFS, most models have increasing cloudiness on Sunday per the paragraph below.
The models are forecasting a varying degrees of cloudiness, but the current trend is for some early morning cloudiness, then sunshine, then increasing cloudiness after 3-6 PM, especially western suburbs.
There is some degree of uncertainty regarding the amount of cloudiness on Sunday. This afternoon's NAM and NAM-NEST bring in some showers late afternoon and early evening. Likely too fast.
High temperature 80.4º ± 1.8º (NBM Model, Blue Bell) Light winds.