[su_note note_color="#d9f2da"]Sunday morning may be dry with rain starting after noon.
Sunday 7 AM update— Rain looks to start as early as 10-11 AM. The models that leaned towards heavier rain look to be correct.
Sunday 2 PM update— Latest QPF from this morning's models is closest to that predicted by last night's NBM – about 0.60 inches of rain, much more further south and east. [/su_note]
Tomorrow's forecast is of interest because it involves a coastal system that could be considered an analog for future winter storms and forecast dilemmas..
There have been consistent and large differences between the global models (GFS, ECMWF, CMC) and the mesoscale models (NAM, WRF) regarding precipitation amounts.—"QPF"
Today the NAM has been cranking out +1.25 inches of rain for Philadelphia while the global models have QPF's closer to 0.25 inches of rain.  That's a huge difference.
The latest National Blend of Models (NBM) unsurprisingly cranks out something in the middle ~ 0.60 inches.
All models have heavy rain in south Jersey.
We'll probably have to wait for tonight's models for clarification. If this were a snowstorm, we'd be on the edge of our seats.
The earliest model available tonight is the Rapid Update (RAP)— it is trending towards a later start for the rain and QPF values in the  lower range, except in NJ.
Just available— Here is tonight's high resolution NAM Nest, which has rain starting about noon and continues with a QPF of about 0.5 inches by 8pm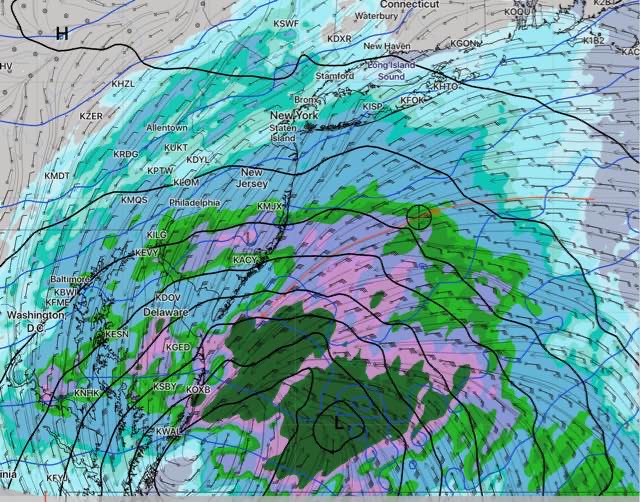 It will be interesting to see how it plays out .