[su_note note_color="#d9f2da"]Thurs Noon update: Wow, more snow than I had forecast! The low level atmosphere temperatures are at or below freezing. The NAM upper atmosphere critical thickness level seems to have fooled me this time around. It works in the winter, apparently not in November. 😱 I'll make a note of it!
So, let's try this again. Based on the latest NBM (which I've been ignoring, except for the precipitation start time), the changeover to sleet and then rain will occur about 1 -2 PM in PHL. This is a tough business.
[/su_note]
Based on the latest NAM and NBM model data, the forecast from last night is on track.
Precipitation is moving in, as shown on radar, at 10:30 AM. On this radar image, it's easy to see how the precipitation is hitting a wall of cold air, eroded at the northern edges—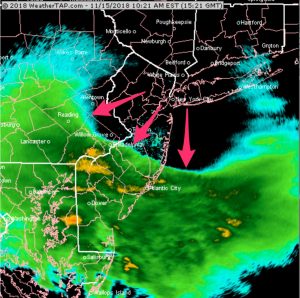 This is a sleet to rain event, with some snowflakes possible at the start. The latest NAM supports the possibility of a brief change to snow before daybreak Friday. (Little or no accumulation.)