Last Updated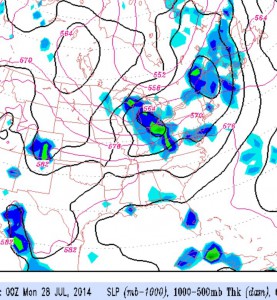 An interesting pattern change starts setting up over the weekend, as an amplified jet stream trough begins to develop over the Great Lakes and weak disturbances begin to rotate through our area as a cold front slowly advances.  This amplified pattern is something we usually start seeing late August, not July, but it's been a somewhat consistent feature of our cooler weather this entire year.
This amplified trough will eventually bring cooler temps and lower humidity to our area next week.
Saturday looks like the best day, although some clouds and showers may move in during the late afternoon. The approaching upper disturbances are more likely to bring showers and clouds Sunday. Details still uncertain.