Last night's GFS model continued with the scenario that a low pressure system was going to develop off the coast, but miss us. However, the recent trends have been to place this system closer to the coast with greater intensification.
This morning's NAM has suddenly jumped on this scenario, with low pressure in a similar position, but somewhat more intensified, allowing some snow to move in on the western side and into the PHL area late Monday into Monday evening.
[su_note note_color="#ebf2d9″]With the system evolving, the timing and QPF values and timing are likely to change. Current QPF is a very light 0.16 inches water. Currently not much of a 'storm', but driving could be slippery on Tuesday morning rush hour as cold air will be in place.[/su_note]
As mentioned in last night's post, the GFS has been hinting at something happening off the coast. This weak signal has been strengthened; some winter precip is looking more likely for late Monday.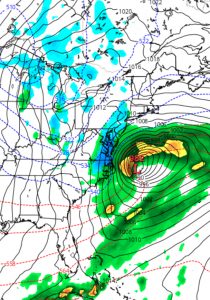 Expect details and timing to change.