Updated Fri 10 PM highlighted below
Updated Sunday Forecast at Sat 10:45 PM highlighted
High pressure that brought sunny weather for Friday will linger long enough to keep Saturday dry before low pressure moves just south of our area Saturday night.
The latest GFS has the heaviest rain passing just to the south of Philadelphia with less than 0.5″ falling. The higher resolution models (HREF) still forecast fairly heavy rain (>1′) for the most of our area.
There's still uncertainty with the time of clearing on Sunday, but the trend has been for clearing to occur somewhat later Sunday morning or early afternoon. I expect to have to update this forecast. Stay tuned.
Saturday
Moisture ahead of the low pressure system will first appear early with sunshine through a layer of high clouds that will thicken by early afternoon. Mostly cloudy conditions are expected by 3-4 PM. Tonight's models have moved the clouds to 4-6 PM. Light winds. Saturday high temp 68.7º sd 1.6º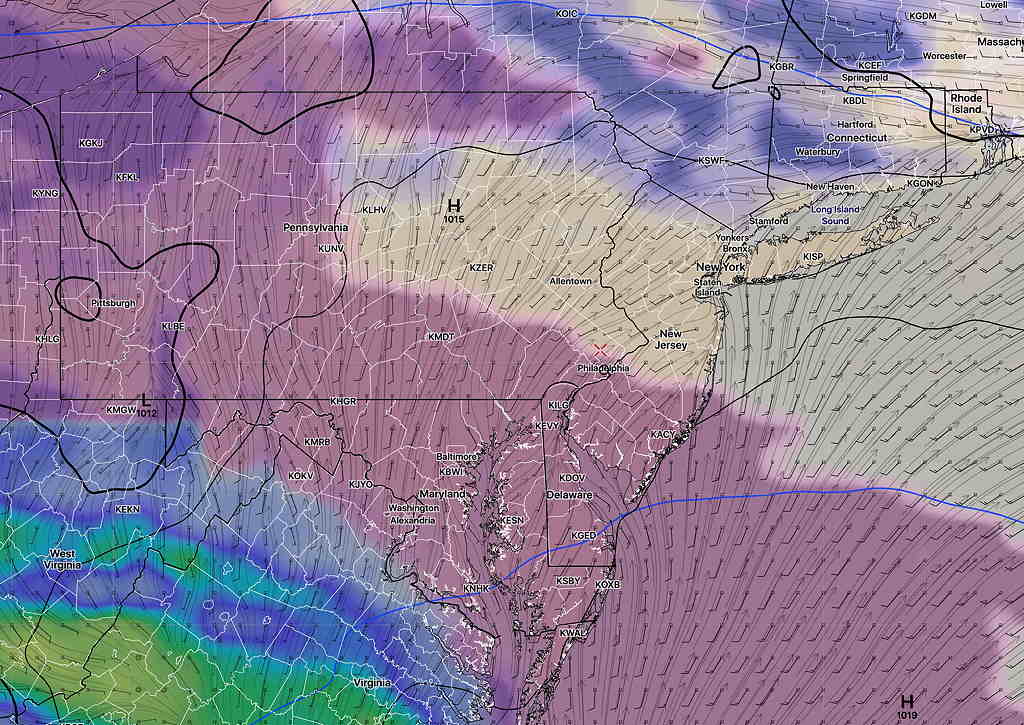 Rain begins as early as 6-8 PM Saturday evening (HIRES) models and closer to 11 PM (GFS model). Tonight's models have the rain starting later, closer to the GFS forecast.
Sunday
Update : The models continue with rain ending 8-10 AM Sunday. Lingering cloudiness late morning. Considerable cloudiness Sunday afternoon with breaks of sun. A chance of widely scattered sprinkles mid to late afternoon as a weak trough moves through.
Rain tapers off by 10 AM although some models maintain the chance of a light scattered sprinkle between 10 and 12 noon. Instability cloudiness with breaks of sunshine in the afternoon. Windy. High 66.7º sd 4.0º (high spread/uncertainty!)
Wind Forecast