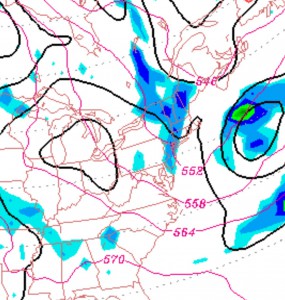 Last night's showers that interrupted the Phillies game were forecast to occur, but the chances were low probability. Low probability clearly doesn't mean no probability. The showers were the result of an upper air cyclonic flow and a cool pool of cold air aloft, resulting in instability and lift.
Today's NAM model continues with the possibility of instability showers developing between 2 PM and 7PM. —- expected to be widely scattered and somewhat more numerous in central NJ.
In fact, the NAM lifted index is forecast to be somewhat more unstable today, so scattered showers are likely, although not every area will see them.