Last Updated
This weekend's weather is shaping up to be somewhat similar to last weekend's Sunday-Monday forecast.  Less than perfect weather for the start of June.
Low presssure developing near the Delmarva coast along with the moisture remnants of Tropical Storm Alberto will bring rainy conditions for much of Saturday. It will be warm and humid, with high temperatures in the low 80s.  There may be some sun mid-day.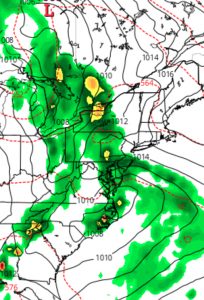 Like last weekend, high pressure will nose down from the northeast on Sunday suppressing rain to our south.  An easterly flow will bring cool, mostly cloudy and damp conditions but much of the day Sunday will be rain-free. High temperatures 68.
Friday 11PM Update: Tonight's NAM shows showers returning late morning on Sunday; Sunday doesn't look dry as previously forecast .
There's the chance of showers returning Sunday evening.