Forecast Update Saturday 11pm
Little change in the forecast for Sunday; Mostly sunny with high 44. A cold front moves through after midnight Sunday. A weak impulse will bring light rain showers before daybreak Monday.
Some of the thermal profiles suggest this may fall as light snow showers or flurries, especially northwest of the city. There's some evidence that this impulse may strengthen slightly, so stay tuned.
UPDATE Sunday 7 AM:  Last night's NAM shows it will be a bit too warm in the immediate PHL area for light snow tonight. (Despite the upper atmosphere having temperatures that support snow.)  Here's the current precipitation type (PTYPE)  forecast for this evening into Monday. We would have to get much more intensification and dynamic cooling for any accumulation here.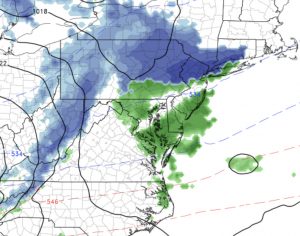 High pressure will slowly build in this weekend behind the departing low pressure system that brought the heavy rains today.
On Saturday, according to the GFS, there will a significant amount of low level instability cloudiness – stratocumulus should be prominent with occasional breaks of sunshine possible, more sun possible later in the day.  It will be windy with gusts approaching 30 mph.  High 45
The high builds in Saturday night and begins to depart on Sunday as another secondary cold front moves through Sunday night. Sunday will be mostly sunny and seasonably chilly, but still above average. Winds will be lighter, out of the southwest.   High will be about 44.  (Average high is 41.)
The secondary front moves through Sunday night with light rain showers possible. UPDATE Fri 11 pm : There's a slight chance of it falling as snow showers or flurries after midnight.
Monday, Christmas Eve, will be mostly sunny and colder.  High 41.
The medium range outlook through New Years maintains the pattern of near average temperatures with some warmups and rain.  Little possibility of snow, although the long range shows cold air building in Siberia, Greenland and the polar areas. Expect a change to colder and stormer conditions the first week in January.